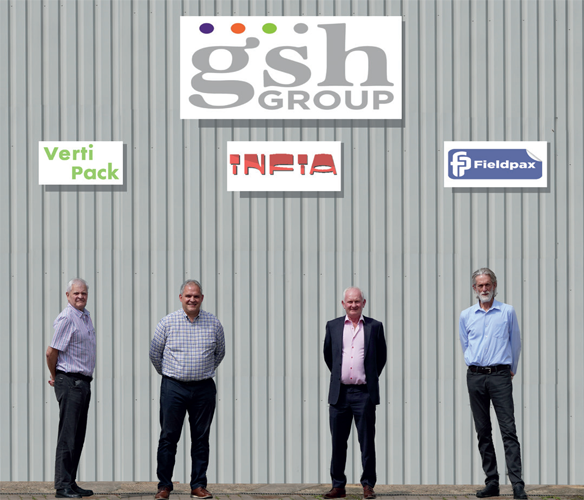 Packing a punch
With more than a quarter of a century of experience in the packaging industry, JMC Packaging continues to invest in the future, not only in the form of new equipment, but also in researching greener, more sustainable solutions
Ever since brothers Jim and Mark Cullen first set up shop some 27 years ago – in 1994 – their business, JMC Packaging (JMC) has managed to grow steadily and consistently with each passing year, to the point where it is today one of Ireland's leading distributors of packaging machinery and materials. With a background as fruit and vegetable distributors, it will come as little surprise that the business – which has its main base in Craigavon – was initially concentrated on the fresh produce industry. However, as its product offering expanded, so too would the range of industries it served, including the manufacturing, engineering, pharmaceutical, printing, and meat, fish and poultry packing sectors.
In 2008, the company would take on a majority shareholding in GSH Holdings Ltd (GSH) in England. An established, leading supplier of packaging machinery, consumables and printed labels to the fresh produce and food processing industries, GSH enables JMC to offer a complete service to a much wider swathe of businesses throughout the UK and Ireland.
Today, JMC provides its customers with a range of machinery needs, along with the packaging material suited to their respective requirements. This includes a selection of Pro Seal tray-sealing equipment, trays and lidding films, shrink-wrap machines and shrink film, Ilapak Flow Wrapping machinery, flow wrap films, label printing applications, and weighing and filling solutions.
"Our ability as a company to provide our customers with the optimal packaging solution – be it in the form of machinery, packaging itself, or a combination of the two – and our willingness to take a hands-on approach to meeting their respective needs has given JMC a fantastic reputation for customer service," Managing Director, Jim Cullen details. "We have always possessed a strong desire for expansion and a willingness to develop new things, while our spare parts and machine servicing capabilities have helped to make us a one-stop-shop for packaging machinery and materials."
Joining Jim on our Zoom call in mid-June 2021 is Gavin Wooding, Managing Director at GSH, and he goes into greater detail about how the synergies between JMC and GSH have aided both since 2008. "Both companies are very similar in that they have been built on the expertise and knowledge of a professional group of people, growing from what were very humble beginning into two hugely successful businesses," he states. "JMC and GSH do mirror one another in a way. In the case of JMC, its reputation, service levels, aftersales care, and technical know-how have helped to make it to the 'go-to' player in Ireland. Meanwhile, GSH has mirrored this in the UK, dealing with many of the same manufacturers as JMC, but with a customer base that is more directly linked to the fresh produce markets.
"The synergy that exists between the two companies is such that we are able to back one another up, not only from a knowledge perspective, but also from a mechanical and engineering point of view. There is a wealth of this expertise flowing through JMC and GSH – with a number of engineering professionals boasting a tenure of up to 30 years in their field – and it is just one of the reasons why customers come to us, because they know that JMC and GSH will be able to look after them properly."
In spite of the Covid-19 pandemic – or perhaps in some small part due to it, what with the increased sales seen across the grocery industry in 2020/2021 – sales across JMC and GSH over the last 12-to-18-months have grown by as much as 20 per cent. "Clearly, our sales performance in recent times reflects the increasing number of inquiries that we have seen come in for packaging solutions," Jim confirms.
"I believe that this growth is also being driven, in part at least, by the push that we are witnessing for increased automation from our customers, which is something that we can facilitate due to the high level of innovation present at both JMC and GSH's facilities," Gavin adds. "From what we have heard from our customers, labor is becoming by far the most expensive and difficult commodity to source today, and where we come in handy is our specialism in developing a range of solutions that assist pack houses in streamlining their operations, as well as becoming more cost competitive in what is an ever-more challenging environment."
In order to best facilitate this growth, the companies have continued to invest considerable sums of capital back into their respective operations. This has included the purchase of a ten-color Edel label press at a cost of approximately £750,000, a new three-color flexo tape printing machine, capable of producing branded tape, costing some £200,000, and a new flexible film slitting, rewind and macro punch system at a cost of £250,000. The latter purchase will allow JMC to convert various films from master reel format with the facility to macro punch if required.
"Each of the aforementioned acquisitions represent significant, long-term investments to upscale our capabilities," Jim states. "We are now turning our attention towards our next big investment, which will be a state-of-the-art digital press for printing films and labels. The integration of this equipment into the business will be a sizeable task, but we expect to have it in place and operational by the early part of 2022."
Elsewhere within JMC and GSH, work is also taking place to make a bigger, sustained push towards recyclable and compostable packaging solutions. "We are putting a lot of R&D focus into this subject at present, utilizing innovative thinking and technology to find ways of making greater use of recycled materials," Gavin says. "This is going to remain a hugely important focus area for the two companies going forward, and we will continue to work with various pack houses and other key partners to devise greener packaging that will make a significant contribution in combating climate change."
One final area of importance that is also reaping the rewards of investment is the back-office functions of the two companies. The IT infrastructure of the pair will continue to be improved wherever possible, with the imminent introduction of new CRM systems being an example of the company's respective commitment to working smarter and delivering an even better service to its customers.
"It was our ongoing investment in IT that really allowed us to continue virtually uninterrupted throughout the Covid-19 pandemic," Gavin shares. "The systems that we had put into place allowed everyone who needed it to work remotely, and meant that we remained as efficient as if we were sat in one office together. As such, we understand the importance of IT and technology, and we very much use it to improve ourselves."
On the subject of looking forward, Jim and Gavin share the view that while the future looks very bright for both JMC and GSH, the two have a responsibility to both its customers and society as a whole to further their collective efforts in devising more sustainable solutions. "We all have a social responsibility to look at the amount of plastics being used within the packaging process, and identify how we can make sure that our own plastics are suitable for the world in which we live," Gavin points out. "That means not only researching the manufacturing process itself, but also making sure that the correct waste streams are in place so that our plastics are recycled properly."
As Jim concludes: "This is an issue that affects us as a business massively, but it is one that we are incredibly conscious of getting right as per our responsibility to push our industry forward in a positive direction."
www.jmcpackaging.co.uk