JMH Premium is expanding its culinary design studio and rebranding itself.
When it comes to crafting customized flavors, JMH Premium knows its ingredients. The company whips up tailored flavor solutions for industrial manufacturers, restaurants, hotels, casinos, educational institutions and various food companies throughout the United States from its facilities in Salt Lake City.
"We are known for our flavor bases and soup bases," says Laura J. Guthrie, senior marketing and business development director. "But that's only 10 percent of our capabilities. We've expanded into multiple environments and our focus growth is customization."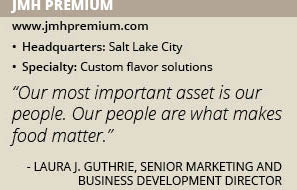 JMH Premium's custom-designed products include beverages, desserts, dressings, spice blends, sauces and stocks, and demi-glace and gravy concentrates. "We have a great depth and breadth to the flavors we create," Guthrie adds. "Our culinary expertise and customization really sets us apart."
To add additional custom formulation capability and increase its product development ability, JMH Premium is expanding its culinary design studio (CDS). "While our current development kitchen allows us to create world-class products, our new CDS will give us the ability to do expanded on-the-bench development with our customers," says Nicole DeBloois, senior research and development manager.
Anticipated to be fully operational in spring, the new studio will also allow its customers to get their products to market faster. In addition, the company has rebranded and revamped its website in the past year.
Bigger and Better
JMH Premium's new culinary design studio is a state-of-the-art development kitchen created in collaboration with Welbilt, a global supplier of commercial foodservice equipment. It will be open to JMH Premium's customers who want to work directly with the company's chef and research and development and culinary teams to create flavors and recipes and taste the finished product with same-day service.
"You can fly in and work with our chefs and have a brand-new product in just a day or two," Guthrie says. "It's normally a multi-week process, but our new studio is designed to make it happen right here on the bench together."
The kitchen is designed to simulate what will happen in a restaurant or an industrial environment when food is prepared. "It's about five or six times larger than the size of our current facility," she adds. "It will allow our customers get their product to market much faster now."
The new development kitchen is housed within JMH Premium's production facility and corporate offices. In December, the company moved its corporate headquarters from Park City to the Salt Lake City, combining all of its facilities in one location.
Large and Small
Its production facilities can handle small pilot-batch kettle runs up to large-scale orders. JMH Premium supports food service chains to large industrial food manufacturers, and everything in between.
"We serve customers that the other flavor houses won't," Guthrie says. "We don't require them to buy a minimum of 100,000 pounds. We have competitors that underserve the market. They don't engage with small businesses but we do. We serve that middle and smaller-quantity producers as well as mass production companies."
JMH Premium's manufacturing services include dry blending, wet blending and cooking and pasteurization processes. The company supports its customers in all phases of development, including ideation, recipe development, ingredient sourcing, production of samples, tastings and providing finished products.
Its product packaging options range from drums and totes to jars and flexible pouches. The company collaborates with customers to address challenges related to logistics and provides customized shipping solutions throughout the United States.
Web Of Flavor
To support JMH Premium's custom flavor solutions, the company launched its new website in November. It is designed to provide customers with a comprehensive look at what this service includes, and what they can expect from a relationship with JMH Premium.
Since quality assurance and regulatory compliance are other key components of the company's manufacturing services, JMH Premium is creating a unique online portal where customers can access technical documents, specifications and related material for their products at any time.
The company ensures that its customers' products meet all regulatory and certifying agency standards. That includes those of the FDA and USDA, state and local authorities, as well as other certifications including organic, kosher and halal. "We maintain all the industry requirements," Guthrie says. "Whatever our customer wants, we already have the ability to do. We even have internal audits so we know we're on track."
Mass Scale
While JMH Premium has in-stock products for a single restaurant, the companies that need its services the most are those with multiple locations. For example, many of the company's customers are food chains with restaurants scattered throughout the country. To protect their brands, these companies need to ensure that their dishes taste the same at each location. In such cases, the company will either give JMH Premium its recipe or ask it help create a new one.
"And JMH Premium will create it on a mass scale," Guthrie says. "We're the flavor behind the dish. We create a product that can be produced efficiently with consistent flavor. We call this 'speed-scratch.' All the kitchen team has to do is chop up chicken and veggies and scoop the flavor into the pan instead of adding 17 different ingredients. So no matter who is in the kitchen, it will have the same great flavor that will keep customers coming back again and again."
JMH Premium recently created a pancake mix for a national breakfast chain. "The more locations they opened, the less consistent their recipe became," DeBloois says. "So they asked us to develop a pancake mix for them." Another company wanted a cheddar cheese sauce to add into some of its house recipes. "There's nothing we can't create in our culinary design studio," she adds.
Rebranding Strategy
Guthrie has been working to refresh JMH Premium's public image since she joined the company last year. "We needed a better method of delivering our value proposition," she says. "JMH Premium was one of those super silent companies. We are really good at what we do, yet we only had a word-of-mouth sales strategy – no marketing or brand development. We wanted to become much better known in our industry and have a better way to share our story."
Aside from launching the new website, Guthrie's rebranding strategy includes increasing the company's presence on social media and engaging in digital marketing campaigns. In addition, the company adopted and defined three new core pillars: premium flavor, premium quality and premium service.
"And we've defined our core service: to provide flavor solutions in a way that is about problem solving for our customers," Guthrie adds. JMH Premium's focus is "premium flavor solutions – customized for you."
The company prides itself on the ability to deliver customized and consistent dishes that have a complex flavor profile. Customers have the option of working with JMH Premium's chefs and culinary professionals in their own kitchens or in the culinary design studio.
"We have the ability to work side-by-side, chef-to-chef with our customers," Guthrie says. "We've really grown our capabilities in that area."
The company's hands-on approach allows it to support its customers with menu ideation, product development and on-trend flavors. In an industry that often has high production minimums, costly development and long manufacturing times, JMH Premium prides itself on providing flavor solutions in a fast and efficient way.
The company credits its people as the key to its success. "Our most important asset is our people," Guthrie says. "Our people are what makes food matter."