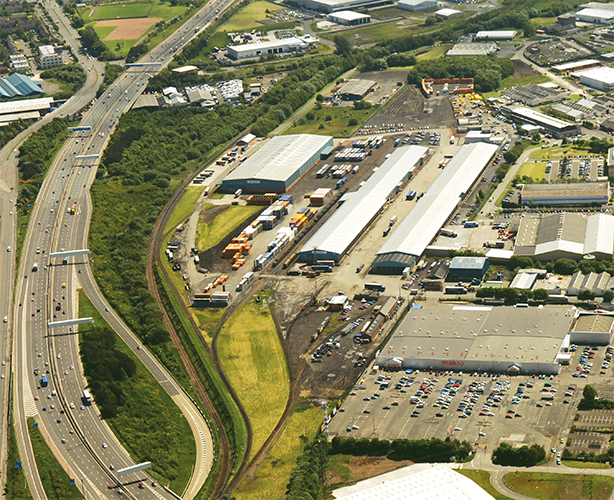 A growing network
With an expanding portfolio, John G Russell Ltd looks forward to the future, as Kenneth Russell reveals
Being involved in the transport industry since the 1920s, the Russell family remained at the forefront of development by bringing the first diesel tractor into Scotland in the late 1930s. John G Russell followed in his father's footsteps when he entered the transport business in the mid 1950s. He then went on to form his own business John Russell (Grangemouth) Ltd in 1958. In 1964 John G Russell sold his business to Transport Development Group and continued to work with TDG for a further five years. The year 1969 brought about the formation of John G Russell (Transport) Ltd that offers a total logistics solution covering all aspects of the supply chain. It examines all potential synergies and studies the supply chain from the delivery of raw materials straight to production lines, to the clearing of finished goods either to warehouse or for onward distribution. Today the company comprises of five principle areas of operation: Carntyne Transport, Russell International, Russell Packaging, Russell Self Storage and Icetech.
Carntyne Transport specialises in the transport of high value perishable and hazardous bulk liquids. With bulk tanker, ISO tanker and TLV transport services, Carntyne is based in Springburn, North Glasgow and has satellite depots scattered around Scotland at Girvan, Alloa, Leven, Newtonmore, Invergordon, Aberlour and Inverness.
Established in 1993, Russell International has a large fleet of owned pallet-wide containers and has been awarded the Security Approved Channel Tunnel Freight Forwarder (SACTFF) accreditation. It transports a wide range of products including consumer goods, bulk liquids, powders, minerals, paper, timber, steel, electronics, wines and spirits as well as various temperature ranges of food products from ambient through to chilled and frozen through various modes of transportation – rail, road and container.
"The chilled and frozen aspect of the business is a very recent venture for us and we're already seeing great potential especially in the retail food sector," states Kenneth Russell, the sales and marketing director who has been with the company for over 25 years. "We were recently concentrating solely on the UK but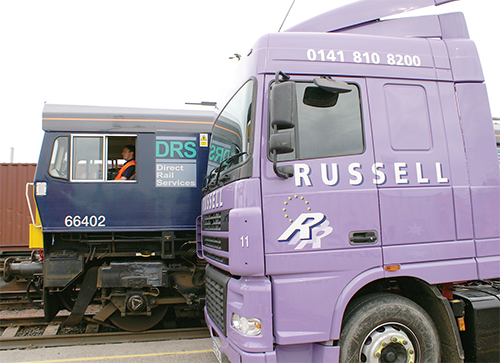 are currently looking at a number of contracts between the UK and Europe. In this segment, it's predominantly food that is transported but not necessarily always in its finished state: it could be carcasses, meat or even fish moving from the North of Scotland to the fish markets in the North of France for example. As for the finished products, we're looking at transportation from central distribution centres from the middle of England to Scottish distribution centres for the retail trade."
He continues: "Our rail service is an area where we get a lot of interest from the retail and manufacturing side. We have about 30 years' experience in rail transport, which is quite unusual in the road haulage industry within the UK. I find that with our experience there is an increasing amount of retailers and retail manufacturers that are beginning to look at this service as being beneficial especially with the current state of road network in terms of delays and congestion."
Kenneth goes on to explain other benefits of rail transport including the reliable and consistent departure and arrival times giving rise to predictability, known transit times to plan around, high maximum payload capacity, excellent load security and preservation, protection from the effects of road congestion, less direct exposure to fuel price variance, and reduced exposure to driver's hours and working time directive issues.
Continuing, Kenneth highlights a few significant contracts: "We are currently conducting trials for a few of our major clients including a number of high profile high street names, where we will be involved in new store openings, providing stock input to these stores. We do, of course, have existing clients who have been utilising the rail service for some time where we deal with the Scottish retail distribution movements for a variety of products including confectionary, drinks, food, pet food, DIY, electrical, FMCG and general retail. Besides trials and growing volumes with existing customers, we have recently won a significant contract for a major drinks company, which has an approximate value of £200,000 a year for the warehousing and distribution of wines and spirits."
He adds: "We are most certainly one of the best logistics providers in the UK as there are not many organisations that provide all that we have to offer, probably only three or four. And to be honest, we have probably been doing it the longest over all the others with similar offerings, and I am confident that our experience thus far has helped us get it right."
Another subsidiary of John G Russell Ltd that has extensive experience with food and drink products is Russell Packaging. With a dedicated 3000 square metre re-work facility located at Russell Hillington in Glasgow, it's 41,000 sq metre head office, the business specialises in packaging, reworking and stock recovery. The business offers assembly and disassembly of promotional packs, damaged stock recovery, re-casing or re-palletising as well as label removal and re-labelling by the pallet, case or individual item.
Around a year ago, John G Russell (Transport) Ltd decided to venture into the self-storage market with the formation of Russell Self Storage. Self-storage is a new concept to the UK but is already well established in the US and Canada. "We saw an opportunity and it certainly seems like a growing market despite its adolescent stage. As for our property portfolio, we believed we were ideally suited for self-storage units in terms of their proximity to major roads and therefore, potential market. We opened the first site in Glasgow a year ago and it has been very successful, which is why we have our second self storage facility in Leith, North of Edinburgh, now open."
Russell supplies individually alarmed and locked units for use by the general public and businesses for safe, secure and costeffective storage with unit sizes ranging from two to 20 square metres, offering unlimited access during the day.
With thoughts on the future, Kenneth concludes: "We're certainly going to concentrate heavily on the growing part of our business, the rail transport. There'll also be a strong focus on the refrigeration of chilled and frozen products over the next six months to see how that develops as a market opportunity, whilst aiming to widen the portfolio of products that we carry on rail by targeting various clients with ranging product types. The future's certainly looking very bright for John G Russell (Transport) Ltd."