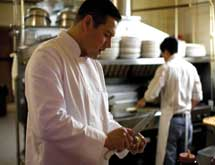 In describing John Napoli & Associates Inc., co-owner and President John Napoli easily sums it up: "We are just 23 cats working for a common cause." That "cause" is supporting Puerto Rico's foodservice industry, and the "cats" are his associates and himself, who work together to ensure a high level of service and support is maintained, consistent and always in the best interest of the company's clients.
"This is a family owned and operated company that's been in business since 1950. I am the second generation of the family to run the company, and we are a dedicated group." He says employees feel strongly about the business, too, "and that passion is naturally transmitted to the client.
"We have built our reputation based on our experience and commitment, and we demonstrate that by giving the best advice to our clients, and working with them in a very personalized way."
It was Napoli's father – John Napoli Sr. – who founded the company. Napoli Sr. was a Navy veteran who served in World War II, and after the war, used the G.I. Bill to take classes in commercial refrigeration. "My father was from New York, but his sweetheart was in Puerto Rico, so he came here and started the company in Puerto Rico, and it's still very much a family business."
John Napoli & Associates primarily caters to the hotel and restaurant industries in Puerto Rico and the northern Caribbean islands by helping clients design their kitchens and dining rooms, supplying the necessary equipment and then installing it. The company has a 15,000-square-foot showroom with 7,000 SKUs in-house, as well as a test kitchen on the showroom's second floor. Not only does John Napoli & Associates allow its clients to test their gear in the kitchen, it also trains cooks and foodservice workers on how to operate the equipment.
The company delivers and installs the equipment and products clients require. If any of the items requires service or maintenance, the firm's associates include mechanics, electricians, plumbers, and gas and refrigeration specialists.
"Our people are qualified to repair and maintain all of the products we sell and install," Napoli explains. "We can supply everything clients need in the back and front of the house, except for janitorial items."
Getting it Right
John Napoli & Associates can supply almost any product clients need in their kitchens and dining rooms, but the company's "forte is in projects," Napoli states. He explains there are four words that describe the firm's capabilities: design, equip, install and service.
"The design we do is in the back of the house – we help our clients determine the best layout, and we sit down with them until we get it right," he says.
The company breaks down clients' needs in categories – such as cook, prep and warehouse – and then details product and equipment requirements for each category. John Napoli & Associates also works with architects to ensure the plan of a restaurant or hotel is as efficient and smart as possible for the kitchen and dining room.
John Napoli stresses "this is never an overnight process," and that his firm must find the best products and equipment for clients, but also remain cognizant of their budgets.
"We work with a lot of suppliers because we want to source the best goods and equipment for our clients," he says. "However, we also offer custom fabrication services if clients really need something special. We buy the stainless steel and outsource the fabrication to a list of trusted partners."
As a result of the slowed global economy, Napoli's clients are looking for savings wherever they can find it, and one primary area is energy efficiency. He says customers are increasingly more aware of their energy consumption, so the company is stocking many more low-Btu and Energy Star-certified products than it has in the past. Customers often want used products to save money, he adds, but he has found energy-efficient equipment saves more money over the long-term.
"We recently worked with the Courtyard Marriott on a new hotel they were building, and they want to achieve LEED certification," he explains. "They get points toward LEED for using energy-efficient foodservice equipment, and we were able to meet their needs."
Moving Online
The global recession has put a small damper on John Napoli & Associates' growth, but the company hasn't let that affect the level of service it provides. The company expanded its showroom a couple of years ago, and continues to increase the SKUs it offers and add to its stock. "We import at least 90 percent of our items, and it's important that we keep a lot of stock on hand for our customers," Napoli explains.
The company benefits from an extensive amount of walk-in business – "We are located in a heavily trafficked area," Napoli says – but its sales reps also frequently visit customers at their locations to answer questions and get status updates on the equipment. With its demonstration kitchen, he notes, the company can train clients and their staffs to get the best use from their equipment.
John Napoli & Associates also is upgrading its website to supplement its brick-and-mortar operations with online business. "We are building a nice website that will be very easy to follow, which will allow our customers to do some of their shopping online," Napoli says. "Not everything will be online, but it will make it easier for our clients.
"It's hard to pinpoint a specific amount of growth we want to achieve right now, so our goal is to continue providing the best service we can to our clients," he adds. "This team is extremely experienced and passionate about what they do, so I'm confident clients will continue to get the best service from us for the long-term."