John R. Morreale Inc. remains a leading Chicago-area meat distributor by working closely with its customers and vendors.
Establishing strong relationships with customers and vendors alike has helped John R. Morreale Inc. thrive for more than 95 years. The Chicago-based meat distributor prides itself on its ability to provide fresh beef cut to customer specifications on a timely basis.
"We do a great job serving our customers," President of Sales and Purchasing Mike Magrini says. "We are very flexible in our operations, which makes us capable of getting meat out to customers as soon as they need it."
One example of John R. Morreale Inc.'s flexibility is the scheduling of its delivery trucks. Trucks typically make multiple stops daily, but can be routed to make only one or two stops in a day at a customer's request or if there is an urgent need, Magrini says.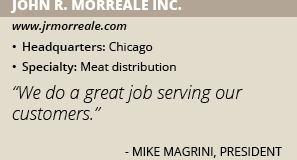 The company also excels at keeping abreast of market trends. "We are a service-oriented group that has thrived in the meat industry by getting to know our customers and keeping them aware of changing market conditions," it says. "Our owners, officers, salesmen and plant personnel have decades of experience in the Chicago market and share their expertise daily with their customers."
Local Reach
John R. Morreale Inc.'s customers include beef warehouses, butcher shops and other specialty retailers. The company distributes beef from the country's largest meat packers, including:
* IBP
* JBS
* Greater Omaha
* Nebraska Beef
* Elkhorn Valley Packing
* National Beef
* Tyson Foods, Inc.
* Cargill
The company also distributes pork from suppliers including Indiana Pork, Rantoul, Sioux Preme, Coleman All Natural Pork, Farmland, Tyson Foods and Swift. Pork sales constitute roughly 10 percent of the company's overall sales volume.
In addition to distribution, the company offers processing services including custom trimming and blending operations. "We provide beef cuts custom trimmed to cookers and further processors," the company notes. "As a byproduct of our cut trimming operation, we offer fresh beef trimmings in a variety of fat-to-lean ratios to meet our customers' specifications."
All of the company's processing operations are conducted under strict FDA food-handling guidelines. "We have inspectors here every day," Magrini says.
Decades of Partnership
John R. Morreale Inc. handles and distributes 1.6 million to 2 million pounds of beef and 150,000 to 200,000 pounds of pork a week. The company mainly serves the Chicago region, with some customers located in Indiana and Wisconsin.
The company was founded in 1920 as a carcass boning operation and evolved into one of the area's largest fresh beef distribution companies. Company founder and namesake John R. Morreale built much of the company's early reputation on being one of the country's first distributors of Oscar Meyer meat products, which he distributed with a horse and wooden wagon, Magrini notes.
John R. Morreale Inc.'s capabilities, history and reputation have earned it many long-term customers and vendors. "I've worked with many of our vendors for several years," says Magrini, a 30-plus-year veteran of the company. "As a company, our rapport with them is very good – when I need something, they do it right away, and when they need something, I handle it right away.
"Our rapport with customers is where we really stand out, even from other distributors in the city," he adds. "If you were to talk to any of our suppliers, they would probably tell you that we work with them very well, are very easy to get along with and can work with them through any problems."
A Tight-Knit Team
Many of the company's employees have worked there for 15-plus years. "We're an old family owned business," Magrini says. "Our team is very tight-knit."
Magrini and his partners Steve Hurckes and Jerry Schomer purchased the company nearly 10 years ago from their mentor and the company's former owner, John Lucaccioni. Hurckes serves as president of operations, while Schomer is John R. Morreale Inc.'s president and CFO.
John R. Morreale Inc.'s staff also maintains strong relationships within its community and industry. The company annually hosts a golf outing benefitting the Law Enforcement Torch Run for Special Olympics. The company has donated more than $40,000 to the organization in recent years.
The company is also an active member of the Chicago Midwest Meat Association. Bob Apato, a John R. Morreale Inc. employee, sits on the association's board of directors, and the company regularly participates and donates to the organization's annual golf outing. In addition to his involvement with the Chicago Midwest Meat Association, Apato is also a trustee on the union management team for the United Food and Commercial Workers Union Local 1546.
John R. Morreale will take the next major step in its history this fall, when it moves from its longtime home in Fulton Market in Chicago's West Loop area – historically a hub for businesses of its kind – to Bedford Park, Ill., a suburb of the city.
The company is in the process of selling its facility to a private equity firm, which is buying the John R. Morreale Inc. and neighboring properties with plans to redevelop them into retail and other uses, according to published reports.
"We're looking forward to moving," Magrini says, noting the company has outgrown its current facility. "In the next few years, I think we will be bigger and better than before, and our new facilities will help us get there."