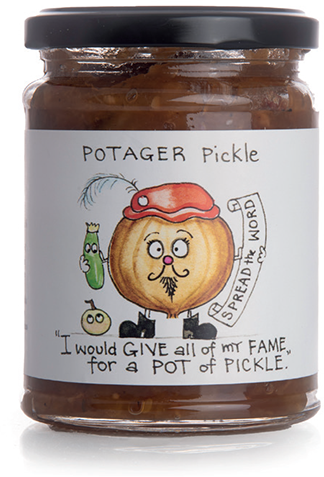 The jars (marmalade, jam and pickle) feature fruity Shakespearean illustrations by the renowned illustrator and cartoonist Ann Edwards and a light-hearted synopsis of the play in question.
Ouse Valley was founded in 2004 by Julian Warrender in Lewes, East Sussex and from its conception, has been the recipient of multiple awards. The quality of ingredients is paramount, with the team committed to delivering products that impress an ever-growing customer base.
https://ousevalleyfoods.com/ collections/spread-the-word
The packaging immediately caught the eye of our Taste Testers, who loved the cutely comic characters on the labels. The Plum Jam reviewer described the product as subtle and interesting, with a good consistency and she loved the cheeky plum on the jar! The Three Fruits Marmalade had just the right balance of tart and sweet and was great on toast and crumpets. The Tester of the Potager Pickle was most impressed with the product, which had a good level of heat and was delicious with cheese but also livened up a veggie burger, too.