Jonathan's Grille successfully merged quality family eating with the modern sports bar.
As a millennial and restaurant owner, Mason Revelette understands what his generation is looking for when they eat out. People today want fresher takes on the concepts they grew up eating at with their families. "I really feel like long term we're in a spectacular growth phase for restaurants," Revelette says. "I feel like there's going to continue to be a separation between the old chains and new, exciting concepts."
Revelette and his brother, Curt, are helping the Nashville market realize that separation with Jonathan's Grille, an upscale blend of a sports bar and grille concept owned by the Revelette family. "We're updating your dad's old school sports bar," Revelette says.
The first Jonathan's Grille opened in 1999. Mason's parents were in the real estate business and saw an opportunity for a new restaurant concept with the help of a partner. In 2010, the family decided it was time to grow the concept. The Revelettes bought out their partner and put their sons in charge. Since then, Jonathan's Grille has grown from two locations to five, with two more in the works.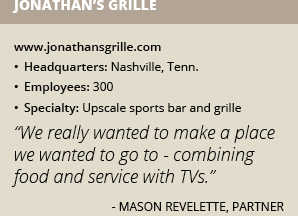 All of the restaurants are located within a 45-minute radius of downtown Nashville, mostly in suburban areas. Since taking over, the brothers have successfully turned Jonathan's Grille into a highly regarded name in the Nashville market. CNN named the restaurant one of the Top-101 Sports Bars in America and the business made the list of Inc. 5000's fastest-growing companies for three consecutive years.
Focus on Food
Despite its abundant TVs and rotating craft beer selection, Jonathan's Grille is more grille than bar. The company earns 70 percent of its revenue from food, a testament to its success in creating a restaurant that caters to families and sports fanatics alike. "We're really focused on the food quality and getting people back as often as possible, not just when there is a game on," Revelette says. "We really wanted to make a place we wanted to go to. It seems like if you want to watch the game you have to sacrifice all the food and service to get the TVs."
Freshness is of the utmost importance to good food. Deliveries come in about four times a week and the restaurant never orders more than enough for two or three days. Revelette says the low inventory approach helps avoid overstocking ingredients and ensures as many items as possible are fresh and locally sourced. The company also strives to serve natural-tasting meals using chicken and red meat grown without steroids or antibiotics.
Jonathan's Grille's cooks arrive between 7 and 8 a.m. each day to prep ingredients for the 11 a.m. opening. By preparing the food hours in advance, Jonathan's Grille is able to have a smaller and more efficient footprint for the kitchen.
Only 20 percent of the restaurant's footprint is dedicated to the kitchen – at most restaurants the kitchen takes up 35 percent of the space. A smaller kitchen makes cooking easier, Revelette says, because chefs have everything they need within an arm's reach. "We would rather have seats and butts in those seats than an enormous kitchen," he explains.
Although the food appeals to both crowds, families and bar patrons usually don't want to mix. This is why Jonathan's Grille separates the bar from the sit-down restaurant, creating two distinct atmospheres that allow both audiences to fully enjoy their visits. "We want to be busy," Revelette says of broadening the appeal beyond just sports. "People actually want to be there even when there's no game on."
Jonathan's Grille's commitment to food is matched by its dedication to service. When hiring, Revelette looks for people who have a smile on their face and are excited to be part of a growing company. He can teach the job and menu, but not enthusiasm. The company rewards those employees by giving them a change to grow their careers within the company as the restaurant adds new locations.
All of Jonathan Grille's managers started with the company in smaller roles and were promoted from within. That loyalty to employees leads to a dedicated workforce truly interested in getting to know their customers. "We genuinely appreciate people that come to eat with us," Revelette says. "They pass 50 restaurants to come pull into our restaurant to be our customers, and we do not take that for granted."
Primed for Growth
The family's real estate background is another advantage Jonathan's Grille has over competitors. The company owns the land for each of its restaurants, meaning it never has to worry about a lease expiring or a landlord hiking the rent. "Being able to sleep at night and know you are paying yourself rent every month is a comforting feeling," Revelette says.
The downside is that the land ownership model dictates slower expansion, but it's a trade off Revelette believes benefits the company. "It's a consistent yet controlled growth," he says. "One [new location] a year, owning our own building is a game plan that works for us."
With the seventh restaurant expected to break ground in spring 2017, Jonathan's Grille is beginning to think outside the Nashville market. Revelette says there are a number of other cities where the company believes it would find success but no decisions have been made at this time. The goal is to become a strong regional player within the next few years. "I think we could definitely execute in the Southeast for sure and potentially into the Midwest," Revelette says.