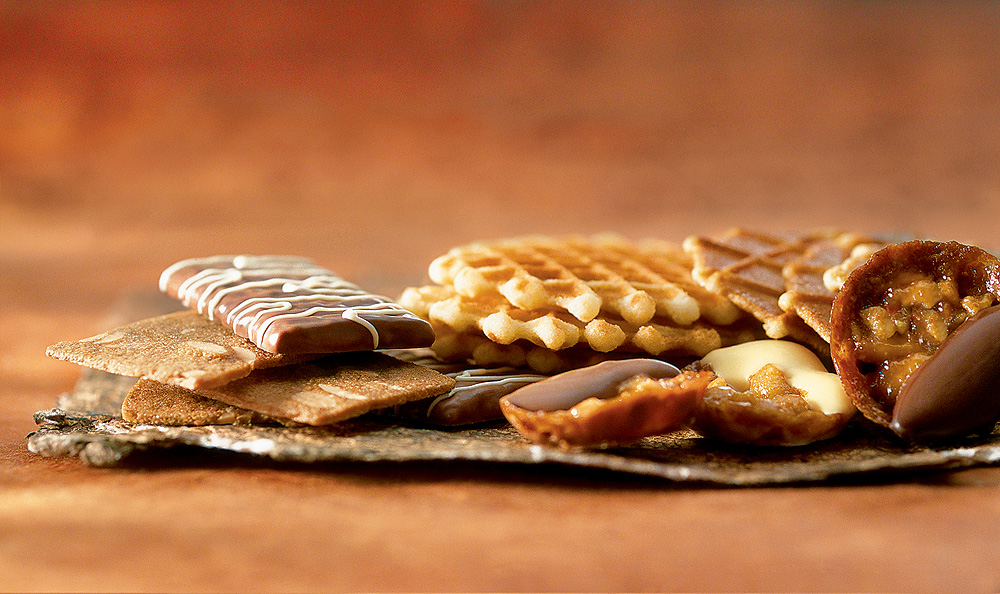 Completely unphased
Change has always made up the fabrics of Jules Destrooper, as Peter Destrooper highlights
Premium biscuit producer, Jules Destrooper was established over 120 years ago, when Jules Destrooper, a colonial trader, combined the flavours of the spices he imported from Africa and the East with traditional biscuit ingredients to create the company's unique signature biscuit, the almond thin. Based on the biscuit's success, the biscuit company was founded in 1886. Encouraged by the success of his first product, Destrooper formulated his own recipe of a traditional Belgian butter wafer, which he successfully launched in Belgium in 1890. In 1911 his original almond thin recipe was rewarded with a prestigious golden award at the famous food show in Paris. This prompted Destrooper to expand into an international market. He worked hard to improve the quality of his products and was rewarded with several more national and international awards, and he launched a first selective export.


By 1956 the company was being run by the third generation of the Destrooper family and in this year it acquired the Brussels biscuit company, Van Loo, which was renowned for R Van Loo's Petits Sujets. This particular type of biscuit, along with spice butter cookies is still being produced at this site. Today, the business still operates out of its two production sites in Lo and Ypres, in the Belgian province of West Flanders. The Lo factory was the original production 56facility and is where the butter crisp and butter crumble biscuits are made. The Ypres factory is responsible for production of all chocolate covered biscuits and almond thins, the most successful export product, are the only biscuits to be made in both facilities.
The fourth Destrooper generation, Peter and Patrick started a new era of the company in 1984. This included the exploration of new markets and the introduction of several new product lines, including the now famous Florentines. Despite these changes, the company retained its original philosophy. The biscuits are still produced with the same care and attention as they were over 120 years ago.
Managing director, Peter Destrooper explains what sets the business apart from other biscuit producers: "Most other premium biscuits are chocolate covered, so we cover a gap in the market for non-chocolate covered biscuits. In this way, we're not actually competing with other biscuit manufacturers, but we're offering an additional type of product."
Mainly supplying customers in the multiples and wholesalers, Jules Destrooper has also been available in travel retail shops including duty free outlets and is present in airports in over 30 countries worldwide. He adds: "We have ten different products and are able to produce in excess of a few millions of biscuits a day from our two sites. These biscuits, which have been awarded multiple gold medals throughout the years, are exported to over 75 countries around the world, with the UK, the US, France, Germany, Holland and Japan as the most important markets.
"There has been a steady growth in the export market and we have been looking to further develop the distribution worldwide, but more so in the existing countries. We looked into new ventures in new territories like the Middle East – Saudi Arabia and the Emirates. Due to the sheer success of these markets, we developed further into the Middle East by penetrating Bahrain, Qatar and Kuwait last year."
Continuing, Peter highlights another recent development within the company: "As of next year we are looking to venture into the food service industry. However, up until now we haven't really had an assortment catered for this market segment, so in April 2009 we will be launching a completely new line dedicated to food service. We have always been inundated by demand but didn't have the right packaging type. To gear up for this change, we are injecting significant investments of over one million euros into new state-of-the-art machinery that will enable us to pack the biscuits individually. We are definitely looking forward to next year and I am quietly confident that this will prove a successful move for us."
Change is always welcomed at Jules Destrooper but when its production site in Lo was engulfed in flames in August 2005, this was a change that was nothing short of a devastating period for the company. "We were forced to temporarily stop the production on two products and it proved to a rather tough time for everyone. However, we successfully completed the rebuilding work by the middle of 2006 and installed a whole new range of machinery and I dare say that we came out stronger at the other end," states Peter.
With times proving tough for every strata of the industry, Peter looks back to the summer months and how the company was not spared the crisis. However, as of September he believes the company is back on track following a minor glitch. "We are looking to a bright future because we still have lots of possibilities to further build on distribution. In five years, we're looking to double the size of the company but still retain the charm of being wholly family-owned. I dare say, I see another 120 years of existence, if not more," Peter concludes.