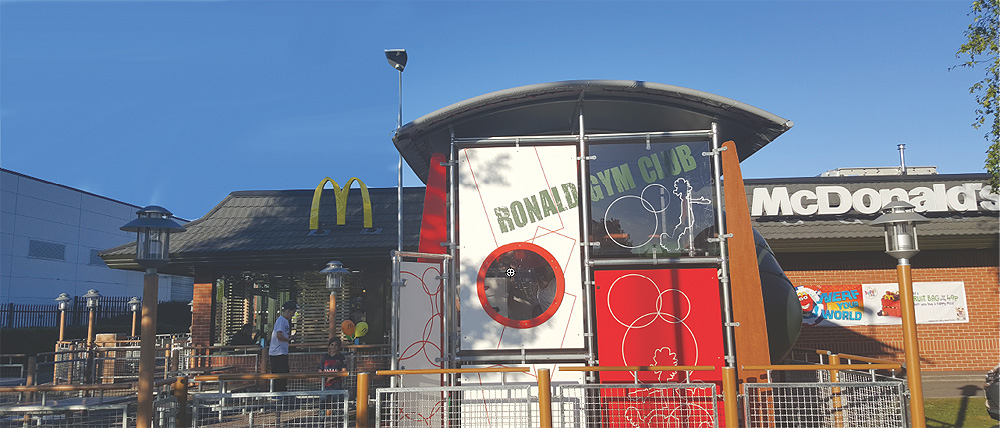 Family ties
Following in the footsteps of his father, Kevin Foley is McDonald's first UK-based second generation franchisee, responsible for operating six successful brands of the chain across Norfolk
To say that the Foley family's lives have been intertwined with the evolution of the McDonald's brand in the UK is probably something of an understatement. For Kevin Foley, the fast food
restaurant chain has been an ever present in his own life since the early 1970s, when his father began working at its Woolwich branch in London, where he would work alongside Paul Preston, former President and Chief Executive Officer of McDonald's UK.
"McDonald's has been around my family for so long you could say I almost have ketchup in my veins," begins Kevin, who is today the owner of six McDonald's branches in the McDonald'sEast of England. "In fairly rapid fashion, dad went through the McDonald's management programme and was promoted into several senior roles, one of which was the development of its stores in Central London and the South Coast. This meant that, as a child, I would often join him at weekends as he toured said stores carrying out customer satisfaction reports and audits. Always being someone who enjoyed being amongst employees and customers, dad would later jump at the chance to become the first UK company employee to be granted a franchise, before moving the family from London up to Norwich where he would run restaurants up to as recently as eight years ago."
Second generation
Having himself working in a part-time capacity at the Eltham High Street branch of the chain as a 14-year-old, Kevin would eventually follow his father to Norfolk, first taking on a role at the former Westlegate branch, where he would gain his first experience of management. "From there I went on to open up the Wroxham branch, before taking on the role of Store Manager at Tuckswood," he explains. "It was at that time, during one of our many conversations about career progression, that my dad explained to me about the concept of 'second generation franchising' that existed within McDonald's in the United States, whereby a son or daughter could buy into the business through the purchase of one of their parent's stores.
"Having approached McDonald's UK with this concept, they were very receptive to it and some 18 months later, after completing all of the legal preparatory work, they returned to me with the offer of becoming the first, and to date only, second generation franchisee in the UK. In 1999, I purchased the Tuckswood branch from my dad, before then going on to takeover the Wroxham branch, the new Norwich Airport and Brundall locations, and during the course of 2018 I have also added to my network of stores with the purchase of the Beccles Drive Thru, the Regent Road, Great Yarmouth, branch and most recently Gapton Hall, Great Yarmouth."
Customer satisfaction
They say that the apple doesn't fall far from the tree, and Kevin has made great efforts to learn from his father and apply the same style of management that brought the elder Foley such success over a number of years. "Some of things I learned from him right from an early stage include his level of work ethic, the idea that you only get out what you put in, and how motivation and encouragement can drive people to achieve better, and those are traits I have hopefully brought into my business as well," he states. "Like my dad, I also take great pride and satisfaction in seeing young people progressing through the business, growing as individuals as we support their development.
"Myself and my branch managers have worked very hard over the years to ensure that we have the best quality people working for us, and we invest heavily in our employees, helping them to learn new skills and gain confidence, while also building upon key life lessons such as teamwork and decision making. We also know from experience that having a good core of employees helps to attract customers to regularly return to the restaurants having had a good experience on previous occasions."
As a business, McDonald's has earnt a reputation as one that never stands still. By being proactive and embracing innovation it has an almost unrivalled track record when it comes to listening to its customers to develop products and solutions to enhance their experience in its restaurants. "Responding to customer trends and tastes has always been one of the company's strong suits, from investing in an improved coffee range and introducing new menu options to opening 24 hours a day and adopting free wi-fi across its branches," Kevin says. "More recently, we have rolled out a mobile ordering APP, launched our McDelivery service and at three of my Drive Thrus we have even installed electric vehicle charging points as part of a partnership with a company called Pod Point, becoming the first UK franchisee to do so."
Enhanced experience
As Kevin goes on to point out, this innovative and proactive approach clearly is proving its worth, with McDonald's UK now into its 50th consecutive quarter of sales and guest count growth. To build upon this further still, the company continues to plough capital back into its assets and infrastructure, and in the case of Kevin's restaurants this has included investment in digital marketing tools and kitchen upgrades.
"In the case of digital marketing, this has included the installation of digital menuboards behind our counters, new digital Drive Thru boards, new kiosks and of course the new APP," he details. "Then, when it comes to our kitchen platform, we have modernised this in response to our customers' demands for greater order customisation and to allow us to prepare all of our food fresh, as opposed to holding food as we had done in the past. Converting our branches to deliver an experience for the future, as we call it, has been a great success and we will shortly be doing the same with our Beccles branch."
Heading, as we are, into 2019, Kevin is aware of the air of uncertainty and caution that exists in the UK as 51it rolls towards the date on which it is due to leave the European Union, and he has prepared himself and his employees accordingly for what they must do to navigate this period. "For us, it is about making sure our internal business controls are in order and that we respond to our customer's concerns regarding spend by constantly looking at things like pricing, the products that we offer and how we can enhance their experience," he adds. "I have no doubt that people still want to visit McDonald's restaurants and treat themselves when they can, and we have to guarantee that when they choose to spend their hard-earned money that we provide them with the best quality food, service and hospitality possible, and the way we are moving forwards right now makes me very confident in our ability to achieve this."