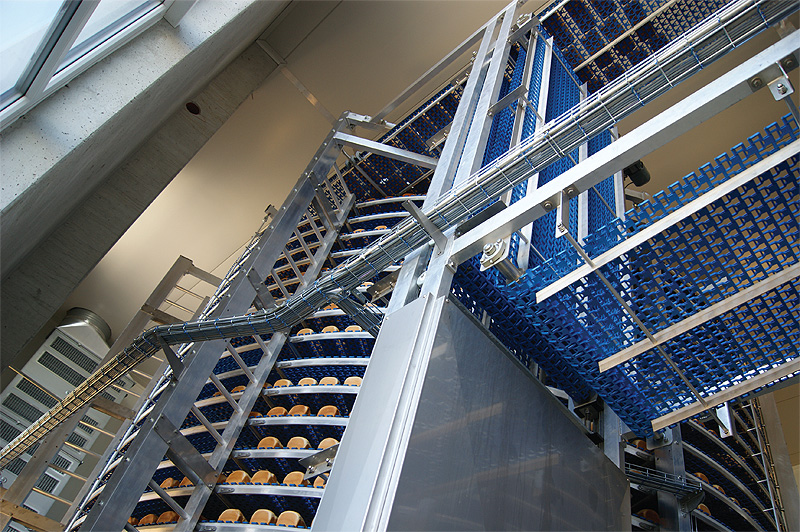 A baker's oven
Kaak has a history of innovative baking technology and is currently enjoying better business than ever in a thriving and expanding baking industry
The Kaak Group is a baking technologies company that manufactures devices for use in commercial baking operations. The company began manufacturing bakeware over a century ago in the Dutch village of Terborg, where even today it still has its 22,000 square metre headquarter building. Since its foundation the company has evolved into the multi-division Kaak Group with companies responsible for all aspects of the baking process from dough handling to crate handling.


Nonetheless the original business, now Kaak Nederland BV or simply Kaak, remains at the Group's core and has two functions within the network. Firstly, it manufactures transport and storage systems for the baking industry, as well as proofers, cooling and freezing systems, and the company's proprietary multi-step technology. Secondly, it functions as the Group's technical department and is responsible for all translation of client specifications into development blueprints. Pursuing these two avenues of business, Kaak is responsible for 70 per cent of the entire Group's total annual sales, totalling approximately 110 million euros.
The wide range of items produced by Kaak includes equipment for proofing, decorating, baking, de-panning, conveying, cooling, freezing, handling, pan handling and crate handling. All of these are manufactured with reliability, efficiency and quality in mind; for example, the Multi-Spiral Cooler system has been designed to be lighter than other similar machines meaning it has lower energy consumption, to have low levels of operational noise, an automatic belt washer and belt tensioning control, as well an overall low level of necessary maintenance. Furthermore it has a number of adaptable elements such as insulation housing and single or double spiral columns.
Alongside its considerable engineering experience, Kaak also provides a number of other customer services. First and foremost it has a dedicated repair service for all of its products, which is available 24 hours a day, seven days a week, and can be accessed by telephone, e-mail or personal visit. Through modem connections between Kaak and customer, the technical department can even pinpoint trouble points without needing to send out an engineer. The company does provide clients' staff with full technical training for operation and maintenance of machines and can advise them on repair techniques, but if a specialist engineer is required Kaak is able to facilitate that as well. This affords the customer prompt technical support with as low cost as possible. Spare parts are also available for all of Kaak's equipment, and all enquiries are handled by a team of experts. With 700 employees, it always has enough people to handle all client demands.
A major part of the company's operations consists of what it calls 'project business' or 'turn key projects'. This is when it provides more than a single piece of equipment, which can range from partial lines to complete business management. Particularly with markets outside of Europe, where customers may have less experience in baking production, Kaak is able to provide a complete package from bakery buildings to staff training. Sometimes it will remain with these customers for years at a time, allowing the client to gain a knowledge of production lines and their local market before taking on full operation of the business. In 2009, Kaak won an award for its business model, being particularly complimented on its employment and training programmes.


The wider Kaak Group is comprised of six subsidiaries and nine divisions: Kaak and Kaak Bakeware, Benier, Daub, MCS, Lhotellier R2A, KSW, Multiparts and the freshly founded DrieM. Apart from Kaak and Kaak Bakeware, which is the result of the original business being split in two, the Group has acquired its other divisions over the last 20 years. Each one specialises in different aspects of the baking process and is based in various locations around Europe.
Daub, for example, is a German company that specialises in manufacturing thermal oil ovens and stonebaking technologies; Lhotellier R2A meanwhile is a French division investing in research and development of non-stick coatings for baking equipment. Highly qualified technical experts staff all divisions and, as such, customers are able to request a specific division of the Kaak Group to head projects. This flexibility allows the Group to build up a personal and long-term relationship with its clients, something it considers to be very important. The future for both Kaak and the Kaak Group looks promising. The European bakery trade is beginning to consolidate, meaning fresh and efficient production lines that Kaak will capitalise upon with its current and future equipment. The global market meanwhile is in steady growth and the company will be there to provide not only equipment but also knowledge and training as well. Though the Group has no acquisitions in the pipeline, it is always on the lookout for fresh opportunities and will continue to grow organically.