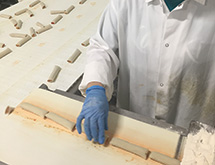 Martin Kelly understands the rap against frozen food. "Historically, the quality has not been so great, and it's not been that flavorful," says Kelly, president and CEO of Kahiki Foods Inc. The category has lacked variety and utilized a lot of additives and preservatives, he says. So what attracted Kelly to Kahiki Foods, a producer of Asian frozen foods?
"The business proposition was exciting and intriguing," says Kelly, a food and beverage industry veteran. "Because frozen food has been boring, and Asian frozen is kind of a hidden gem, I got excited about the opportunity and decided it was really worth doing." Kelly the joined the Gahanna, Ohio-based company in July 2014 as "The Big Kahuna" and believes he's at the helm of a company situated "in a category with a tremendous amount of upside," he says.
"People are always going to eat and drink," Kelly says. "The question is: What will they eat and drink?" He hopes they'll be drawn to the frozen foods in Kahiki Foods' expanding product line, especially given the recent changes the company made. In 2014, Kahiki Foods went all-natural by removing artificial flavors, additives and MSG from its foods. It also expanded its product offerings by launching the StirFresh line in 2014, adding Steam and Serve products in early 2015 and Bowl and Roll single serve meals in the fall of 2015.
Natural Move
The move to all-natural foods was the right thing to do for today's marketplace, but it has put pressure on Kahiki Foods' margins, Kelly says. He maintains, however, that the higher cost is worth it.
Millennials and other consumers have indicated that they are increasingly willing "to pay more within reason" for healthier food selections, Kelly says.
Kahiki Foods' primary products include tempura chicken, egg rolls, multi-serve meals, single-serve meals, spring rolls and Asian Stix appetizers. "We want to be this exciting little island within frozen foods," Kelly says. In other words, he wants Kahiki Foods to offer consumers a variety of flavorful frozen foods that they truly enjoy rather than eat because of convenience or dietary concerns. "With our foods, the flavor is there, the variety is there," he says. "We deliver something that's different."
Asian frozen foods are popular for a variety of reasons, Kelly says. "Growth in Asian restaurants over the past 10 years has been strong," he notes. Additionally, the Asian-American population continues to grow. "Things of Asian culture are popular in the United States," he says.
Overcoming Obstacles
Despite those advantages, there are obstacles to marketing Kahiki Foods' products. Primarily, it is difficult to draw consumers away from the perimeter of the grocery store where departments including the deli, meat market and produce are typically located, Kelly says. "Frozen food is not the fastest-growing category in world," he adds. The company also strives to manage the costs of bringing more variety to market. We're getting very disciplined in our planning," he says.
Kahiki Foods distributes throughout the country via its relationships with Walmart and Sam's Club. However, its distribution is particularly strong in the Great Lakes region, the Northeast and mid-South states, such as Virginia and the Carolinas, Kelly says.
Kahiki Foods' products can be found in grocery and convenience stores, as well as club stores, but Kelly would like the company to grow by expanding its distribution network. He explains that while the company is not the biggest in the market it can "lead the category through passion, innovation and marketing."
The company's tempura chicken and sauce dishes are its most popular items followed by the StirFresh offerings, appetizers and single-serve meals, Kelly says.
Restaurant Roots
The company's history began with the opening of a restaurant, the Kahiki Supper Club, in 1961, in Columbus, Ohio. The restaurant changed hands in 1978, and in 1989 it won a bid from Wendy's to produce 250,000 egg rolls for a Chinese art exhibit.
Four years later, the restaurant's owner formed a board of directors and issued publicly traded stock to raise money to build a frozen food manufacturing facility, which opened in 1995. Sales of frozen foods outpaced restaurant sales within three years. The supper club closed in 2000, and Kahiki Foods moved to its current 135,000-square-foot manufacturing facility in 2005.
The manufacturing facility is well equipped to handle the company's future growth. It has 1,500 freeze-up pallet positions with strategic off-site overflow and a state-of-the-art individual pallet tracking and tracing system. It also features a fully customized enterprise resource planning system for every customer, Kelly says.
Kahiki Foods continues to improve its shipping and receiving capabilities. The company has the capacity to ship and receive up to 25,000 cases per day and features flexible shipping lanes with same-day delivery options.
There are also six dedicated packaging lines, two scaled vertical baggers, single-serve and multi-serve meal assembly, cartoning of meals and appetizers, bagging for bulk units and sauce pouching. Frying and flash-freezing capabilities are also onsite.