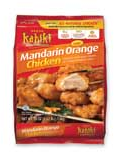 Started in the basement of the family restaurant in Columbus, Ohio, 20 years ago, Kahiki Foods opened in 2005 a state-of-the-art, 119,000-square-foot manufacturing facility for its frozen Asian foods that was the dream of its founder, Michael Tsao.
The Kahiki Supper Club in Columbus was opened in 1961 featuring gourmet Asian and Polynesian cuisine and won numerous awards. "Some Kroger executives who liked to eat at the restaurant were having lunch with Michael and suggested he start selling egg rolls in the local Columbus Kroger stores," President/COO Alan Hoover relates.
In 1995, Tsao decided to build a USDA-approved manufacturing facility, but no bank would lend him the money. "So he did an IPO and raised enough money to build a 7,000-square-foot plant next to the restaurant," Hoover says.
Tsao passed away in 2005 10 weeks after the company moved into the new 119,000-square-foot factory. However, his legacy lives on today, as his Kahiki Foods continues to add to its founder's dream. The mid-priced line has grown to 70 Asian entrees, meal kits and appetizers – including those famous egg rolls – for retail grocery stores, membership warehouse clubs, convenience stores and foodservice operations. Products ranging from General Tso's Chicken and Orange Chicken to Buffalo-Style Chicken spring rolls are available in 10-ounce single servings, 26-ounce tempura chicken gusseted bags and 32- and 40-ounce family sizes, along with appetizers and egg rolls for convenience snacks.
No Batches
One of the improvements made with the move to the new manufacturing facility – which is located on 14 acres of land – is the ability to employ more continuous flow manufacturing processes.
Most of the company's products are shipped within a few days of being produced, Hoover maintains. "Virtually everything is produced to order," he says. "We want to have the freshest frozen products in the category. Our goal here is to turn our inventory 25 times per year, so we don't want to sit on it long."
One of the company's signature products is its tempura chicken. Production of it is just one example of the lean and Six Sigma manufacturing process the company created – which it calls the Kahiki Performance System – when the new plant was opened. "In 2005, we embarked on a lean manufacturing journey with the objective of driving the waste out and simplifying the business," Hoover recalls.
"One of the major breakthroughs we had was moving into a more automated continuous flow process."
The tempura chicken used to be made in little french fry fryers in a batch process. "Now, it is far more automated with fewer people on the process," Hoover emphasizes.
"Where it used to take us 330 minutes from initial cut of the chicken to getting it into the freezer, today it takes us less than a half-hour," he adds. "Some of the biggest names in American business have come here to visit to learn about the Kahiki Performance System."
The Future
Changes like that are helping Kahiki Foods – which was bought by third-generation family business ABARTA in 2007 – keep up with the big companies. "The market is changing very rapidly, especially with the entrance of really big multinationals," Hoover says. "You also see more stand-up gusseted bags in the freezer case than there were five years ago.
"All year long, we've been working to stay ahead of the curve and be tops in taste, texture and flavor," Hoover asserts. "We're still a small player in relation to a lot of the other food companies, but we are growing, and we don't expect to be small for long."