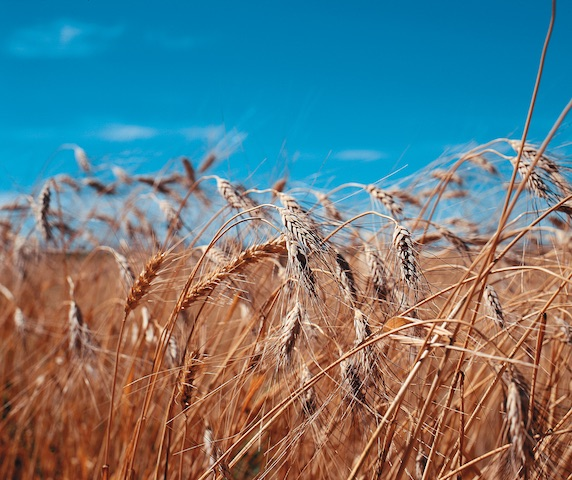 Kamut International is not only focused on promoting the health benefits of the ancient KAMUT® wheat, but also organic agriculture throughout the world.
Kamut International (KI) set out in the 1980s to change the way we eat by promoting organic farming and the ancient grain known formerly as "King Tut's Wheat," which is now recognized as KAMUT® brand khorasan wheat.
The Montana-based company also owns the KAMUT® trademark, which is used to market a grain that is always grown certified organic, never hybridized or genetically modified, and prized for its nutrition, ease of digestibility, sweet nutty-buttery taste and firm texture. Compared to most modern wheat, it has more protein, amino acids, vitamins and many minerals, especially selenium, zinc and magnesium.
In addition, KI annually invests more than $200,000 to research the benefits of KAMUT® wheat for people who suffer from digestive issues. Over the past decade, the company has published 27 peer reviewed journal articles. Its most recent studied chronic diseases, including heart disease, diabetes and irritable bowel syndrome.
"The diseases we're studying affect a large part of the population," Founder Bob Quinn explains. "For instance, heart disease is one of the most deadly diseases on earth. We discovered that eating the khorasan grain has significant increases in anti-inflammatory activity, while modern wheat causes inflammation. So, it's health-promoting rather than detracting from your health."
KI sponsors its research in Italy because "no one in America wanted to work with us when we started 10 years ago. No one believed there was a problem with wheat," Quinn recalls. "Experts told us that problems eating modern wheat were just in people's heads. So we found some researchers in Italy who are very interested in the problem."
KI has been working with the universities of Bologna and Florence ever since. "It's my passion to know what's going on with our food supply in the United States to understand why so many people are sick," Quinn says. "Although we're the best-fed country in the world, we aren't the most well-nourished. I think that's starting to have a toll on our health."
The family-owned company has four full-time employees, including a farm advisor in northern Montana. KI also has a sister company, Kamut Enterprises of Europe. Its job is to promote and protect the trademark as well as coordinate research studies in Europe, which accounts for about 85 percent of the total business. "We have a staff there of about 15," Quinn says, noting Kamut International has partnerships with farmers and cleaning plants both domestically and internationally.
"We have a partner in Montana that takes care of the American market," he explains. "We also have one in Saskatchewan which oversees the Canadian market, as well as most of the European market. Things continue to progress for us and we have a surplus of supply right now. We're not growing as much as we did last year, but our customers will not run out this year as they may have in the past when growth exceeded supply."
Global Expertise
This year, KI has several initiatives it aims to finish, including a new study and a film about the KAMUT® brand story and the Quinn family farm. "My farm is my laboratory and research center," Quinn notes. "Although our farm is organic, we started the transition 32 years ago and have documented that in this new movie. It focuses on finding out how organic could work in the Northern Great Plains and how we introduced an unknown ancient grain into the marketplace."
"The demand for organic food is more than 5 percent of the U.S. market, and yet the research available for organic agriculture is less than half a percent of the total USDA research budget." he adds. "I'm starting a campaign that organic research should be expanded to keep up with the demand of the marketplace. If that is ever achieved, we can solve some of the problems our food system has."
One of the ways KI is trying to solve this problem is by hosting the first-ever world conference about ancient and heritage wheat in Bologna, Italy, this June. "We're inviting researchers from all over the world to join us," Quinn explains. "We want to bring them together so they can form an association to help and encourage each other, and compare notes of what they're seeing all over the world. We're really excited about the response we've had so far, as there will be about 40 countries participating."
In addition, Quinn is working on a book to be published by spring 2019. He is working with co-author, Liz Carlisle, from Stanford University and recently signed a contract with a publisher in Washington, D.C.
"The book is about how food is being produced by subtracting value from it at every level," Quinn notes. "The theme we see in America is that there is a race to the bottom to produce cheap food, and it seems like the cheaper the food is, the better. Now we have an extremely high price for cheap food, which isn't paid at the supermarket in the checkout line. It's paid in loss of productivity, disease and sickness, and loss of health and energy," he continues. "This book will discuss the importance of heritage seeds and ancient grains, and the production of them using organic agriculture and processing them in a way that retains or enhances nutrition."
Quinn recently celebrated his 70th birthday and is in the first of a three-year retirement program. "There's a couple of things I want to finish before I retire and finish transitioning all my projects over to the next generation," he concludes. "The message I want to leave is the role food plays in keeping people healthy. If we take care of the soil, the soil will take care of the plants, which will then take care of us. This is a core message of organic agriculture, and is the same all over the world."