Kamut International is focused on promoting both the health benefits of the ancient KAMUT® brand wheat and organic agriculture throughout the world.
As consumers become better educated about what they feed themselves and their families, they also become more aware of what certain types of food do to their bodies. Some develop digestive disorders from the food they ingest since much of what we eat was farmed with chemicals and pesticides, which still remain in trace amounts on the food. Some foods have been greatly changed to fit an industrial model of production and processing for the sake of cheap food and high profits. Kamut International wants to change the way we eat by promoting organic farming and the ancient grain known formerly as King Tut's wheat, now recognized as KAMUT® brand khorasan wheat.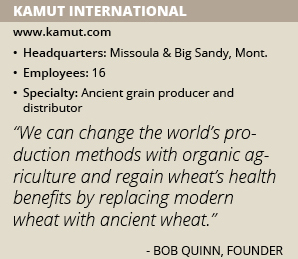 Kamut International Founder Bob Quinn came across khorasan wheat (now sold under the Kamut trademark) at a county fair in Montana more than 50 years ago when someone offered him a small sample. It remained on Quinn's mind for years to come, and he and his dad began growing it in their garden in 1977 from just a handful of grain. In 1986, Quinn and his parents went to a health food show, Natural Products Expo West, to drive interest in what they'd produced on their farm and sold through their Montana Flour & Grains business. One person showed interest, wanting to buy everything the family could produce.
Quinn then planted about 3/4 of an acre in 1986, as well as converting his chemical farm to organic production. He has continued to grow the ancient wheat on his farm ever since. Now, KAMUT® brand wheat is grown on 80,000 acres by about 250 contracted organic farmers in Montana, as well as Alberta and Saskatchewan, Canada. KAMUT®-branded wheat can now be found throughout the world in more than 2,000 products, such as breads, pasta, pizza and beer.
Italy is the company's most robust customer, accounting for 75 percent of its business. "What's great about it, is that it tastes great," Quinn says. "The Italians, who are the most critical of pasta and grains, love it. And so they've given it their seal of approval, which has caused them to become the No. 1 market for it."
All Organic
Kamut International owns the KAMUT® trademark, which is used to market a grain that is always grown certified organic, never hybridized or genetically modified, and is prized for its nutrition, ease of digestibility, sweet nutty-buttery taste and firm texture. Compared to most modern wheat, it has more protein, amino acids, vitamins and many minerals, especially selenium, zinc and magnesium.
"In the beginning, when some of our customers said they could eat our ancient wheat but could not eat modern wheat, experts told us that problems eating modern wheat were just in people's heads," Quinn recalls. "Scientists said our wheat was no different than any other wheat, so what we were saying had no basis. That was one of the main challenges – to debunk that kind of false information. Another challenge is to bring a completely obscure grain into the national and world stage of organic food. We didn't start out with the idea of going worldwide, but over the years it's just evolved that way. We've just kept building markets and ensuring those markets are supplied at the levels they're interested in."
Kamut International not only owns the trademark for KAMUT® but licenses that trademark out at no cost to all manufacturers. From there, the company sets the standards for the products, and promotes them and organic agriculture in general. The company annually invests more than $200,000 in researching the benefits of KAMUT® brand wheat for people who suffer from digestive issues. "We've found it's anti-inflammatory for people, while modern wheat causes inflammation," Quinn explains. "So, it's health-promoting rather than detracting from your health."
In its research – both with healthy people and those suffering from chronic disease, such as irritable bowel syndrome (IBS), diabetes or cardiovascular diseases, the results have all been similar: markers of chronic disease have improved with a KAMUT® brand grain diet compared to modern wheat. The most dramatic improvement was with IBS, where the company saw a 50 to 100 percent improvement in symptoms when switching to KAMUT® brand wheat products from modern wheat. "The researchers are astounded by that," Quinn adds.
To facilitate more organic products on the market by promoting and protecting the KAMUT® trademark, Kamut International's other initiative is to help farmers convert to organic agriculture. Quinn says the demand for organic food far exceeds what organic farmers in North America are able to produce, so the increase of organic acres and organic farmers is very necessary in our current market. "I really believe in organic agriculture and believe it's the future, so I'm helping people convert as fast as they can," he says.
Quinn wants to see organic food take its rightful position as the future of food in the world. He says chemically produced agriculture is not sustainable for the long-term at the farm level, both financially and ergonomically. "We have traditionally been focusing on high-yield and cheap foods; now it's time to focus on high-nutrition and reasonably priced, high-value foods," Quinn says. "That's the direction we'd like to go. We can change the world's production methods with organic agriculture and regain health benefits now lost with modern wheat by going back to ancient wheat."