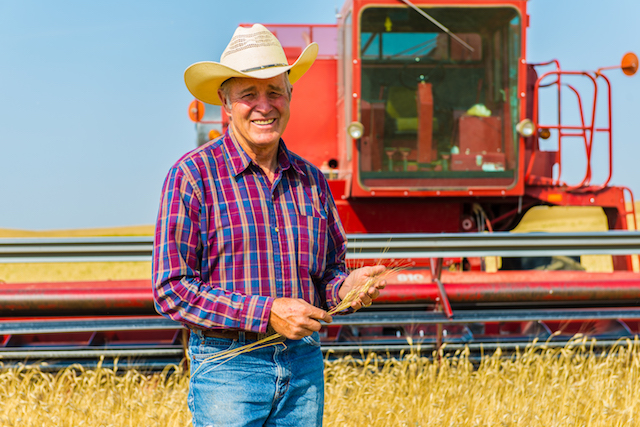 Kamut International offers an alternative to modern wheat and looks for sustainable partnerships.
In a booming health-focused market, today's consumers have higher expectations of their food and drink products – and the companies that produce and sell them. Transparency, authenticity and sustainability are more important than ever.
Kamut International – a Missoula, Mont.-based supplier of KAMUT khorasan wheat – has been ahead of its time when it comes to these matters.
"Our philosophy is to preserve the authenticity, purity, and uniqueness of the ancient khorasan wheat variety while promoting organic agriculture, fairness and sustainability for farmers," the company's website states.
It's a philosophy that the company takes very seriously.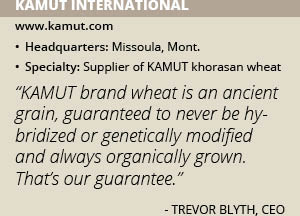 KAMUT brand khorasan wheat is an ancient grain that is always organically grown and prized for its nutrition, ease of digestibility, sweet nutty-buttery taste and firm texture.
"Wheat varieties are frequently bred to enhance agronomic and manufacturability traits, but nutritional aspects have historically not been considered," Kamut CEO Trevor Blyth says. "We believe the difficulty or sensitivities that many people now have in consuming wheat can be attributed to effects of these intensive breeding programs. Under the KAMUT brand, the original ancient khorasan variety will never be hybridized or genetically modified. That's our guarantee."
KAMUT brand wheat is an alternative to modern wheat. Although khorasan wheat contains gluten, Blyth says that many people with sensitivities to modern wheat report being able to eat it with no difficulty.
"We've had people tell us that they can't eat other wheat but they can eat ours and that it made them feel better," he adds.
The KAMUT brand also serves as a guarantee of consistent quality and organic production, while supporting organic farmers by providing a sustainable crop at a fair price.
Sustainable Partnerships
When it comes to business partnerships, Kamut International looks for companies that share a similar mindset. "We're always looking for new partners," Blyth says. "But we try to find companies that identify with the same values of our company and brand – organic, healthy, clean label and higher quality products."
One such partner is The Food Nanny, a TV show and lifestyle brand that promotes healthy cooking and is selling a white flour made from KAMUT wheat.
"It's a great flour for home bakers," Blyth says. "I think that's a growing segment for us. The Food Nanny is doing a great job in helping us to reach a new audience that is very much health orientated. We first partnered with them a few years ago but things are really starting to take off."
Another partner is Patagonia Provisions, a clothing company that branched out into the food industry in an effort to "fix our broken food chain." It offers a growing selection of foods that address environmental issues and encourage support of local food producers.
"They are very concerned about sustainability," Blyth says. "They are concerned about how products influence environmental and social change. We were very excited to begin partnering with them last year."
Grain By Grain
In 1986, Kamut International Founder Bob Quinn planted his first organic certified crop on his farm in Montana. One of his driving philosophies is based on the ancient teachings of Hippocrates that "food should be our medicine and medicine should be our food."
Over the years, he has worked to improve organic farming systems – striving for an even more regenerative organic system using rotations and soil building crops which eliminate the need of conventional chemically derived fertilizers, herbicides, pesticides and fossil fuel.
Quinn even wrote a book about his philosophies. Grain by Grain: A Quest to Revive Ancient Wheat, Rural Jobs, and Healthy Food published this year.
"He talks about his life, history and experiences that have led him to his views on food and farming," Blyth says. "It's a great manifesto of the ideas and philosophy that Kamut was founded upon."
Quinn shares his experiences and ideas for changing the way America produces its food. Readers learn about Quinn's upbringing on a Montana farm, his various ventures into organic farming, his work to improve soil quality and his launching of a wind farm and biofuel project.
It speaks about the necessity of valuing quality in food and how it can help heal people instead of making them sick, alleviate poverty by rebuilding rural communities, and reduce damage to the environment. Central to the story is an ancient grain from Mesopotamia that Quinn used to build Kamut International.