In a glaze of glory
Since 1955, Kane's Donuts has provided New England the best in artisanal donuts. Today, Kane's is growing its legacy with a mindset that honors both tradition and innovation, and a nationally acclaimed gluten-free line made as authentically as the traditional donuts that put Kane's on the map
Over 60 years ago, in the sleepy town of Saugus, Mass., Kane's Donuts opened its doors. When they took it over in 1988, Peter and Kay Delios used their decades of restaurant know-how (and recipes Peter perfected at his former nearby donut shop) to save Kane's from being overshadowed by big-box brands, by serving only fresh, handmade donuts, daily. And it worked: The region's favorite mom-and-pop shop remained a local landmark.
In the years since 2007, when son Paul Delios assumed daily operations as president and co-owner along with his four siblings, Kane's has added two more locations. As a long-time chef and restaurateur, Delios has used his culinary acumen to maintain his parents' legacy of producing hand-cut donuts while also developing the Kane's menu to include a steady offering of crave-worthy flavors, specialty items, and a growing cult-favorite line of gluten-free donuts that are made in the traditional donut-making method: they are kettled.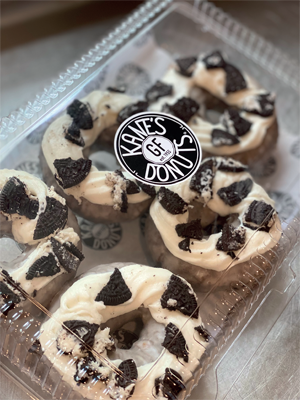 Donut recognition
Known for four things—quality, taste, size, and selection—Paul enthuses about the company's range. "Every day we offer 20 traditional donuts, including 15 Kane's Gluten Free (KGF) donuts that are also dairy- and nut-free. In addition, we have ten rotating flavors of both handmade traditional and KGF muffins; an all-day dining menu with savory items such as breakfast sandwiches and bakery-style pizza; and several weekend specials." From a traditional maple-bacon donut with thick-cut, cherrywood-smoked bacon, to artisanal French crullers and a year-round gluten-free pumpkin spice cake-style donut, the Kane's Donuts' flavor range is unparalleled. "When customers crave choice, they know they'll find it with us," says Paul.
"In 2018, Kane's was named 'Best Donut' by both Boston Magazine and the Improper Bostonian, and in 2021 it was featured as one of the 'Best Donuts in America' by New England Cable News," says Paul, shedding some light on the company's recent successes. "In 2020, USAToday named Kane's in its roundup of 'best donuts in every state,' and the company has also appeared in Travel and Leisure, Saveur and Yankee magazines, among others," he adds.
Customer community
The secret behind this success seems to be Kanes' dedication to traditionally made donuts with modern values. Paul explains: "The way we strive for innovation is by making sure we evolve. We work hard to keep on top of what we think our customers might need or want, based on what's going on in the world. For example, late in the summer of 2020, knowing that the beloved New England tradition of attending local state and county fairs wasn't possible because of pandemic shutdowns, we decided to bring 'county fair flavors' to our customers: we offered a Candy Apple Crunch Donut, a Fried 'Doughnut,' and a simple Cinnamon Apple Cider Donut. They were a hit…so much so that they're back on the menu this September."
Setting itself apart with more than just flavor, Kane's is also committed to sourcing locally and running sustainably. "Since I took over daily operations, I have ensured that Kane's is dedicated to using local ingredients whenever possible," Paul says. "I'm also always looking for the most sustainable packaging. It's important to always be on the hunt for better options."
Sourcing locally has community benefits as well as being sustainable. "We make thousands of donuts daily, and most of the time we get it right. We revel in the praise we receive from customers, but we still own our mistakes. This means we take our approach to our customers' experience very seriously," Paul says, highlighting the importance of Kanes' customer community. "Our social media focuses on community engagement rather than follows and likes. We take pride in the open and ongoing conversation our customers want to have with us, and we're proud to say that throughout the pandemic, we remained a trusted source for treats for thousands of customers who never stopped buying from us, even if they stopped buying from others. We heard from them daily in messages over social media. Sometimes by the hundreds. It was a privilege to feel like we could be there for them as many of their family members have been there for Kane's since 1955."
The creation of the KGF line was also community driven, as the company aimed to make donuts safe again for gluten-, nut- and dairy-free customers. Paul and his team have taken extreme care to achieve this, avoiding cross-contamination by making KGF donuts in a dedicated kitchen at the
Kanes' Lincoln Avenue site, miles from where traditional donuts and treats are made. "It was important to us that we reflect our tireless efforts to maintain a 'gluten-clean,' non-contaminated workspace for making our KGF products," Paul explains.
These efforts have certainly been appreciated. "The cult following of our KGF line continues to astound us. The fervor with which people buy them and talk about them remains one of our most proud additions in the last decade," enthuses Paul.
Just like its donuts, each Kane's store is unique in its own way. "Our Lincoln Avenue location is the very first Kane's: it features our original neon sign and maintains an old-timey, New England feel," Paul explains of the oldest Saugus location. "Our Route One commissary [also in Saugus] is our biggest and includes a drive-through option. It offers donut lovers a glimpse into our donut-making and donut-decorating processes from a viewing platform. Finally, the Boston location is a smaller store in the financial district. It exists to get our treats in the hands of Boston's many varied office workers.
"The same thing is served at all three outposts: Items made with integrity, by hand, and with love," Paul confirms. "We strive to ensure the experience you have at one Kane's is the experience you'll have at all three," he adds, illustrating how a combination of forward-thinking and traditional values is at the core of the Kane's Donuts experience.
"For me, 'local' has always been the name of the game," says Paul. "Our business with every partner we've ever had has significantly contributed to the success of the Kane's brand. From Atomic, our local coffee roasters, to Atlas Paper, Pure Country Dairy, and Pete and Gerry's Eggs, we are truly blessed to have so many people in our corner."
Controlled expansion
Looking toward the future of Kane's Donuts, Paul hints at the possibility of growth. "Some of our competitors are all about expansion, but from where we sit, it's taken us 66 years to move from one to three locations, and we're not in a hurry to grow. Quality, consistency and customer service are at the heart of our daily operations. That said, if an opportunity fell into our laps, we're not ones to ignore a potential good thing."
Ongoing dedication to the quality and reliability of its existing brand does not, however, mean that Kane's is limited to the New England area. After years of researching exactly how to successfully transport Kane's preservative-free donuts, it all came together for Paul this year, as he and Kane's Donuts joined forces with Goldbelly. "Despite the unpredictability of the pandemic, our Goldbelly operation allowed us to effectively open a fourth location without a brick-and-mortar storefront," says Paul. "On a recent call with our reps we learned that Kane's was generating positive reviews, and revenue, in the top one percent of newly on-boarded food businesses. I couldn't be prouder of our staff," he says.
Now nationally available and revered for its diversity of flavors and allergen-free products, Kane's Donuts stands in good stead as the conditions of the pandemic begin to change. "The pandemic put most of our development plans on hold," Paul admits. "However, in the next year we'd like to revisit some of the ideas we were hoping to launch to celebrate our 65th anniversary in 2020. In addition, we'd like to continue to develop 'Kane's Pantry,' a line of kitchen staples based off some of our most popular donut fillings, such as the seedless black raspberry jam in our jelly donut. We want customers to be able to enjoy an extra taste of Kane's at home."
Owned jointly by the Delios siblings and run by Paul Delios, Kane's operates from a chef-driven perspective in order to ensure great taste, traditional cooking methods, and high quality all around. Kanes' dedication to its local community, both through its tight-knit customer base, and locally sourced ingredients, will no doubt ensure the ongoing growth of its customer base, which is referred to as #KanesNation and #KGFNation. As Paul observes: "Nothing lasts without evolving. Not people, and definitely not brands."
This message seems to be the working ethos behind the success of Kane's Donuts. Armed with a fusion of traditional values and constant innovation, the future of this artisanal donut store looks bright. As Paul concludes: "Hopefully, in the long-term, we will be putting more smiles on people's faces. After all, just like we say in our motto (and, like my dad always said): 'Donuts are love.'"
www.kanesdonuts.com