Founded in 2005 in an existing restaurant, Kannah Creek Brewing Co. has since proven its market appeal and built from scratch a $4.2 million production facility called Edgewater Brewery with a second restaurant on the banks of the Colorado River. With the area being what owner and Head Brewer Jim Jeffryes calls an "outdoor paradise" – mountain biking, fishing, rafting and hiking abound in the summer and downhill and cross-country skiiing and snowboarding in the winter – Kannah Creek Brewing is the latest entrant in Grand Junction, Colo.'s populated craft brewing scene.
Rockslide Brewing was the first brewpub in Grand Junction in 1994. "They broke ground for us in Grand Junction," Jeffryes says. With seemingly every little mountain town having at least one brewpub, the market in Grand Junction – even with Breckenridge Brewing's Ale House in town – is hardly saturated, Jeffryes maintains.
"In our local area and most all of Colorado, it is a more-the-merrier situation," he insists. "All of us brewers and owners get along very well. I think competition in the beer world is all about taste and flavor and not so much about being competitive. Our market is more geared to people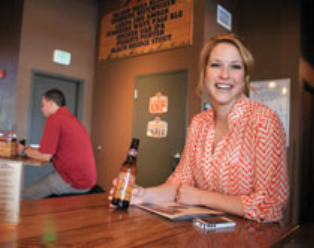 who want more flavor and maybe not as much quantity. They're willing to pay an extra buck or two to get that different-flavored beer."
Kannah Creek's on-tap flavors include a blonde, hefeweizen, amber, pale ale, India pale ale, porter and stout. Seasonal selections include cask and barrel-aged ales, as well as an Irish, Scottish, red and brown ales, a kolsch, Maibock, extra special bitter, pilsner, cranberry saison and lagers. New seasonal creations are on tap every few weeks. Several of the beers have won bronze, silver and gold awards from the Great American Beer Festival and the World Beer Cup.
Both locations serve most of the brews unless shortages develop. The menus vary between the two restaurants. "We do mostly pizza, pasta, salads and sandwiches at the original, and at the new place, we had so many requests to provide hamburgers that we designed a kitchen that would do hamburgers, hot dogs, sandwiches and a little more typical pub food," Jeffryes says. "We try not to compete with each other as far as selling the food."
More Beer
Kannah Creek Brewing produced approximately 2,000 barrels of its beers last year, of which approximately half was consumed at the company's two brewpubs and the rest distributed in kegs to other bars or sold to consumers in 220,000 bottles. "We need to get to 6,000 barrels a year of production by this time next year, and then by the end of 2015, 10,000 barrels," Jeffryes resolves. "We have our work cut out for us; that's a tall order. It's a break-even number we're trying to get to and then have a reasonable return on investment. For that, the 2015 number of 10,000 barrels should have a 5 percent net profit."
So far, Kannah Creek Brewing has bottled its Standing Wave Pale Ale, Lands End Amber and Crossed Irons Irish ale, and plans to bottle its Broken Oar IPA and blond ale in its 14,400-square-foot Edgewater facility. The most difficult thing about bottling a beer is the label, Jeffryes maintains. "Arranging the artwork and packaging is quite a big job," he insists. "It takes a lot of effort, and nobody can really agree on the artwork all the time. So we go back and forth and tweak things until we like it."
What's on a Label?
Label approval from the federal Alcohol and Tobacco Tax and Trade Bureau can take up to 90 days, with state approvals usually requiring approximately a month. Kannah Creek beers are licensed in Colorado, Nebraska and Illinois, because a beer-of-the-month club located in Illinois will distribute 3,000 cases of a Kannah Creek brew nationally in April.
"We're trying to grow a little bit and get name recognition," Jeffryes says. "The beer-of-the-month club will help that way. We're also going to enter our beers in the World Beer Cup competition in the spring and get some good results from that."
Jeffryes was educated as an engineer and worked in California for semiconductor manufacturers before he was introduced to home brewing. "Our particular yeast strain gives us a unique flavor," he says. "I think that just by adhering to very stringent brewing practices, we're able to make a pretty high-quality beer that people enjoy."