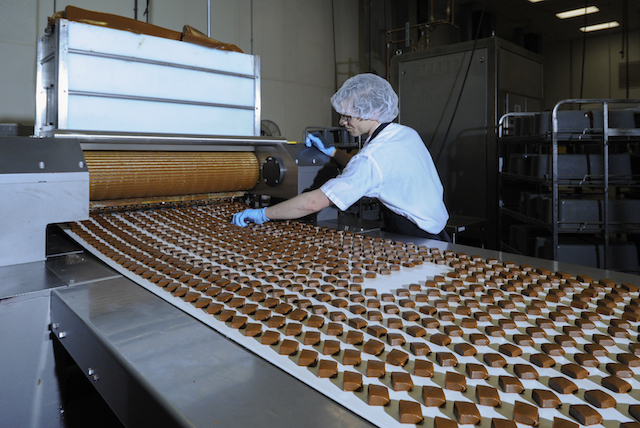 Kar's Nuts merges with Sanders and plans to revamp the look of its existing brands.
When it comes to trail mix and nutty snacks, most Americans recognize the look of Kar's Nuts and its sister brand Second Nature. But the award-winning snacks, which are being rebranded to reflect their Detroit roots, have a new addition to their nutty family.
A leading manufacturer of nut and trail mix snacks, Kar's Nuts completed its merger with Morley Candy Makers LLC in October. Morley Candy is a maker of premium confectionary products that are sold under the Sanders Fine Chocolatiers brand.
"Sanders is in an adjacent snacking category," says Bob Bryan, vice president of marketing at Kar's Nuts. "Most people view nuts and trail mixes as being healthy and chocolate as more of an indulgent snack, but we see a lot of opportunity in combining these businesses."
The merger brings together two iconic brands with deep roots in the Detroit area. Kar's Nuts was founded in Detroit in 1933 by Sue Kar, who roasted peanuts in her home and sold them outside of Navin Field, which later became Tiger Stadium. Sanders was founded in 1875 when Fred Sanders Schmidt opened his first candy shop in Detroit.
Both brands have grown into a national presence. Kar's and Second Nature brands are carried by major retailers such as Walmart, Kroger, Meijer, Sam's Club and Safeway. Sanders has grown into a nationally recognized producer of premium confections, artisanal chocolates, baked goods, dessert toppings and ice cream and its products are sold in leading retailers such as Costco.
"This merger will allow us to leverage our combined sales force and help the brands grow," Bryan says. "And it will help us to strengthen our innovation capabilities." The merger places Kar's Nuts on a leading platform within the snacking industry, offering a range of premium trail mix, nuts and confectionary products across three brands. Sanders will operate as its own division within the combined company The merger was the company's first, but may not be its last.
"We are in a growth phase and we're looking at additional opportunities in the future in snack related categories in terms of innovation and capabilities," Bryan says. "We intend to grow well above the pace of food and grocery across country."
A New Look
Kar's Nuts is rolling out new packaging for both its Kar's Nuts and Second Nature snacks. It will hit retailer shelves by the end of the year and be the first time the company changed its branding in about a decade.
The company has renovated its logo and rebranded most of its famous trail mix packaging to tap into its hometown pride. "We wanted to pay homage to our Detroit roots," Bryan says. "We're American made in Detroit."
Kar's Nuts added the phrase "Detroit Born" to the front and back of all its snacks packaging and its Sweet 'N Salty mix is being branded as "America's Trail Mix." "We wanted to keep the traditional colors and the look and feel of Kar's, but also wanted to modernize it," Bryan says. "The new packaging has pin stripes on it, which pays tribute to the foundation of the business outside of Tiger Stadium."
Kar's Second Nature products packaging is also getting a redesign. "The goal was to indicate the healthier side of the brand," Bryan adds. "It's a clean brand that's non-GMO, no preservatives and no artificial flavors. And most products are gluten free."
The rebranding was helped by New York-based Palladium Equity Partners LLC, which invested in Kar's last year. But the company, which was bought by the Nicolay family in the 1960s, continues to operate as a family-run business. "They made an investment in us," Bryan says. "As a company, Kar's is embarking on a new chapter in its history."
The company also started making significant investments into consumer marketing in an attempt to help spotlight its products and drive consumer demand. A part of that investment included creating Bryan's job as vice president of marketing.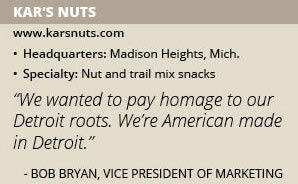 "Kar's has not focused on consumer communications in the past," he says. "So, we are now looking to start making significant investments into media. We'll be picking up that communication in 2019."