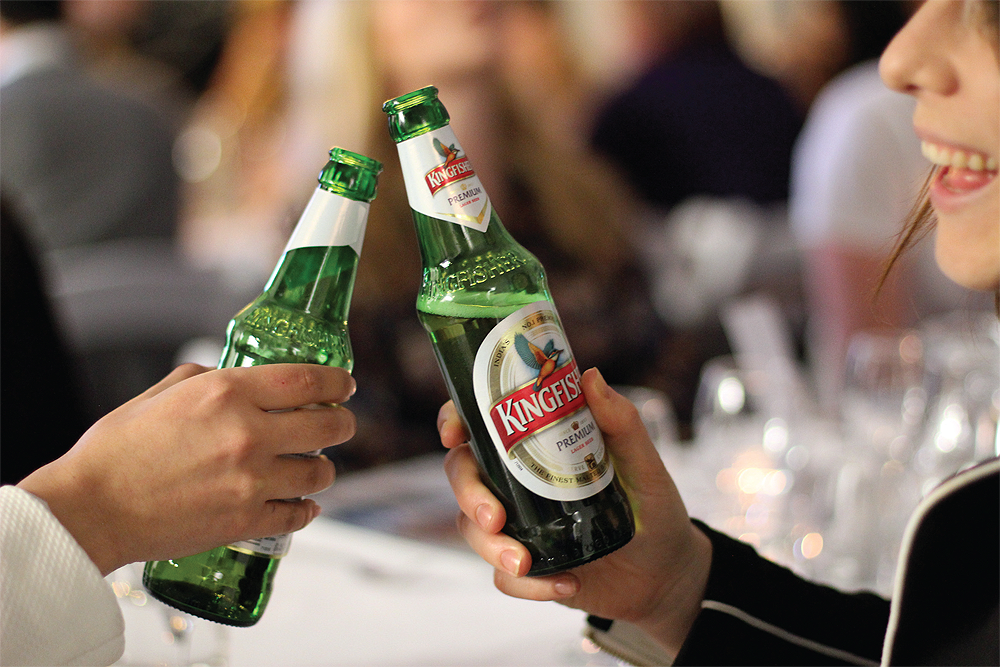 World lager brand builders
KBE Drinks continues to go from strength to strength with its flagship Kingfisher brand, whilst repeatedly expanding its client base via its growing range of iconic world beers
Enjoying year on year growth in excess of 20 per cent per annum, something is clearly working for this branded beer and cider producer that is celebrating its 30th anniversary in the UK.
When United Breweries first landed in Britain in 1989, India's leading brewing company had already acquired the dominant share of the beer category in its home country, chiefly thanks to
Kingfisher – a product that has since become India's largest fast-moving consumer goods (FMCG) brand. The decision to expand into the UK market was to unlock the opportunity within the UK's growing love of curry, which at its peak had a staggering 8000 independent licenced Indian & Bangladeshi restaurants across the country all of whom needed an authentic Indian beverage to complement their curry offering.
Exactly 30 years on, Kingfisher Beer Europe (KBE Drinks) continues with an unwavering focus to ensure Kingfisher is the number one beer in every Indian restaurant in the UK. As the company's CEO, Damon Swarbrick, quips: "There are now 6500 licenced Indian restaurants in the country; 90 per cent of them sell Kingfisher but there is still another ten per cent to sell to and educate about India's number one brand."
Expanding horizons
Driven by his perfectionism, Damon can be proud of KBE Drinks' development and the degree to which Kingfisher has penetrated the Indian restaurant sector over the last three decades and why it has become one of the UK's best known lager brands. He is also quick to remark, though, that the market has been going through times of hardship in the last six or seven years, which has spurred the company to diversify into other segments. builders"There are many reasons why we have had to expand our horizons with Kingfisher and, as a result, we have made the product increasingly available in supermarkets, convenience stores, high street pubs and festivals. In addition, we have also introduced the brand to a number of international markets and we now export to 27 different countries, mainly in Europe, but also in territories such as Canada, Dubai and Japan."
KBE Drinks aspires to be regarded as a brand-building organisation and the company has proven its credentials time and again, growing not just Kingfisher, but a host of other international brands on UK territory. Commenting on the factors that have contributed to its ongoing success, Damon highlights the business' clearly-defined scope of action, its long-established senior management team, and the nimble approach it takes to accommodate the differing requirements of each of its brands.
Bespoke products
At a time when the bigger brewers are expanding their product portfolios and buying pubs the KBE business model is different to how their nearest competitors operate in the UK.
"We are first and foremost a brand-building sales and marketing organisation, that doesn't have the distractions of running factories or developing pubs. This simplicity allows us to stay focused on our customers and consumers' needs at all times," he explains. "We are a fantastic team of approx. 45 employees, and our extremely high retention levels ensure a lot of the key figures within the organisation have been with us long enough to gain plenty of experience in all business departments and foster the sense of continuity in the way the company is run.
"It is also fundamental that we are a truly integrated sales and marketing team, capable of acting upon the different requirements that each brand inevitably has," Damon points out. "To give you an example, we represent the most premium Italian beer in the UK – Ichnusa, which is imported from Sardinia. Our brand building strategy from launch in 2018 has been to ensure that the product is available in the right bars and restaurants and we work directly with these customers to create awareness of the beer within the sales environment."
For years on end, KBE Drinks has observed its clients' striving for genuine differentiation from their competitors. Looking to take advantage of the situation, the company has specialised in creating private-label beers for several of its customers. "We were among the pioneers in making bespoke products for restaurant groups. We make beers that are branded with the restaurant or pub's name and by doing that, we help the restauranteur stand out and increase brand awareness. In turn, the consumers get to try something new, which they are prepared to pay more for," Damon details.
He delivers two recent examples of this service in practice: "We are now partnering with one of the finest Indian restaurant groups – Masala Zone, who has just launched their own Masala Zone Pilsner, which we make for them in partnership with Freedom brewery, and which they are going to sell alongside Kingfisher. On a much bigger scale, we have just become the official partner of Southampton Football Club and we will be making an ale just for them that will be sold to their fans at their home ground. Much to our delight, we are seeing a kind of a snowballing effect of customers wanting to sell unique, own-branded items that are available only on their premises."
With Kingfisher generating about 75 per cent of KBE Drinks' turnover, the original Indian brand is certain to remain the company's core focus in the years to come. Damon concludes, by zooming in on the organisation's objectives for the future: "First of all, we are thrilled to see that Kingfisher is now being treated as an international lifestyle brand and not just as a beer to have with curry. Moving forward, we will be looking to strengthen its position through cricket, which is inherently the sport of India. We are in advanced talks with cricket clubs on village, town, and county-level and create valuable partnerships to open up new opportunities for Kingfisher.
"Meanwhile, we are hoping to add one or two new brands to our portfolio in the next couple of years. The work we have done with a Mexican beer called Dos Equis will serve as a blueprint for the development of these brands. Two years ago, Dos Equis was almost unavailable of in the UK, but its growth since then has been phenomenal. This is the kind of work we want to continue doing in the future – take something very small and make it credible, profitable, and relevant to the consumers."