What started as a small family-owned operation developing products for the animal feed industry, has seen great growth. Celebrating its 50th anniversary, Kemin Industries and its group of companies commercialize ingredients for a wide range of industries from foods, pet foods and agriculture to nutraceuticals and pharmaceuticals. Still a family venture, the company operates in more than 60 countries with manufacturing facilities located worldwide.
"Our success comes from our commitment to excellence in our research group and all of our internal business areas," states Linda Fullmer, senior vice president of Kemin Health.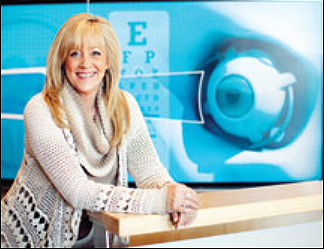 Kemin Health LC, a division of Kemin Industries Inc., produces high-quality, science-backed nutritional ingredients to help people improve their health through nutrition. Its patented ingredient, FloraGLO® Lutein, is an essential eye nutrient that has been proven to keep eyes healthy, improve visual performance and help reduce the risk of developing certain age-related eye conditions, like age-related macular degeneration (AMD). AMD is a chronic eye disease that affects more than 10 million people in the United States. This progressive condition, which is the leading cause of blindness for Americans over the age of 50, attacks the macula of the eyes, where the sharpest central vision occurs.
"Adding functional foods, beverages or supplements with FloraGLO Lutein to the diet is an easy way for people to take care of their eyes and keep them healthy." Fullmer explains.
Research and Development
Kemin backs up its product claims with scientific research and has partnered with groups like the American Opto­met­ric Association and Prevent Blind­ness America. Since FloraGLO was introduced to the market in 1995, it has become the most clinically researched lutein brand in the world, according to Kemin.
Lutein studies report that 10 milligrams of lutein from supplements or dietary sources improves visual function and can help reduce the risk of developing certain eye conditions as you age. In fact, The National Eye Institute of the U.S. National Institutes of Health is running a 4,000-plus-subject clinical trial to investigate what supplementation with FloraGLO Lutein, zeaxanthin and/or omega-3 fatty acids can do to improve eye health and functioning.
"The National Eye Institute has chosen FloraGLO for the currently on-going, 'Age-Related Eye Disease Study 2 (AREDS 2),' " Fullmer states. "The research is studying nutrients, including FloraGLO Lutein, and their influence on the incidence and progression of AMD in individuals at high risk."
Quality Ingredients
For eye supplements to deliver on promised eye benefits, they should be "bioavailable" – that is, absorbed and then deposited at the site of action, the eye. However, not all lutein sources are equal. Lutein, like other nutritional ingredients, is unstable in their purified forms and dry product forms must be wrapped in a protective coating for inclusion into supplements.
Data indicates these different coatings may significantly impact the bioavailability of the lutein ingredient. FloraGLO brand lutein is clinically proven in a number of published studies to be absorbed by the body and, more importantly, deposited in the macula replenishing lutein levels in the eye. That's just one of the reasons FloraGLO is trusted most by doctors – based on the results of the National Disease and Therapeutic Index syndicated report among physicians who recommend a dietary supplement with lutein for eye health between September 2009 and September 2010 – and is the brand being used in the National Eye Institute's AREDS 2 trial.
All Kemin products are manufactured in a NSF International-certified facility, and Kemin has adopted the ISO 9001:
2008 quality management pro­cess. This commitment to continuous improvement helps the company produce and deliver innovative, high-quality products.
Value-added Services
Kemin is much more than an ingredient supplier: it is an active advocate for its science-based ingredients. By developing point-of-purchase information, professional, customer and consumer educational materials and programs, Kemin has established FloraGLO Lutein as a recognized brand.
Kemin has a global support network with educational programs aimed at key opinion leaders as well as consumers. "In the case of FloraGLO, we help drive the consumer demand for eye vitamins through our proactive educational campaigns," Fullmer says. "We essentially extend our customers' marketing dollars through our clinically-proven products, our scientific partnerships and our consumer outreach."
Growth Strategy
"Enlivitea's launch in the United States has been very successful," Fullmer says. "Our next step is to actively growing this brand in global markets."
Kemin plans to grow through continued efforts in developing quality, science-based nutritional ingredients.