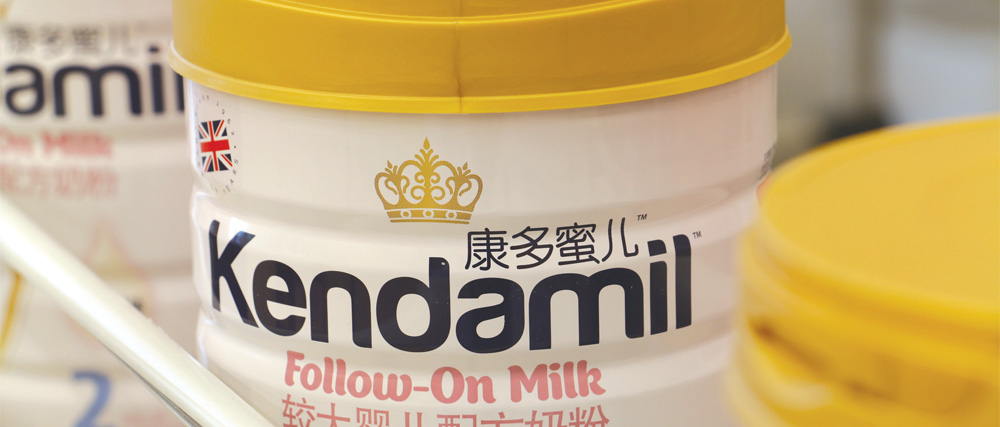 Supporting healthy growth
With a manufacturing heritage dating back to 1900 when Glaxo first introduced its roller dried infant milk, Kendal Nutricare is a leading manufacturer of baby milk and nutritional products
Based at the edge of the Cumbrian Lake District, Kendal Nutricare is a world class British pharmaceutical research company that creates new and innovative, pharmaceutical-grade healthcare products for both domestic and global markets. The company's Kendal factory has a long history of making branded products for HJ Heniz, Nutricia and other leading names, with many of Kendal Nutricare's employees boasting between 20 and 36 years of industry experience in early life nutrition product research and manufacturing. The company is dedicated to creating products for all stages of infant development and continues to manufacture infant formulas and cereals that have a provenance in the dairy farming community of Cumbria.
The Kendal Nutricare product portfolio is comprised of infant milk formulas, which are produced to specialist recipes, infant cereals with a mixture of fruits, vegetables, grains and rice in combination with prebiotics, vitamins and minerals; a medical range, and adult-formulas for pregnant women. It is also creating a specialist formula for active and working people – Kendalife. One of the company's core products is its unique and innovative Kendamil Infant Formula, which is specifically manufactured in three stages to meet the requirements of infants aged 0-6 months at Stage 1, Follow-On 6-12 months at Stage 2 and toddlers at 12-36 months.
"Our infant formula brand Kendamil has two unique selling points. Firstly it is the only infant formula in Britain that is actually manufactured in Britain and secondly, it is the only infant formula
on the market that retains the goodness of the cream of cow's milk by using a traditional full cream, whole milk recipe rather than skimmed milk. This is as close to Mother Nature as a manufactured cow's milk infant formula can be, which enables us to deliver enhanced nutritional benefits to infants and peace of mind to parents. We also stand apart in our sector by putting infant welfare and health ahead of profits and cost-engineering," says Kendal Nutricare's CEO, Ross McMahon.
"Kendamil delivers nutritional benefits to the baby or toddler, provides a naturally sweet taste and is easier-todigest, which promotes better sleep. Every other infant formula on the market uses a skimmed milk recipe and relies on the heavy use of vegetable oils to try to provide the energy that we derive from the cream of the milk. Sourcing our milk from our local area instils a pride in our workforce, which is reflected in the quality of our product. It has also enabled us to gain Red Tractor accreditation – a farm and food assurance mark that represents the traceability and environmental concern that underpins the Kendamil Infant Formula."
Nutritional benefits
Kendal Nutricare's range of infant formulas also includes a Bia Land formula that uses goat's milk, which has several advantages over cow's milk. "Goat's milk is nutrient-filled and a good source of key vitamins and essential minerals. It is high in fatty acid, about 35 per cent as opposed to 17 per cent in cow's milk, as well as being calcium rich. This makes it an exceptionally nutritious, wholesome drink," Ross explains.
"Many people who consume goat's milk have a lower incidence of allergies and fewer digestive complaints. With less lactose and smaller fat globules than cow's milk, it is easier to digest and may prevent inflammation and bloating, as well as constipation. When it comes to babies, goat's milk is closer to a mother's breast milk than cow's milk, because of its chemical make-up and the oligosaccharides within it that act as prebiotics in the gut. This can help prevent the growth of harmful bacteria and assist digestion, which is beneficial for an infant."
Organic formula
Over the coming months, Kendal Nutricare will continue to develop new and innovative formulas, while focusing on further capitalising on a strong market within the UK and beyond. During December 2016 for example, the company will introduce its Kendamil Organic formula that further emphasises its dedication to both promoting the highest standards of quality and capturing market trends. "All baby weaning foods are dominated by organic products, but there are limited choices of organic formula nationally in Britain and none made in Britain. This presents us with exciting possibilities to sell an organic infant formula. The advantage of this is that it provides a baby with a highly nutritious formula that is free from any ingredient that could have been exposed to pesticides, herbicides or any other chemicals, during the farming process. This is important to parents who have adopted an organic lifestyle themselves and want the same for their baby," Ross concludes.
"There is rightly a strong promotion of breast feeding, but economic challenges for parents, combined with the fact that not all mums are able to breast feed, leaves the industry with the scientific challenge of providing the safest alternative. Because we formulate our full cream, whole milk Kendamil Infant Formula to be as close to Mother Nature as possible, we can give these babies more nutritional benefit than is possible with a skimmed formula."