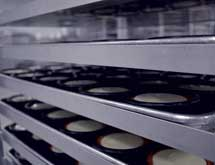 There are many manufacturers of key lime pie, but Kenny's Great Pies Inc. sets the bar for quality, National Account Manager Catherine Anderson says. The company, which produces 6,000 pies daily, ensures the quality of each product through testing.
For instance, the acidity of the fruit in its key lime pies is tested before they leave its plant. "We are more than well-known for our consistency," she says. "Nobody goes to the lengths that we do to test the items."
Smyrna, Ga.-based Kenny's not only produces key lime pies, but also mango, lemon ice box, chocolate-silk, chocolate peanut butter and strawberry lemonade pies. President and CEO Kenny Burts founded the company in 1989 as Key Lime Inc.
But Burts' interest in the pies goes back to his childhood in South Florida, when his grandfather gave his grandchildren slices of key lime pie for a special treat. When Burts moved to Atlanta in 1989, he discovered that he couldn't find a place to buy key lime pies.
At that time, Anderson explains, the pie's availability was limited to South Florida. As he worked at John Henry's, a bar in Marietta, Ga., Burts made key lime pies and martinis that were popular with its customers.
Its customers liked them so much, Anderson explains, that they gave Burts the names and phone numbers of restaurant owners. Many were interested, and Burts began producing and distributing them from a modestly sized operation in his apartment.
After 10 years and a move to a commercial kitchen, the firm added other pie flavors due to customer requests. "That's when we went from 'Key Lime Inc.' to 'Kenny's Great Pies,'" Anderson says. "Everyone kept asking, 'What else do you do?'"
Production Perfection
Today, Kenny's operates from a 33,000-square-foot, state-of-the-art food processing facility in Smyrna. Anderson notes that the company's operation has won acclaim.
The facility has earned "superior" ratings from AIB International, a food safety organization based in Manhattan, Kan. "We're well known for our strict processes and HACCP programs," Anderson says.
Many of the company's manufacturing methods are different from its competitors, Anderson adds. For instance, while many key lime manufacturers use bottled fruit juice, "We actually process the fruit and use 100 percent real juice," she says.
In an attempt to get every ounce of juice, some bakers will "steamroll the devil out of the fruit," but Kenny's does not, she says. "When you do that, many of the bitter oils that are in the rind get in the juice," she explains. "We don't allow any of those bitter oils to get in."
Kenny's also does not use pastry shells for its piecrusts. Instead, "We have a unique process to give us a fully spun cookie crust," she says. "The way we process out pie crust [prevents] the moisture from moving to the filling, [giving it] a nice, moist cookie crust."
Reaching Out in Retail
Kenny's primarily serves foodservice and retail clients. Until recently, its retail clients comprised only 2 percent of its business.
But in the last year-and–a-half, "We've been able to get a huge retail presence by changing our model," Anderson explains. Kenny's managed this by partnering with The Kroger Co., the large grocery chain operator that is based in Cincinnati.
"We knew we had to make ourselves available to the public," Anderson says. "So we were very happy to partner with Kroger."
So far, Kroger has sold more than 1 million of the company's pies in its stores on the East Coast and in the Southeast. Although Kenny's does some private-label work, "We're only in Kroger under the Kenny's label," Anderson says. "We want to expand [that reach]."
Ready to Grow
Anderson credits Kenny's success in expanding its retail presence to COO Gary Muter Jr., who has been with the company for five years. "He's been pivotal in making all this happen," she says. "He has diligently worked on the retail opportunity."
She adds that Kenny's plans to enjoy more growth, particularly in its facility. "We've got tons of room to grow," she says. "Making 6,000 pies a day will [seem] small in the matter of a year."