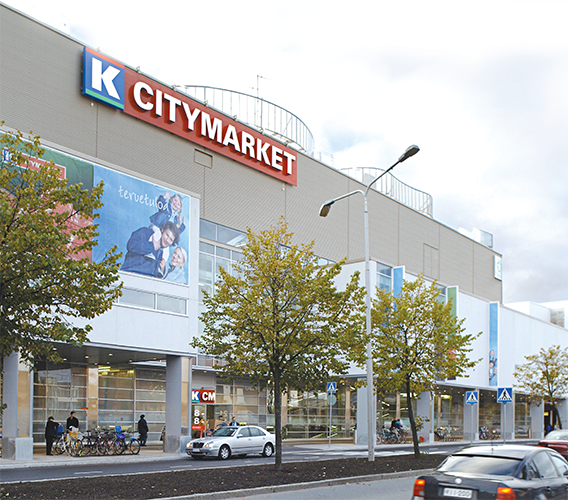 Retail therapy
Working closely with a number of business partners, Kesko is a leading provider of services in the trading industry
Formed in 1940 with the merger of four regional wholesaling companies, Kesko is a provider of trading sector services to Finland and the Baltic Sea region. Split into seven divisions including grocery, building supplies, speciality goods, automobiles, heavy machinery, agriculture and international technical trading, the group has 2200 stores across seven countries, employing approximately 27,000 people.
As the largest section of the group, and representing 46 per cent of net sales in 2005, Kesko Food operates in the grocery market, offering diverse trading services to consumers and business customers. Targeting the whole Finnish population, its stores are visited by over one million customers every day.
While the company manages and develops the K-food chain in Finland, its presence in the Baltic market is maintained through a joint venture. "Kesko Food has 1041 stores located in Finland, with a further 177 in the Baltic States," explains company vice president, Petteri Niemi. "In Finland we work in close cooperation with K-retailer entrepreneurs, while the Baltic stores are operated by Rimi Baltic."
Kesko Food and ICA Baltic AB established Rimi Baltic AB through a 50/50 joint venture in January 2005, which is today, the second largest food retailer in the Baltic countries. On the 10th of October 2006, Kesko made a conscious decision to sell its share of the business to ICA Baltic for 240 million euros. In the future, Kesko will focus primarily on developing business in which it has a majority shareholding.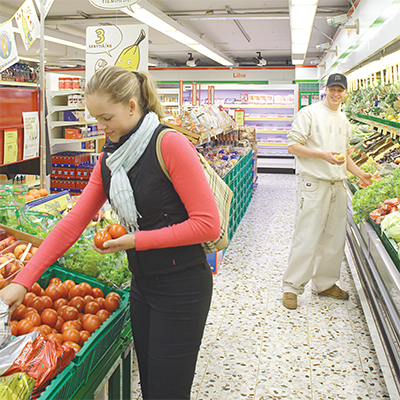 The drive for growth and internationalisation, together with a focus on efficiency, has formed an integral part of Kesko's strategy over the last five years, resulting in a net sales increase of one billion euros. "Between 2001 and 2004 the group's sales have grown by an average of seven per cent, but at the same time international net sales have increased by 60 per cent, and now account for 24 per cent of the group's total."
As an 11.8 billion market, the Finnish grocery retail sector remains the company's predominant focus, where it is among the leaders in terms of sales, store network, customer loyalty and a number of product lines. Although its market share in Finland has slightly dropped, it remains strong, and the company's strategy has been developed to retain this position, while trying to increase its international operations to account for over a quarter of the group's net sales.
While the grocery division is a key part of the group's international business, Kesko also operates as a hardware and builder supplier, and agricultural and machinery trader in the Baltic States.Assessing the international market conditions that the company faces, Petteri comments: "Competition is intensifying, with purchasing powers rapidly increasing as the share of chain retailing grows. As the standard of living also rises, consumption is also modernising."
Contrasting this to the trends in the, trading sector as a whole, Petteri continues: "Internationalisation is continuing in the market, as competition for customer loyalty increases. Currently consumers' purchasing behaviour is highly fragmented, and with online trading increasing, the importance of corporate responsibility and company ethics is growing in significance."
Kesko has a successful corporate responsibility record, which emphasises the importance that it places on implementing its basic policies on a daily basis. Targeting improved profitability and minimising the environmental and social risks of its operations, has seen the group awarded for the best overall reporting of environmental and corporate responsibility in Finland, and receive recognition in the Dow Jones Sustainability Index.
"Our work for corporate responsibility was rated as the best in the retail sector across the world index," explains Petteri. "We were awarded this due to our economic responsibility procedures, environmental efficiency, the enhancement of human capital and corporate responsibility. It was a major recognition of our systematic work across many years, while the innovative development of our private labels was also highly appreciated."
The number of Kesko's own branded products is now over 1700 items, and are sold under the Pirkka and Euroshopper names. Accounting for more than ten per cent of the K-food stores' sales, Pirkka is the market leading private label brand in Finland, and the company is always trying to extend this position by constantly developing new products.
"Speaking of private label products, we typically launch about 200 new products per year," says Petteri. "Of course some of the developments are more remarkable than others, but one significant moment for us was when Pirkka Nibble Carrots, which are cut into ball shapes and packed into small bags, was selected for the Foodstuff of the Year Awards 2005 in Finland."
Concluding, Petteri acknowledges that with the total number of stores outside of Finland growing rapidly, Kesko's international market is set to play a significant part in its future. "The group's sales will keep growing due to the retail store network and rapid market growth in the Baltic States and Russia. We are focused on leading these markets, and will continue to look to strengthen the position of Finland's leading operator in the trading sector."