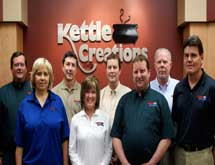 Kettle Creations may be a new name in the food production industry, but its owners are hardly novices when it comes to running a successful company. The company was formed in 2008 and started operations in 2009 with the opening of a 100,000-square-foot manufacturing facility in Lima, Ohio, but has origins dating back to 1966.
"We've been in the food business a long time, and even though we're a new company, we're seasoned," says John Klausing, one of the company's partners. Other partners include his brothers Don and Dave and sister Nancy, who all work at the company.
Klausing's experience comes from his father, Ron, who founded a food manufacturing and distribution facility along with partner Jim Illig in 1966. The company – I&K Distributors – initially sold food products to local stores before they began producing their own products, which included fresh salads sold under the brand name Yoder's.
"We grew up in manufacturing, and worked shifts in the summer while going to college," John Klausing says. John and Don Klausing joined the family business in 1985, helping to manage I&K Distributors until the company sold to Lufthansa Airlines. The Klausings decided to form their own venture in 2008, beginning with a product they worked with at the prior family business – fresh mashed potatoes.
Kettle Creations produces fresh mashed potatoes for clients. All of its work is for private labeling.
A Culinary Approach
Kettle Creations produces products "from scratch" using fresh potatoes and real dairy ingredients. The company produces more than 10 varieties of heat-and-serve mashed potatoes including garlic, chives and sour cream flavors, as well as macaroni and cheese.
Kettle Creations takes a culinary approach to developing new products. All new recipes start with a staff chef, who tries out different combinations of flavors before considering them.
"We make sure all our recipes can be produced and duplicated at home exactly the way they are made in our kitchen, and make sure the quality we have here is exactly the same as you'd get at home," Klausing says.
The company packages products in 16- and 32-ounce trays and bowls that are microwave and dual-oven safe, as well as a 5-pound, institutional-sized cook-in-bag pouches.
The manufacturing facility in Lima is capable of producing more than 50 million pounds of mashed potato products and 20 million pounds of side dishes annually. "We built this facility from the ground up," Klausing says. "It's a highly efficient facility that can generate a great product."
A second production line started operations in late 2011. The line, which represents an $8.5 million investment by the company, produces rice dishes and sauces.
A Focus on Quality
While the current state of the economy seems an unlikely time for such investments, Klausing says the company's diversification and focus on quality keeps it a sought-after producer. The company recorded $16 million in sales following its first full year in production, a figure it stands to double this year.
"I think with the food industry, as long as you make a good quality food that is cost competitive, you'll keep busy," Klausing observes.
Kettle Creations offers customers what it calls a "cost plus" structure, where clients have the ability to determine the quality of the raw ingredients it wants used in its final products. This allows customers to leverage their buying power to secure a better product.
"We estimate potatoes costing about so much a pound," Klausing says. "If customers want higher quality potatoes we're OK with that, because our cost fluctuates based on that. If you don't have good raw materials, you won't have a good product."
Kettle Creations ensures quality in part through a "first in, first out" inventory system that allows production person to keep track of when raw materials are received. The company's entire inventory rotates at least two-and-a-half times monthly.
"We always maintain a good product rotation," Klausing says. "Nothing stays here very long."
The company's mashed potato production line includes cleaning, peeling, dicing and cooking functions before the potatoes go into a mixing room, where they are combined with other ingredients as needed before being packaged.
Klausing says the company recently added a cooker manufactured by Lyco Manufac¬turing Inc. – a world-leading manufacturer of commercial cooking and cooling, liquid/solid separation, root crop preparation and snap bean equipment for food processors.
"With the addition of the Lyco cooker we have the capability to manufacture rice, pasta and other items," Klausing adds.
"This flexibility will allow us to serve our customers in a variety of ways and produce different products."
An Efficient Operation
Kettle Creations actively promotes energy efficiency within its operations. The company's 25,000-square-foot office facility, adjacent to the manufacturing center, uses a geothermal heating and cooling system that complies with green building standards established by the U.S. Green Building Council.
Finished mashed potato products are kept chilled using a system that recycles water, which consumes less energy than standard chilling or freezing methods. Potatoes never are stored in a temperature below 32 degrees.
The company's other efficiency-minded practices include:
The use of natural lighting in the office and manufacturing facilities;
The use of T-5 light bulbs throughout the manufacturing facility;
Boilers that utilize state-of-the-art heat recovery devices;
Using lasers to etch code date and product information on packing materials; and
Capturing organic waste and transporting it off-site.
Close Connections
In addition to being part owners in the company, John Klausing and his siblings are closely involved in its day-to-day operations. Klausing serves as CFO and controller, and Dave Klausing acts as plant manager, while brother Don handles sales and sister Nancy is in charge of accounts payable. Two of the company's other partners, Keith Stoll and John Sarka, serve as COO and plant engineer, respectively.
The close family ties among the company's executives are felt on the production floor. "We have a very close-knit atmosphere," Klausing says. "We have 85 families counting on us to do well."