Kirschenman Enterprises Inc. believes in keeping up with the latest produce trends while retaining its core family values.
Like every produce grower in California, Wayne Kirschenman knows his operation faces significant challenges such as drought conditions and labor shortages. Although Kirschenman knows these factors are out of his control, he isn't letting them stop him from meeting his customers' needs or improving the way he runs his business.
"We realize we have to contend with Mother Nature, but want to do the best we can to stay progressive and remain an industry leader," he says.
Kirschenman Enterprises Inc., the company Wayne Kirschenman owns and runs with his son Wayde, has been one of the state's leading providers of fresh potatoes and other crops for nearly 80 years. The Kirschenmans maintain a strong guiding presence in the company, which was established by Wayne Kirschenman's father, Ed.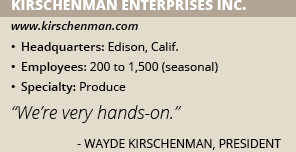 "We're very hands-on; this has been our family business since 1937," Wayne Kirschenman says. "We have a lot of good people who work for us, but we are definitely not absentee owners."
Wayne and Ed Kirschenman formally incorporated the company in 1971. Wayne Kirschenman began working with his father's company in 1959, becoming its owner in 1973 after Ed's passing. Wayde Kirschenman, who helped out on the farm as a child, joined the company full-time in 1987, after receiving a degree in agriculture business from California State University in Fresno.
The company today is one of the largest providers of fresh potatoes in California. In addition to potatoes, the company grows, packs and ships table grapes, watermelon, stone fruit, peaches and nectarines. Kirschenman Enterprises farms more than 6,000 acres in the state's lower San Joaguin Valley, of which it owns roughly half. In addition, the company operates a dedicated packing and cold storage facilities for potatoes and grapes.
Kirschenman Enterprises provides fresh produce to most of North America's largest retailers. Table grapes are also shipped worldwide by ocean freight to customers in Asia, New Zealand and Australia, Wayde Kirschenman notes.
Keeping Up
Several recent investments are helping Kirschenman Enterprises improve its operations and keep up with the latest developments in its market. One of the biggest industry trends influencing the company is the move toward organic produce. The company is also in the process of certifying many of its products with the Non-GMO Project, a national nonprofit effort to identify genetically modified products and ingredients.
"We're converting some of our crops into organic production because of customer demand," Wayde Kirschenman says. "We are striving to better understand that end of the business as well as the natural/non-GMO movement."
Crop diversity and keeping up with consumers tastes are also important to the company. The company regularly replaces plants with new varieties of fruits and vegetables with improved flavor profiles. "We're constantly trying to grow new varieties of potatoes, grapes or other crops," he adds.
The company is also staying abreast of its retail customers' requests for new packaging. The company provides different sizes and styles of bags, clamshells and other packages for its products. Kirschenman Enterprises markets potatoes, grapes and other products both under its own brand name as well as private label brands. "It seems like the dimensions and types of packages are always changing – it's a challenge for us to keep up with that, but we know we have to," Kirschenman says.
The company also recognizes the importance of having a very progressive food safety and traceability staff to handle the demands of these ever-changing issues.
Kirschenman Enterprises also recently converted its grape packing and cold storage facility to solar power. "We're trying to lower energy costs and improve our carbon footprint like everyone else," Wayde Kirschenman says.
The company stays up-to-date with industry developments thanks in part to its owners' involvement in state and national organizations. This includes the National Watermelon Association and California Table Grape Association, for both of which Wayde Kirschenman serves as a board member.
The company continues to look at ways to expand its footprint while staying true to its origins as a family based company. "We hope to expand our market share in a positive way, but don't really want to get bigger just for the sake of getting bigger," Wayde Kirschenman says. "Our goal is to get both bigger and better."