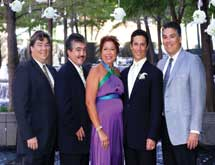 Canada's largest manufacturer of freeze pops continues to expand its product line and look for ways to extend the appeal and customer base for its product. Kisko Products Inc. produces several brands, sizes and varieties of freeze pops, including its own brand, Kisko Freezies.
The company also holds the Canadian ownership rights of the Mr. Freeze brand and has a number of licensing agreements with brands such as C'Plus, Crush, Mott's, Hires, Dr. Pepper and more recently Welch's, says Randy Josephs, vice president of operations.
The company previously introduced a line of 100-percent juice ice bars, as well as a line of vitamin-enriched products. "We've been market innovators for years and have always been the ones who lead with new items, new products and new blends," Josephs says.
Kisko produces its freeze pops out of a 115,000-square-foot facility in Woodbridge, Ontario. The company's products are available throughout Canada and in parts of the United States, Josephs says.
The company uses broker networks to handle marketing and sales efforts but performs its shipping in-house, he adds.
Many Options
Kisko distinguishes its product lines from other freeze pop manufacturers through the variety it offers, particularly when it comes to pack size, Josephs says. Kisko has won awards and been acknowledged for innovative product packaging design and development.
One of the company's recent awards was from The Packaging Association (PAC). The PAC awarded Kisko Products a Silver Award in 2009 for new brand marketing for the design of its Mott's Fruitsations packaging.
The company produces pops in three sizes: three-quarter ounce, five-and-a-half ounces, and two-and-a-half ounces in a variety of flavors. The smallest size is intended for children ages 3 to 6; the larger sizes are meant for older children or adults, he adds.
The size variations are mainly sold in Canada; U.S. retailers typically sell just one size of Kisko products.
While children and teens are the company's largest group of consumers, its line of 99- and 100-percent juice pops crosses age lines. "As we've made some changes to our product categories, we've crossed over from kids to adults," Josephs says. "Our 100-percent juice line gives us a extension into the adult category."
The introduction of the Mott's 100-percent juice ice bars in 1998 allowed the company to cross over from the frozen novelty market to the fast-growing healthy snack category, the company says.
Kisko expanded the product line to address a growing consumer demand for healthier products. "Being able to offer families a fun, delicious and affordable treat without compromising quality and taste is of prime importance to the company," the company says. "Kisko Products takes pride in knowing that children are the No. 1 consumers of their products and tries to address the growing health concerns as it pertains to their development."
In addition, all Kisko products are nut-free, gluten-free, dairy-free, allergen-free and kosher. The Mott's Fruitsations 100-percent ice bars are produced from concentrate with natural flavors and fruit and vegetable juices for color, the company says.
The ice bars are approved by the Health Check Program of the Canadian Heart and Stroke Foundation, it adds.
"This nutritious treat is guaranteed to satisfy both adults and children without compromising taste," the company says of the product.
The not-for-profit Health Check program places logos on grocery products and menu items meeting nutrient criteria developed by the Foundation based on Canada's Food Guide. The program intends to help people choose healthy foods easily, the Foundation says.
Josephs says the company continues to launch new products and develop new concepts. "We have things in process now for the next three years," he adds.
Staying Efficient
The company is working to keep its costs low in light of the current state of the economy, Joseph says. With the price of resins and other crucial ingredients going up, the company has needed to work with slimmer profit margins. "Of course, we're not the only ones doing that now," Joseph notes.
Kisko is also looking to expand the seasonality of its products and extend its production cycle. "Look at ice cream – it used to be considered just a seasonal item, but now you see it in stores year-round," he adds.
Efficiency is a large area of focus for the company as it continues to implement lean manufacturing procedures. "The major thing is efficiency," Josephs says. "The more efficient your production is, the better your company is going to be."
The company also continually up­grades its equipment to meet volume increases as part of its efficiency focus, Josephs notes. "Equipment is always a big investment for us, and we're looking at purchasing new equipment within the facility from machines as simple as a wrapping unit to an automated palletizing system," he adds.
Production is enhanced by a system of checks and balances monitored electronically by the company's quality assurance department, Josephs says. "Product quality is a huge aspect of our company," he adds.
Managers check production reports daily to ensure target numbers are being met, and products are constantly inspected for quality.
Kisko's regular freeze pops have a shelf life of two-and-a-half years, according to the company. The all-juice pops have a shelf life of 15 months.
Community Building
The company established operations in North America in 1977 after founders Leslie and Glenor Josephs emigrated from Jamaica to Canada, moving the business with them, says Randy Josephs, the founders' son.
The company's culture reflects both a family atmosphere as well as its status as a large manufacturing corporation, Josephs remarks. "We have an open-door policy," he says. "I'm also on the production floor enough that our employees see me all the time."
Kisko has a number of training programs for computers, equipment, health, personal safety and food safety.
Company management also regularly takes employees out to lunch to give them a venue to address any concerns or input they might have, he adds.
The company's open approach has led to a number of long-term, dedicated employees who have worked for the company for 10 or more years.
Kisko also believes strongly in supporting its local community. The company has donated and volunteered for a number of schools, hospitals, food banks, community centers or charity events. The Salvation Army regularly benefits from the company's efforts, as Kisko raises funds and sponsors events for the organization, Josephs says.
"We've always been that way as a company," he explains. "We're always helping people out. It's a part of our company philosophy to help each other and help others."
The company also routinely sponsors national athletes competing in taekwondo on an international level. "We're fairly strong within the martial arts community," Josephs says.