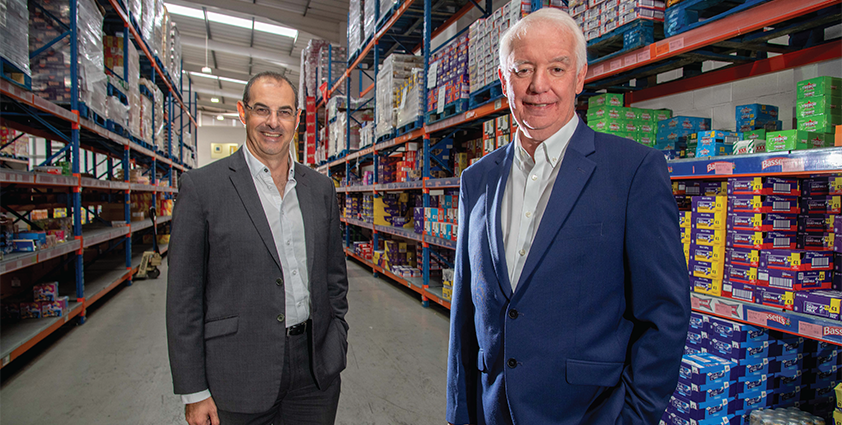 Delivering service
The independent, delivered wholesale business, Kitwave Group plc, is proud to celebrate the entrepreneurial vision of its hardworking and dedicated customer base
Today specializing in the sale of confectionery, soft drinks, snacks, beers, wines, groceries, frozen foods and a full range of tobacco, delivered through its various branded businesses including Eden Farm Hulleys, Automatic Retailing, HB Clark, and Millers Alpine, Kitwave is the result of acquisitions, investments and the vision of Founder and CEO, Paul Young. The first seed was sown in 1987 when Paul purchased a cash and carry business called M&M that generated around £2m value of sales, servicing the market trade. He gave some more details to FoodChain about Kitwave's growth journey. "By 2006 we had grown the business to about £16m, through organic growth and the occasional acquisition, but we were still quite small," he begins.
2006 saw a bit of a step change. "We bought a company called Turner & Wrights and that was followed two years later by a company called Westones," he continues. "Both were suppliers of ambient products – by that stage we had moved away from supplying market stalls to servicing convenience retailers and we were no longer a cash and carry, but were a delivered food business."
Continuing to build on this delivery model, by 2008 Kitwave was turning over about £100m and had a staff of around 200. "Then we attracted some private equity investment," explains Paul. "This gave us the funding to move our business forward, and we decided to become more specialist, focusing upon vending, alcohol, frozen and chilled products."
All about service
Paul and his team continued to move the business away from being a traditional 'every day' ambient business, to one that focused on delivering various, more specialist products to the independent trade. "We don't supply national chains, and we don't supply contracts," Paul confirms. "The independent sector is where we have built our business over the last 34 years, which we see as a large market to serve. We are now a very experienced, multi-drop business, and our 28 depots are split into 22 smaller depots and six main hubs, which enable us to offer fast delivery – having control of that is very important to us. We service just over ten percent of the around 450,000 independents out there, and that business is delivered by around 1100 employees."
Paul delved deeper in to why the business is able to address the independent trader sector so successfully. "It requires a true understanding of what independent traders are, and in my view they are entrepreneurs; they are robust, resilient and creative, and they have high demands about what they want and when. Therefore, our offer has to combine range, availability, pricing, and delivery into one exemplary service. In fact, if you ask any of our employees what Kitwave is about, they would say service," he emphasizes. "That is what we are all about – it's how we have established our place in the market."
Thanks to its insights into what makes its customers tick, Kitwave was able to support them through the difficult lockdown months of Covid-19. "We talked to customers to understand their needs, about anything from product availability to credit issues. We could advise if they were short of staff and needed a delivery, and they could order online or by phone instead of having to venture into a cash and carry.
"Something that stands out for me, and which highlights the quality of our customers is that everyone paid their bills, no-one walked away from their responsibilities. That was greatly beneficial to us from a wholesaler point of view. It also meant we could re-open with that existing client base undamaged. We kept our employees well informed of what was going on, and made sure they were aware we would reopen as and when we came out of Covid. As things came back to life, our employees came with us and our customers came back with us, too."
Brand ambassador
Looking at the reduced activity in the market during the waves of Coronavirus, Kitwave recognized an opportunity to develop for the future. "We maintained our work on our two new sites in Luton and Wakefield, which represent a substantial investment. We also continued with our AIM listing, which we completed in May 2021, and that moved us away from private equity and into a floated business. We upgraded our IT systems and paid a lot of attention to our web development."
This latter point is interesting as Paul describes Kitwave's previous adoption of online ordering as 'a bit late to the party' but explains this was due to the best of reasons. "We didn't want to have a web offering that took away from the relationship between ourselves and the customer. Equally, we wanted to make sure that our site was capable of taking an online order and us delivering it next day, which we pride ourselves in doing."
The business therefore ensured that its web development has been done at a pace that safeguards the quality of service, and indeed, the back-office system has had as much focus as the front end. Via www. kitwave.co.uk customers can access the independent company websites through which it trades. "Kitwave tends to trade as Eden Farm, or Turner & Wrights, for example," Paul elucidates. "Our customers know those names, and can now log on to the individual sites and get a full Kitwave offering – Kitwave Direct is saying 'yes, you can buy a frozen or a chilled product from us but you can also buy alcohol, groceries or ambient, too'." Website development remains ongoing, with further advances planned for 2022.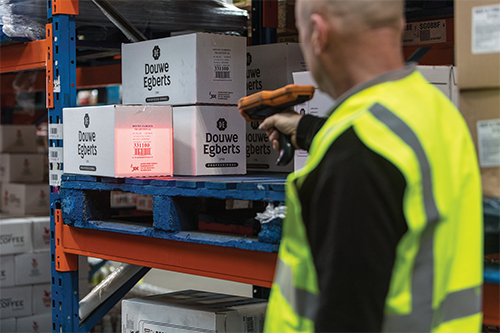 While customers are more familiar with the names of its various divisions, its suppliers know and trust the name Kitwave, recognize its scale and see it as a reliable brand ambassador. "They give us the brands and we are the conduit that moves them from supplier to end retailer, that is a wholesalers job," says Paul. While this process hasn't changed over the years, Paul did note that it has evolved to one of far more open communication. "When I started out, you had a supplier, a wholesaler, and a customer and the three would never meet. There now tends to be a circular relationship between manufacturer, wholesaler and customer, where you work as one. I think that is critical to future development."
There is another key foundation to Kitwave's success though, which has already been touched upon, and that is its acquisition strategy. "We are very good at acquiring businesses that then generate organic growth," Paul says, as he introduced the latest addition to the Kitwave portfolio, M.J. Baker, a foodservice business based in the South West. "That is a clear indication of where Kitwave wants to take the business – we want to expand into foodservice over the next three to five years by future acquisitions, and I believe M.J. Baker will be the first of many."
As well as offering Kitwave its largest foray into foodservice, M.J. Baker represents exactly what the organization looks for in an acquisition – a well-established history and a thorough understanding of the market and area. "Once you understand your customers, you have the opportunity to sell more to them in the future. We tend to not change the trading name, and will continue to trade as M.J. Baker, because that's what our customers know. We also want to reassure them that nothing has changed except in fact it's improved, because the product range is now wider. The systems are better than they were previously and delivery has been upgraded, because we can overlay our full UK logistics capability over it. So, they see some benefits but they also don't see a break in what they are used to. Some of these customers will have dealt with this wholesaler for over 20 years."
Employee confidence
The company's flotation on AIM also has implications for the acquisition strategy, as it will significantly enhance its ability to grow and move forward. "We don't have ambitions to become a retailer, we just want to continue to buy and grow in the wholesale sector of the marketplace. We expect to double our scale in the next three to five year period using our newfound status as a PLC, and we are confident we can achieve this," Paul asserts.
Remaining on the topic of acquisitions, he highlighted another important aspect – taking care of employees. "When a business is acquired there is always a nervousness from the staff about what is going to happen to them, job-wise. We are very good at acquiring a family business and continuing to run it like that, without damaging the employee base. For us it's critical when we buy a business to look at the risk involved, not just the risk to the company we are buying, but to the employees we already have. If we felt there was a level of risk that could damage that, then we wouldn't make the acquisition.
"Our staff are what drive our business and they are committed to us, and it is important that we can give our employees confidence that they have a secure job for the long-term. We also try to enhance the working environment, as these are challenging roles, and we offer development opportunities, ranging from driver training to MBA business studies. We do like to promote from within rather than going outside and our operations director is a prime example. He joined us 30 years ago as an office assistant! We really do have faith in our employees."
What stands out from the conversation with Paul is Kitwave's forward-thinking approach. As a business that is always looking at what is important to customers and consumers, it, of course, has to have sustainability on its radar. "As a wholesaler dealing with the leading brands, we are benefitting from all the efforts they are making with regards to waste packaging," he says. "Having our own delivery fleet means we can use returnable packaging, and being able to control our own delivery is definitely a green benefit. Our depots being located around the country reduces our mileage between drops, and I think we are in a good position to take advantage of electric vehicles because we work in quite tight geographies. This won't be just yet, but when the time is right. We've also worked with our refrigerated side, making sure we minimized power usage through the installation of state-of-the art-machinery, and also we've undertaken work with solar panels on some warehouse roofs. We have LED lighting in the warehouses, we have occupation lighting in the offices, and we use lithium batteries in our forklifts, and while these are all small steps, everything contributes."
As Kitwave enters the second quarter of 2022 and approaches its first-year anniversary on AIM, Paul and the team are glad to see that the market has recovered back to pre-Covid levels. "I think for 2022 the biggest thing for us is to enjoy normal trading again," he agrees. "But we will continue to look at acquisitions, with potentially another one on the agenda this year."
Whatever 2022 holds for Kitwave, the certainty is that it will remain as focused as ever on delivering exemplary customer service to the hard-working entrepreneurs that make up its client base. "We know that it's been very difficult for them and yet, they always find a way," says Paul. "It's in our customers' nature to create success even in trying conditions. We hold absolute respect for our customer base, and will always endeavor to serve them in the most professional, efficient and innovative way that we can." D
www.kitwave.co.uk