Kneaders Bakery supports its reputation for high-quality breads, pastries and sandwiches through sustainable growth and consistency checks.
When James Worthington's 13-year-old nephew was diagnosed with Hodgkin's lymphoma two years ago, he began thinking about what his business, Kneaders Bakery & Cafe, could do to help children suffering from cancer. Kneaders found a partner in Huntsman Cancer Institute, an organization that is working with the University of Utah to conduct research into how DNA from elephants, which are resistant to tumors, could be used to cure childhood cancer. To support the organization, Kneaders created a special sugar cookie shaped like a blue elephant and donated every penny from their sale to the cancer institute.
The initiative ran throughout September, but it only took a few hours on the first day for Worthington to see the impact and generosity of customers. By the end of the month, the company and its customers raised over $140,000 to help fund the research.
The fundraiser was the result of the personal community connection most often found in family businesses. The company began in the mid-1990s when Gary and Colleen Worthington, James Worthington's parents, started baking their bread at home. The couple wanted to make the perfect artisanal bread and purchased a high-quality oven from a manufacturer in Italy. The Worthingtons soon began perfecting their bread making, enlisting neighbors to act as taste testers.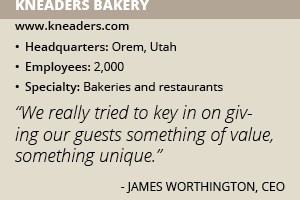 The first Kneaders location followed not long after. James Worthington was 17 years old when his parents opened the bakery in 1997 in Orem, Utah. The business started small, with a 2,000-square-foot store that made and sold bread and 10 types of pastries. The menu quickly expanded into a restaurant with sandwiches, soups and salads.
As the number of items increased so too did the variety. Kneaders now offers 12 types of European hearth breads and 42 different kinds of pastries. "We really tried to key in on giving our guests something of value, something unique," Worthington says of the menu.
Maintaining Freshness
Now CEO of Kneaders, Worthington is bringing his parents' legacy for high-quality, wholesome breads, pastries and sandwiches to a wider audience. Worthington was the company's first franchisee, operating a store in Midvale, Utah. He ran the store for about six years while simultaneously earning an MBA from the University of Utah before joining Kneaders' corporate team as CEO in 2007.
Under Worthington's guidance, Kneaders has grown from a small set of stores in Utah to a chain with 55 locations in Utah, Idaho, Nevada, Colorado, Arizona and Texas. The company operates eight corporate-owned stores and the rest are franchises.
Worthington's leadership is only part of the reason for Kneader's growth during the past decade. Most of the credit goes to the company's reputation for freshness during a time when consumers have become more scrutinizing in their demands for natural and wholesome foods. Every Kneaders location makes its own bread and pastries fresh in-store every day using Italian hearthstone ovens. Even the meat is prepared daily. "[Competitors] don't nearly have the variety and freshness we do," Worthington says. "You're not getting a cold cut piece of turkey; you're getting a day-after-Thanksgiving-like slice of turkey."
Maintaining that reputation for freshness requires support from Kneaders' vendors and suppliers. The company sources some items locally, but Worthington says it can be difficult to find nearby growers who meet Kneaders' food safety process requirements for restaurant service. Instead, local suppliers are primarily highlighted in the stores' retail sections, which feature gift baskets and niche items such as honey made in Arizona.
The supply chain remains a barrier to greater expansion. Freshness relies on consistency, and consistency becomes more difficult the further products must travel. So Kneaders takes great care to put programs in place aimed at creating consistency between all of its locations. Each store's operator is required to be on location every day to keeps tabs on quality.
On the corporate side, Kneaders support team and development agent stay in constant contact with store operators. Stores are encouraged to call, email or text the corporate team at any time. "If there is a question or problem, the quicker we know about it the quicker we can address it," Worthington says.
Communication is only half of the freshness equation. To enforce those quality standards, Kneaders works with third-party companies to conduct mystery shopper visits and safety inspections. Those unannounced checks ensure that customer are fed high-quality food in the way they deserve to receive it," Worthington adds.
Careful Growth
As it works to maintain its reputation for freshness, Kneaders is also finding ways to ease the workload for store operators. Last year, the company implemented online ordering. The process is still being developed and refined, but Worthington says Kneaders is already seeing an impact. Preorders for pies and rolls during the Thanksgiving and Christmas rush went much smoother at the end of 2015 than in past years.
Customers fill out the online orders themselves and the system automatically organizes all the information, eliminating human error and leading to fewer mistakes. "Anytime you can leverage technology to help or make it easier for guests it's awesome," Worthington says. "You just do it."
Improving the operational efficiency may also help the company realize its expansion goals. Kneaders already has two stores in San Antonio but sees potential in the rest of the Texas market, particularly Dallas, Austin and Houston. The company is also looking at new states and plans to open a location in Kansas City, Mo., next year.
But before it can execute those growth plans, Kneaders must have the support structure and the right people in place. "One of our biggest worries is we expand at a rate we can't sustain," Worthington says. "It's something we refuse to do as a group. We need to make sure our operators are taken care of, that they're seeing success financially."