A taste of the world
Ashok Bajaj, award-winning restaurateur, infuses his restaurants with a melting pot of diversity and culture. His travel experiences have been made manifest in the atmosphere and cuisine that diners can expect to enjoy when they visit a Knightsbridge restaurant
Having begun his journey in the hospitality industry in the early 1980s, Bajaj, the founder of Knightsbridge Restaurant Group, was determined to share the Indian cuisine from his childhood with diners across Washington, DC, which is what inspired him to open the Bombay Club, a
restaurant that has since been frequented by the likes of former US Presidents Bill Clinton, George Bush, Sr., and Barack Obama. "I had three restaurants at that time, and I was looking to explore launching more in other cities but running fine dining restaurants across wider regions is very challenging," explains Bajaj. "This is why I decided to stay in the Washington Metropolitan area.
"My restaurants prioritize value. Each of them is a sophisticated experience for diners that I feel separates us from our competitors. Our secret ingredients however are our chefs and teams; they are the heart and soul of any of the Knightsbridge establishments. I am incredibly fortunate to have chefs and general managers who sincerely care about the work that they do," shares Bajaj. Owing to the success of the group, the founder of Knightsbridge Restaurants has subsequently become a consistent nominee for prestigious awards by the James Beard Foundation, including Best Chef-Mid Atlantic, Rising Star Chef, Outstanding Restaurant and, more recently, he was awarded Restaurateur of The Year by Washingtonian magazine.
Continually evolving
As a result of his intuitive responses to the changing social climate of the metropolitan area, Bajaj has added dining experiences that bring Italian, French, Israeli and modern American cuisine to diners in the nation's capital. "Developments within the city grew, which brought a greater population and a hungry desire for more culturally diverse experiences. There was increased exposure to Indian cuisine compared to when I opened Bombay Club in 1988. This is what led me to opening a modern Indian cuisine restaurant and consequently, Rasika was born. In terms of the design, Rasika was very different, because we created a more modern take on Indian food, while keeping the spices that are traditionally used. We were the first Indian restaurant in the country to receive a four-star rating from The Washington Post and we were thrilled. Three years later, we received the James Beard Award, which is one of the highest accolades that can be given to a chef in this country," Bajaj informs us.
"We had been in business for 20 years by now and we were witnessing younger people move to the city, still looking for a greater variety in the food, so I decided I needed to introduce something different. This is how Sababa came to be. After I closed a previous restaurant, I replaced it with the food of Israel. The word 'sababa' means 'cool, all is well', which I discovered when I travelled to Israel to learn more about the culture and food. There is so much history across that country. To be able to capture that on our menu was something that really pleased me. I had the wine bar, Bardeo, right next to Sababa, and although the wine bar was doing fantastically well at the time, many wine bars had opened in the city. Bardeo was no longer the new kid on the block. So, I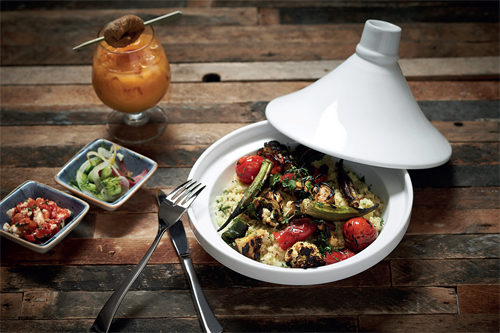 needed to refresh its concept, which is when we turned Bardeo into Bindaas, which also means 'cool, always well' and this concept has more of an Indian street food focus. The two complement each other very nicely," he expresses.
Cultural cuisines
Another significant milestone in the business's history includes working with the pioneering chef Nora Pouillon. Nora, who champions organic, environmentally conscious cuisine, came to the United States in the late 1960s. She was shocked to discover the reality of the processed, chemical-laden foods that Americans were eating, which is why she embarked on a mission to promote a healthier lifestyle. Pouillon became the first female to introduce organic meals to Washington, DC's menu through Restaurant Nora. "When she wanted to retire, she was concerned about leaving her legacy to the right people, which is how I came to acquire the restaurant. I changed the name because I felt that people would compare our cooking styles, and I always liked the name Annabelle," Bajaj says. "We reinvented Nora's restaurant as Annabelle while still maintaining her farm-to-table concept. The chef who we employed there was previously the right-hand chef to the former Presidents Carter, Reagan and Bush, so we are really proud of w at that restaurant has become," he adds.
"So, by that stage, we had Israeli food at Sababa, Italian food at Modena, an American restaurant, Indian restaurants. The only thing I was missing was French cuisine. Personally, I really enjoy French food and have traveled extensively in France over the years. I had a keen interest to open a French restaurant in the city, which is how our high-end French restaurant, La Bise, was created," he expresses, as he brings us up to date on the history of the Knightsbridge Restaurant Group.
Steady growth
But that would not be the end of the company's achievements. Having such a wide brochure of menus, one would assume that the business experienced great difficulties during the recent 18 months when hospitality industries were forced to close and cope with the uncertainties of the Covid-19 pandemic. However, Bajaj's dedicated team succeeded in making the best of a sticky situation. "When everything shut down last year, we wanted to support our staff by making sure they were well fed, and about nine chefs came together to create approximately 300 to 400 care packages every week for the families of our staff. Another proud moment came from our group as Vikram Sunderam, the company's group executive chef, who implemented a program to hand out food to healthcare workers. It was a really uplifting time to see our team come together for support in the community. Since then, some of our employees are still a bit reluctant to come back to work and other parts of the sector are witnessing similar experiences, but we are desperately looking to build and strengthen our team. We want to continue improving upon our hospitality and of course, grow the business," he says.
Looking further ahead, Bajaj is more passionate about growing the range of cultural cuisines on his menu, as the possibility of expanding into other cities is less of a priority than maintaining the integrity of Knightsbridge's reputation. "I frequently get offers to stretch outside Washington, but I am more bullish about staying in the Metropolitan area and focusing on exploring and developing new concepts," he adds. "I always wanted to grow sensibly. One thing I do want to bring to the table is Mediterranean cuisine, but this year we are determined to consolidate our teams and the group, to go back to what we do best, and hopefully people will start feeling confident and life within the hospitality industry will flourish again as it did before," he concludes. With this sort of strategy in place, Washington, DC is in for an exquisite treat from the Knightsbridge Restaurant Group.
www.knightsbridgerestaurantgroup.com