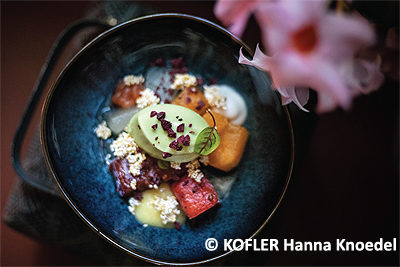 Satisfying all senses
Taking a view that eating out should feel like a vacation from everyday life, Kofler Group bubbles with fantastic ideas, which are turned into reality by the imagination of the catering provider's luxurious brands
The Koflers' culinary heritage stretches back to 1823, when Klaus Peter Kofler's ancestors founded a bakery in Bad Homberg, which became such a sensation that, at one point, it supplied the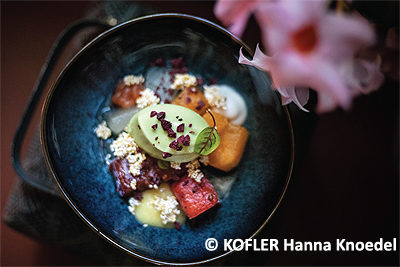 Court of Emperor Wilhelm II. Klaus Peter, or KP, followed in the footsteps of his renowned predecessors, learning the trade of baker, but, in reflection of modern world realities, he also graduated in Business Studies in 1988.
Combining his skills in the two disciplines, KP launched Kofler & Kompanie in 1991, filled with determination to establish one of the most prestigious caterers in Europe. Almost 30 years on, the success he has achieved, has surpassed his wildest dreams. As of today, the entire Kofler Group is made up of seven brands, whose competences span premium event catering, sports hospitality, pop-up dining experiences, and airport lounge catering.
"Our purpose is to create a legacy and shape the future of the global premium catering and hospitality industry," KP claims. "We have a mission of being the most innovative and internationally-represented company in the field and we realise our vision by bringing excellence in food and service to the most promising markets and inspiring our customers with the latest food trends."
Kofler, Gourmet Sports Hospitality, White Rabbit Fund, Pret A Diner, Mustard Catering, Airport Club Frankfurt, and Palais Frankfurt are the seven names that comprise Kofler Group and ensure its presence in the most important international hubs. Crucially, the brands benefit from operating within the same group and draw inspiration from each other to strengthen their proposition.
As an example, KP refers to White Rabbit Fund – Kofler Group's gastro incubator, whose function is to find the most innovative restaurant concepts and entrepreneurs, and help them launch and grow sites worldwide. "We support promising entrepreneurs with funding and our long-standing experience, and in return, we integrate their concepts and latest food trends in our event catering portfolio. This way, we make these innovations available to a broad audience across the globe before anyone else, thus setting trends in the industry."
Dining concepts
While providing delicious food for an event is a no-brainer, KP holds that pleasing the taste buds represents only a tiny bit of the overall experience Kofler Group aspires to create. "One might even say that the food is the most unimportant aspect of an event," he laughs. "Our guests are people who have travelled and seen a lot, therefore, their expectations are incredibly high. They are looking for a culinary immersive experience and our response to that is to create events that satisfy all senses, as our tagline goes."
The creative outbursts of Pret A Diner are the living embodiment of KP's words. This eclectic pop-up dining concept, mastered by the founder himself, involves the development of a series of temporary restaurants in the most unconventional locations all over the world. "We have done 16 of these pop-ups so far, but probably the most memorable one for me, was the experience we created in the Elizabethan Church in Basel. It is a functional church where we delivered a unique, first-ever escapade of this kind, with exquisite dishes and live music, to wow our guests," KP reflects on one of the greatest happenings organised by the company.
"What we did in Basel, is a perfect example of how we aim to execute our vision. To us, there always has to be something that brings genuine excitement among visitors, and the venue is absolutely
key in that. It is a lot more than just a location, just like catering is a lot more than just food," he continues. "Take the pop-up restaurant we created under Waterloo Station in London. Just imagine what it is like to walk under the platform of a train station more than 100 years old to find yourself first in a gallery displaying a range of disturbing works of art, and then in a beautifully-decorated Pret A Diner dining space, followed by a night club. The atmosphere we created was so spectacular that even Madonna visited the establishment while it was open," KP enthuses, dropping in the sort of stellar clients Kofler Group serves.
Entertainment features
The last Pret A Diner pop-up space to date opened in Moscow during the FIFA World Cup in 2018. Located on the site of the old Red October Confectionery Factory in the centre of the city, it drew an astonishing 19,000 visitors, highlighting the growing significance of offsite hospitality for big sporting events. Having catered for the last four editions of the World Cup, as well as for competitions like the Olympic Games and the Rugby World Cup, Kofler Group has developed a flair for predicting what direction the industry will take.
"At events like the World Cup, people travel from afar to watch a football game, which lasts 90 minutes, but the question of what they will be doing before and after the match remains open. In Russia, we were driven by the notion that we should create something like a hub, where people were to have a place to meet and network outside of the stadium," KP explains.
"We will get the opportunity to test our abilities once again during the 2022 World Cup in Qatar, which will pose a very different challenge," he adds. "With Qatar being a small country, all of the stadiums will be located within close proximity 57of one another, which means that visitors will have a lot more time in-between games. Consequently, we have to come up with a wider range of entertainment features. We have just set up a company division in Qatar, because our experience in the past has shown us that logistics and infrastructure take a bit of time to get going in a new market and we want to be ready on time for the World Cup."
Future plans
At the time of speaking (early June), Kofler Group was hosting an Immersive Event Lab where it had its plant-based alternatives and fermented drinks on display for its guests, in what has turned out to be the main highlight for the business in 2019 so far. The choice of main theme accurately reflects consumers' shift in preferences, which have now drifted towards vegan and vegetarian dishes.
Moving onto the company's future plans, KP points out the successful delivery of catering services to the FIBA Basketball World Cup in China and the Rugby World Cup in Japan later this year as Kofler Group's top priorities for the remainder of 2019. "We are also looking to open a Lina Stores restaurant at King's Cross, as well as secure a couple of new stadium contracts to add to our impressive portfolio. As a whole, in the long-term, we want to have success, have fun, and make money. We are the living proof that you can have it all," KP wraps up, brimming with confidence.