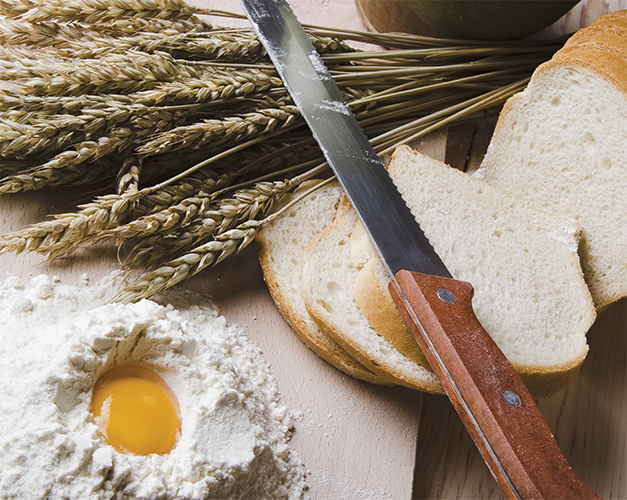 Rising recognition
Kohberg is building on the strength of its brand
Kohberg Brød A/S is the most recognisable bread manufacturer emanating from Denmark, a position that has been strengthened over the years by strategic business alliances and agreements, and the quality associated with the Kohberg brand. The company is currently market leader in Denmark for white bread, and number two in sales of rye bread, a product originating from Denmark. Kohberg is proud to maintainthe use of traditional baking styles and techniques in making its products, yet is also at the forefront of producing frozen pastry goods. The company produces fresh bread for local markets, and delivers pastries and frozen items domestically, as well as to the UK, and other parts of Europe. Kohberg is also a renowned brand, not only in Denmark, but has also received recognition in other European countries.
Bolderslev, in the southern part of Jutland in Denmark, is home to Kohberg's head office and bakery. The company has expanded rapidly over the past 15 years, building from the status of a small, local rye bread producer, to the large, modern and varied bakery it is currently. Competition within the bread industry in Denmark is fierce, and Kohberg has formed links and made acquisitions to ensure its position as one of the leading bread manufacturing brands in Europe today. Indeed, in 1995, 1997 and 1998, Kohberg Brød A/S was recognised as one of the 500 fastest-growing businesses in the European Union. The rise of the brand can be traced to 1989, when the Kohberg family sold the company to Preben Fogtmann, who began to establish direct distribution links to rapidly growing retail chains. This allowed the creation of two initial trademarks – Herkules and Viking – but the Kohlberg name has always remained central to the brand.
Significant links have been forged since Fogtmann took over. In 1991, Kohberg formed direct links with H.C. Andersen bakery, located in Haderslev. In doing so, the company inherited another link to a fine tradition of Danish bread making. H.C. Andersen bakery was formed in 1903, when Andersen finished his apprenticeship and opened his own bakery. The popularity of his bread meant that expansion was quick, and eventually the bakery would move to a larger site in Haderslev in 1935, a site it would retain for the next 40 years. H.C. Andersen Jr and his brother Flemming inherited the business in 1967, and focus was aimed at the two divisions of the bread production and sales process: the retail sector, and the rapidly growing wholesale sector. It was at this point that contact with Kohberg Brød A/S was first made through independent merchants, and H.C. Andersen bakery and Kohberg became collaborative partners in 1991. In 2003, the Andersen wing of the company celebrated its 100-year jubilee as "an exuberant, healthy, youthful and expanding company – with reverence for the work of past generations." To this day, Flemming Andersen offers the guarantee that the company's product is high quality, traditionally made bread.
Alongside this major acquisition, 1995 saw Kohberg expand outside of southern Denmark, acquiring The Red Windmill and Trianon brands, and large bakery facilities in Taastrup, east Denmark. Equally significant was the takeover of The Mill's Bread company, itself a well-known 200-year-old trademark. Kohberg remains the largest Danish-owned bread maker, employing over 550 people in its three main bakeries. Turnover has increased significantly over the last decades, from 90 million kroner in 1991 rising to 900 million kroner currently, and is still growing at a similarly encouraging rate. The reasons for this success can possibly be attributed to two interesting company beliefs: emphasis on continued strengthening of the corporate brand, and research into new products and innovative techniques.
Kohberg has marketed its products in the same way throughout its history: South Danish bread baked according to proud traditions, which is received well by both grocery professionals and consumers. The company is keen to emphasise that it uses only non-genetically modified raw materials, and all its suppliers must pledge to deliver only GMO-free products to its factories. Kohberg Brød A/S also maintains high levels of quality, alongside a commitment to longer shelf life for its products. An independent Declaration of Contents on all products by the Danish Board of Consumer Information meets this company guarantee.
This openness in regards to the purity of its products has strengthened the power of the brand, winning accreditation and several awards for the company. For example, Kohberg was presented an award in Germany, at the Deutche Landwirtschaft-Gesellschaft, for the quality of its (imported) products. In 2001 and 2002, Kohberg was awarded gold medals at both the Danish and international provisions fare, the Sial d'Or, for its innovative product Kohberg Gourmet Bread. 2004 saw the company again win a gold medal at the Danish Sial d'Or for its Spelt bread line.
It was announced in 2003 that the Danish Super brands B2C council would be appointing Kohberg a Super brand between 2004 and 2006. This acknowledgement by the Super brands council made Kohberg one of 1500 companies existing over 29 countries to receive recognition for its brand's prominence and strength. The BrandAsset Valuator, another organisation designed to measure the importance of brands, supports the Super brands council via market analysis based on an expended period of interviews. BrandAsset measures brands on four main factors: distinctiveness, relevance, reputation and dominance. Kohberg's strength in Denmark has won this significant accreditation, confirming the company's position and continued strength within the market.
Kohberg also entered many of its packaging designs for the International Design, Print & Outdoor Advertising Awards at the 2004 New York Festival (NYF). For over 50 years, the NYF has judged and praised excellent creative work within the field of visual design. Kohberg's packaging was appreciated as part of the world's best examples of packaging design, newspapers, magazines, posters, outdoor advertisements, traffic advertising and Fleet Graphics, and was part of 3808 contributions from 62 countries, a rise of 14 per cent compared with 2003. Kohberg Brød A/S received a 2004 finalist certificate for package designs on two of its products, Soft Rugkernebrod (Rye bread), and Soft Solsikkerugbrød (Sunflower rye bread).
The company has also shown great enterprise in launching new products, as well as re-launching established trademarks within the brand. For example, Kohberg re-launched its Bear-Buns product in 2004, which is primarily aimed at children and bares the slogan 'small wheat buns for small hands.' As sales director Jørgen Pedersen states: "We have to move with the times, and even though new, young customers are consistently attracted to the bear concept, there is a need to make sure our products are up-todate, relevant and exciting. Re-launching the product will also encourage new packaging designs."
Jørgen continues: "Kohberg has completed a re-launch of almost all the company's packaging over 2004, and because of that it was important for us to ensure that Bear-Buns also followed the new style and tone."
This desire to stylistically move with the times is mirrored by the company's movement into frozen goods. 2004 saw Kohberg launch four popular Danish pastries sold in frozen form: Cinnamon cookies, Danishes, Sesame rolls and Viennese bars. Development of frozen confectionary items was encouraged by the success the company faced through its sales of frozen hot dog and burger buns, to both the professional and public sectors.
The Kohberg brand, rooted in Danish tradition and strengthened by years of honest and committed practice, has been recognised both domestically and internationally. The company's desire to create new products, alongside innovative new designs and packaging, ensures future success.