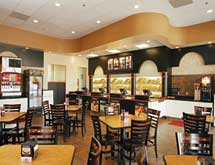 After nearly 30 years, Kolache Factory says it has developed "a history of good taste." Based in Katy, Texas, the company specializes in kolaches made from fresh ingredients and old-world recipes. President John Banks and his late wife Jerri Banks founded the company in Houston in 1982 when they saw the need for a breakfast product that could be consumed "on the run," the company says. The kolache, a fresh-baked pastry filled with sausage, cheese or fruit, fit the bill.
After launching the concept, the two sought to improve the local knowledge of the product. While kolaches are a centuries-old item that originated in Eastern Europe, "Many consumers in Houston had not had the opportunity to taste them before," Kolache Factory says.
The Bankses then used many methods to get customers to try the kolaches. Eventually, the hard work paid off as they their products in demand for business meetings, family breakfasts, on-the-go lunches and afternoon snacks. "Today, Kolache Factory is expanding nationwide and has received national attention for its concept and product," the company says.
Currently, Kolache Factory has company owned and franchise stores in Houston; Cincinnati; Denver; St. Louis; Indianapolis; Overland Park, Kan.; and Austin, Beaumont and McAllen, Texas. "Other franchise stores will soon be opening in various cities around the country," Kolache Factory says.
Along with its kolaches, the company specializes in gourmet coffees and other pastries, including cinnamon rolls and strudel niks. "Our company is as unique as the products we serve, and we are passionate about continuing to provide our customers with new and innovative products," Kolache Factory says.
Kolache Factory also has won awards for its work. Modern Baking magazine ranked it as one of its top foodservice companies in Houston, and Franchise Times named the company one of its top 20 bakery/cafes to watch. "We have also developed innovative partnerships with major league sports franchises," it says. It is partnered with the Houston Texans of the National Football League and the Houston Dynamos of Major League Soccer.
Creating New Spaces
Recently, Kolache Factory has enjoyed substantial growth. In May 2010, the company purchased its corporate headquarters in location in Katy, which features a retail store along with its corporate offices and R&D departments.
"The new space will allow us to fill positions and continue to grow and succeed," Vice President Dawn Nielsen said in a statement. "We attribute our growth and aggressive expansion to our unwavering commitment to providing the highest quality and freshest product."
Additionally, this January, the company opened its newest location in Cinc­innati. "There is nothing like Kolache Factory kolaches in the area and I am excited to bring this new concept to our friends and neighbors in Cincinnati," franchisee Scott Rettig said.
"My hope is that families will try our kolaches, [and] serve them before soccer games and as treats at parties," he says. "Once word gets out, I hope people all over Cincinnati will share our kolaches with their colleagues at office meetings and other gathering places.
"I know Cincinnati will love kolaches as much as I do," Rettig added. He also is planning to open two more locations in Cincinnati in the next two years.
Giving Back
Kolache Factory takes the time to give back to its community. "The company has provided both in-kind donations of product as well as financial resources to hundreds of non-profit organizations in the Houston area, as well as other national non-profit groups," Kolache Factory says.
"We welcome the opportunity to lend our support to charitable organizations, and we are pleased to sponsor a large number of community events," Kolache Factory says, noting that it also supports events that help schools, children, disease prevention organizations and the elderly. The firm also takes part in activities that benefit local police.