Kolache Factory celebrates its 35th anniversary and a growing franchise business.
Dawn Nielsen knows how to climb the corporate ladder. Her first job at the Kolache Factory consisted of scrubbing floors. More than 30 years later, she runs the floor.
"I started with the company when I was 9 years old," says Nielsen, the company's vice president. "We've come a long way since then."
Her parents, John and Jerri Banks, founded Katy, Texas-based Kolache Factory in 1982 to offer a high-quality breakfast that could be eaten "on the run." Their venture turned out to be fruitful.
The company, which is celebrating its 35th anniversary this year, has earned a solid reputation for the production of Eastern European fresh-baked pastries. With 24 company-owned stores and 28 franchises, Kolache Factory generates roughly $29.6 million in annual sales revenue.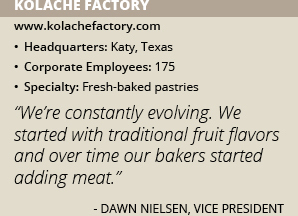 The majority of its stores are located in Texas, but the company has additional locations in Indiana, Missouri, Kansas, Nebraska, New Mexico, Virginia and California. Two more stores are scheduled to open this June in Houston and another three franchises in Missouri, Nebraska and South Carolina.
Sweet Surprises
Kolache Factory's kolaches are a modern variation of a fruit-filled dough roll that originated in Eastern Europe centuries ago. Served warm, their dough is slightly sweet and filled with fruit, meat or cheese.
Over the past three decades, the bakery's menu has grown to feature more than 25 varieties. Unafraid to travel a slightly offbeat path, Kolache Factory cooked up a few surprising specimens. "The most unusual kolache we have is our sausage and gravy," Nielsen says. "You wouldn't think it would be easy to put gravy in a dough ball, but we figured out a way to do it and it's become one of our most popular items. People love it."
Other popular and unique varieties include the Philly Cheese Steak, Jalapeno Popper, Pizza and Bar-B-Q Beef. Additional variations feature classic breakfast ingredients like bacon, eggs, cheese and sausage. "We're constantly evolving," Nielsen says. "We started with traditional fruit flavors and over time our bakers started adding meat."
The restaurant chain will introduce a new product to its menu this summer – margarita chicken kolache. Many of these innovative recipes spring from the Kolache Olympics, an annual company event where employees are encouraged to brainstorm new and interesting varieties. "That's also where we came up with our country omelet kolache, which is another customer favorite," Nielsen says. "It's got everything in it but the kitchen sink."
Besides innovation and craftsmanship, Kolache Factory is committed to serving only the freshest products. "Everything is made fresh," Nielsen says. "We bake early in the morning and throughout the day so only the freshest kolaches are served. Nothing is saved for resale for the next day."
In addition to kolache, some of the bakery's locations recently opened up full-service coffee bars where specialty espresso drinks like cappuccinos, iced coffees and smoothies are served.
Franchising Frenzy
Though it already has a number of franchised stores, the company plans to push forward with more franchisee locations. "We believe in the product and the brand," Nielsen says. "We have a product that is high in quality and high in value. It's a great investment."
Entrepreneurs wishing to open a Kolache Factory franchise must have at least $150,000 in liquid assets and a net worth of $500,000. The company charges a franchise fee of $35,000 per location, but it is offering a $10,000 discount this year. It also collects an ongoing royalty fee of 6 percent and a 2 percent ad fund charge.
The initial investment, including build-out cost and franchising fee, ranges between $403,300 to $659,000, depending on location, Nielsen says. An average Kolache Factory building is roughly 1,800 square feet. "It's something new and different that you can bring to your home town," Nielsen says. "Kolache are a fun product."
Kolache Factory provides its franchisees with 28 days of training at its headquarters in Katy, Texas, and an additional seven days at the franchisee's location.
Ongoing support includes company newsletters, purchasing cooperatives, paid internet, security and a toll-free hotline. Kolache Factory will also assist with marketing support that includes cooperative advertising, ad slicks and help with regional media.
Scoring Points
Food and sports have always made for a good marriage. Recognizing this, the Kolache Factory partnered with a number of sports teams to promote itself and support its community. In Texas, the bakery chain linked itself with the Houston Texans NFL football team. It's been a mutually beneficial partnership since its inception in 2006. "We have in-stadium signage and we sponsor the red zone," Nielsen says.
Each time the home team moves into the red zone – known as the "Kolache Factory Red Zone" – the company donates a certain percentage of its proceeds to the Houston Texans Foundation, which supports youth programs in education, character development and health and fitness.
In 2015, Kolache Factory went to bat for the Sugar Land Skeeters, the Houston area's minor league baseball team. It's a similar arrangement as with the Houston Texans, involving an in-stadium billboard and in-game promotions by the team's mascot.
Outside of sports stadiums, the bakery has flexed its muscle to help fund research and cures for blood cancers. In the past 12 years, Kolache Factory has raised more than $368,700 for the Leukemia and Lymphoma Society. "We do this by selling stuffed bears and paper balloons in all our stores," Nielsen says. "We also fundraise individually."
Moving forward
Kolache Factory is one of the fastest-growing companies in the Houston area. It was recognized as one of "America's Top 5" drive-thrus by the Food Network and named one of the top 50 foodservice bakeries in the United States by Modern Baking magazine. For the past five consecutive years, the company has ranked as one of the "top 500 franchises" in the nation by Entrepreneur magazine.
"I think there are several factors that have made us a success," Nielsen says. "First, we are a unique product. It's fun and easy for people to get on the go. Second, it's our employees. We have people that have been with us for a long time."
In honor of its anniversary, Kolache Factory will give its customers a 35 percent discount on all products Aug. 9 at participating locations.