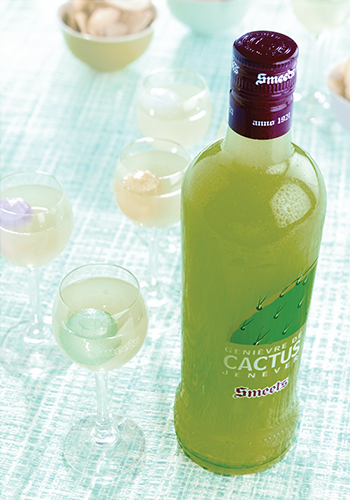 Jenever convention
Konings is a family-owned company offering a range of private and own label drinks including jenevers gins, fruit juices and ciders
Based in Belgium, Konings provides a complete service to a number of high-profile drinks companies, while also creating a variety of its own high quality brands. Handling every aspect of the drink creation process, from preparation of the basic ingredients through to fermentation, distillation and filling, the company has worked in partnership with brands including Sara Lee, Carrefour and Bols-Cointreau, while selling its products under its own Smeets, Trudo, Konings & Charlemagne and Rossia names.
Introducing the company's services, recently appointed general manager, Jaak Van Royen begins: "Basically we have three business units; apple and pear crushing, our own brand and private label. Fruit crushing is the basic material for our cocktails, ciders and juices. Our branded business represents approximately 15 per cent of our turnover, while the remainder is bottling private labels."
Packing and distributing a growing number of brands, Konings' quality and flexibility has led the company to increase its impact outside of Belgium. "Approximately 85 per cent of our turnover is exported, with the UK and Holland as four main markets," explains Jaak. "The UK especially has a strong demand for cider, which takes advantage of our apple crushing facilities. We also sell to Germany and France, while we are broadening our range of cocktails for the Far East market."
Describing the challenges that the company's markets present, Jaak says: "As with most of the private label manufacturers, we are involved in the very heated competition between the retailers. In Holland, Albert Heijn recently announced the reduction of prices for approximately 300 products, which has created some nervousness on the market."
Explaining how Konings works to overcome these challenges, Jaak continues: "We have to make sure that we remain competitive by keeping our entire operation as lean as possible, while ensuring that our overhead costs are kept under tight control."
While efficiency and low cost are vital to compete in the marketplace, a strong emphasis on product development is also at the heart of the company's strategy. "As part of our R&D department we have several people constantly looking at the development of new products, and try to launch several drinks every year within our branded business," Jaak explains.
A particular area of focus within the department is its jenevers, a range of gins predominantly for the Belgian and Dutch market. Jaak comments: "It is a traditional gin product, that is not particularly wellknown outside of Belgium and Holland. Our factory is well positioned within this area, however as a localised product the opportunity for export is quite limited."
Explaining the importance of the drink to the domestic market, Jaak continues: "Every year in October there are big festivities in Hasselt, where the whole town tastes some of the new products. We ensure that our developments are ready and that they have already been presented to the retailers by this time."
Expanding on the latest developments, Jaak elaborates: "As these jenevers are quite traditional products with an ageing target consumer group, we are trying to introduce a fresh approach to the drink through a specific new range of fruit-based jenevers. Some of these are catering for more exotic tastes, and currently the best selling product is cactus jenever.
"Traditionally jenevers are winter products, but these new fruit varieties are also suitable for the summertime, as they can be drunk with ice or as part of a cocktail. Through this we are targeting younger consumers of between the ages of 25 and 45, rather than the traditional 45 plus age range."
These new fruit jenevers are at the heart of Konings' future strategy, as the company looks to broaden its customer-base. Outlining his plan, Jaak says: "I believe we need to expand the brand on our local market, while in terms of the private-label business we have to define our core competencies and concentrate on these activities. We will ensure that the business is kept in the current three different business units, as our own brands are completely different from the private label activity. We are creating a P&L for each of these different divisions to make it clear where the profitability lies, and enable us to adapt our strategy where necessary."
As a family-owned company, Konings has slowly developed a strong reputation across Europe for the high quality taste of all of its drinks. With a clear strategy for the future, combined with constant product development, Jaak is confident of extending this particular success story: "The Smeets brand has been accepted as a high quality distilled brand, and I am sure we can develop this further. With a history as a low profile company, I hope to achieve more publicity this year and attract consumers to our new fruit jenevers."