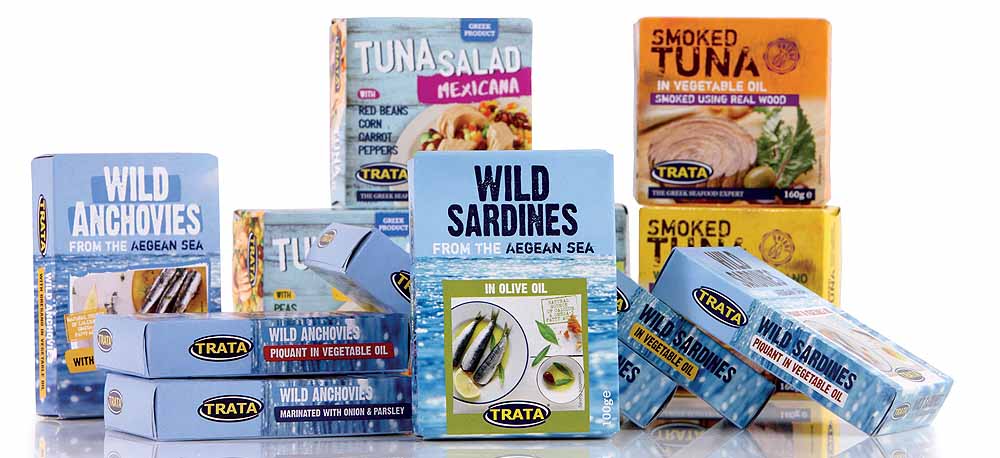 Seas of plenty
Greek seafood has a reputation for quality and taste, a reputation that has been made possible because of the tireless, passionate work of producers such as KONVA
Within the canned seafood market, arguably there is no sector more competitive than that of canned tuna. With tuna possessing a very specific taste, being processed to be consumed with or without other food items, and thought to provide numerous health benefits, the popularity of canned tuna has continued to gain momentum, particularly in emerging regions in the Near East and Latin America. Such is the competitive nature of the tuna market that achieving any increase in market share is a huge achievement, and this was the case for Greek fish products producer KONVA in 2017.
"2017 was, in general, an extremely positive year for the company, typified by a 1.2 per cent increase in Greek market share when it comes to our canned tuna products," explains KONVA's Managing Director, Gianna Tzika. "At the same time, we have seen continued improvement in the performance of our other product ranges, in part due to an increased availability in the raw materials that we use."
With a family legacy dating back over 90 years, KONVA is responsible for supplying its customers with a rich line of seafood products, including sardines, anchovies, squid, octopus and herring, as well as the hugely popular TRATA and FLOKOS brands. Located in Kilkis, Northern Greece, the company sources its products from the waters of the Aegean Sea, a fact that Gianna points to as being one of KONVA's greatest strengths. "The flavour and tenderness of the fish that we source is simply not comparable with anything else on the market," she enthuses. "The temperature of our
waters, the climate we experience year-round and the level of biodiversity in the region combine to make the fish of the Aegean Sea top of the range."
In the time since we last spoke with Gianna, at the beginning of 2017, the company has made several additions and improvements to both its product line and supporting infrastructure. In the former, it has added new lines to its frozen products range. This range has become a top priority for KONVA and is led by its filleted, skin packed sardines and anchovies. In the meantime, the company has also made a considerable investment in new machinery in its packaging department. This machinery allows it to produce smaller tray sizes for its products, making it easier for its retail customers to stock greater numbers of KONVA goods on their shelves.
During our last conversation with Gianna, she also detailed a long-term strategic vision to increase the export potential of the company's products and brands onto a number of key European counties. As she correctly notes, however, exporting ones' goods into what is an already fiercely competitive market is no easy task, and requires a measured approach. "In order to make the most of our export activities we have focused a lot of our efforts on producing products with added value and that provide a unique taste experience, derived from specialist recipes and ingredients that are not found in basic canned seafood," she states. "As part of our efforts we have targeted specific countries that we believe share a love for our types of recipe, countries like the UK, Belgium, Germany and several in Scandinavia, and we believe that our efforts this year will result in as much as a 50 per cent increase in export-based turnover over the course of 2018."
These expansion plans are also being enacted with a watchful eye on achieving the highest levels of sustainability as dictated by industry regulators. "Sustainability is the single biggest issue in the seafood business," Gianna continues. "As a responsible player in this industry we are very active in supporting a drive towards greater improvement in this field. All of our products provide complete 'track and trace' information for the fish we use. This information allows the customer or end consumer to identify the exact species of fish, where it was fished, what it was caught with, on which boat it was caught from and even who the captain of that boat was at the time. This provides a level of complete transparency that our customers demand.
"Further to the above-mentioned steps, we have also recently obtained Marine Stewardship Council (MSC) Certification for our mackerel and herring production operations, and we are on the front line of spearheading research into the sustainability of the Greek seas, supporting investment in these activities to the tune of more than 100,000 euros."
Rapidly evolving consumer habits and tastes also have a massive influence on the direction of the company and its development of new products. A good example of this is KONVA's introduction of a new organic range. "Our organic range will be made with only the finest organic olive oil," Gianna adds. "At the same time, we have also worked hard to create a number of new healthy, Mediterranean inspired recipes. These include sardines in tomato sauce with oregano, anchovies with crushed chilli peppers, tuna with capers, and tuna salad with lentils or quinoa."
Having enjoyed a solid 12 months during 2017, Gianna and the rest of the KONVA team are hard at work as they endeavour to achieve their goals for 2018. "Among our objectives for this year are to achieve the desired 50 per cent increase in export-based turnover, retain and build upon our share of the Greek market and double our volumes of our frozen product lines," Gianna says. "In achieving all of this, we will be one step closer to reaching our ultimate objective, and that is to become synonymous with fish products from Greece and to be an ambassador for these products on the world stage."