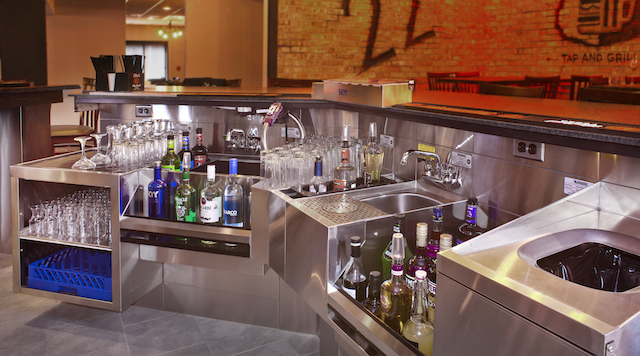 As a leader in the underbar world, Krowne is always looking forward and finding ways to innovate its design and technology.
For more than 70 years, Krowne Metal's passion and focus on precision, innovation and expansion has led the way in the stainless steel underbar equipment industry.
Over the last three years, Krowne has taken strategic steps to separate itself from the sea of competition by creating new avenues that have led to significant growth in its bar design category.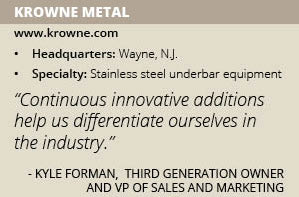 That dedication culminated in May when Krowne won the 2018 SEFA Supplier of the Year Award – distinguishing themselves as an industry leader in the country.
"Over the last few years we have spent an immense amount of time and resources creating new innovative solutions that improve the design experience for the end user," says Kyle Forman, third generation owner and VP of Sales and Marketing at Krowne.
Krowne — a family-owned company that manufactures in the U.S.A — caters to a list of prominent clients including Yankee Stadium in the Bronx, Little Caesars Arena in Detroit and Seminole Hard Rock Hotel & Casino Hollywood complex in Fort Lauderdale. Their products are featured in restaurants from Grand Central Station in Manhattan to local pubs across the country.
BarFlex3D
As a leader in the underbar world, Krowne is always looking forward and finding ways to innovate their design and technology.
In February, Krowne released its newest feature: BarFlex3D workstation configurator (Krowne.com/barflex3D) which uses their patented design software to allow clients to create a 3-dimensional virtual workstation. Clients can choose from over 2,000 different configurations to create the most efficient workstation for that specific environment.
"We've seen a ton of success with this software since its release at NAFEM, and we are excited to implement phase two in the near future, which will change the end user experience in ways that no one has developed or utilized before," Forman says.
BarFlex3D simplifies the design process by allowing clients to virtually design, visualize and refine their workstation in real time, eliminating the need for multiple phone conversations throughout the process.  Proposing a bar design in 2-D has always created challenges due to end user's unfamiliarity with industry standard CAD drawings.
Jerry Kouveras, the Vice President of design and engineering for Sam Tell states "[BarFlex3D is] an amazing aid in helping clients visualize how their bar would be set-up before placing a single piece of equipment," he says.
"Not only does it assist in getting a great design the first time out for the end user, but it also helps us train new CAD team members and [salesmen] on how to design a better underbar layout," he continues. "Some people can't visualize well in 2-D and this system makes understanding the science of bar design so much easier."
Customers First
Krowne is consistently bringing new products to the market that emphasize convenience for their clients. The majority of Krowne's innovation and change comes from a constant stream of dialogue with bartenders and consultants around the world.
Just recently, Krowne introduced a back bar unit with sliding refrigeration drawers that can be used for garnish and wine storage. "We spent a lot of time engineering [the unit] to solve problems customers have found with other refrigeration drawer designs," Forman says. "All these ideas come from one simple thing; listening to bartenders who use this equipment every day."
The new unit, he adds, reflects Krowne's longtime efforts to improve quality throughout its products. Rather than economizing every component in the unit to be the cheapest, Krowne has taken the approach of systematically improving the quality of every element and part of their coolers to distinguish themselves within the industry.
Growing Capabilities
Krowne recently expanded its operations with the addition of its new state of the art manufacturing plant in Wayne, NJ.  This additional space assists in their customization capabilities for their underbar and back bar refrigeration manufacturing.
The 200,000 square feet of space has helped reduce the lead time for most of Krowne's refrigeration units by over 50 percent. Krowne has added multiple autonomous lasers, robotic break presses and polishers to increase productivity and precision.
Its facility also uses an innovative warehouse management system and laser-guided forklifts that allow for improved efficiency and same day delivery for all in-stock items.
"These continuous innovative additions help us differentiate ourselves in the industry," Forman says.
The Right Direction
Throughout his career at Krowne, Forman has worked in nearly every department before taking on his current role. It's allowed him to gain a holistic perspective of the company that has aided in its evolution.
"It's given me a clear bird's eye view of each facet of the company," he says.
Today, Krowne operates with an environment that includes both long-term employees and recruits who bring in new ideas. However, "It takes a clear vision and the support of all team members to continue on our path to success," Forman says.
Forman sees more growth ahead for the company, which plans to recruit new personnel and expand its reach with continuous product development.
All of these improvements have positioned Krowne to remain a leader in bar equipment and refrigeration in the United States.