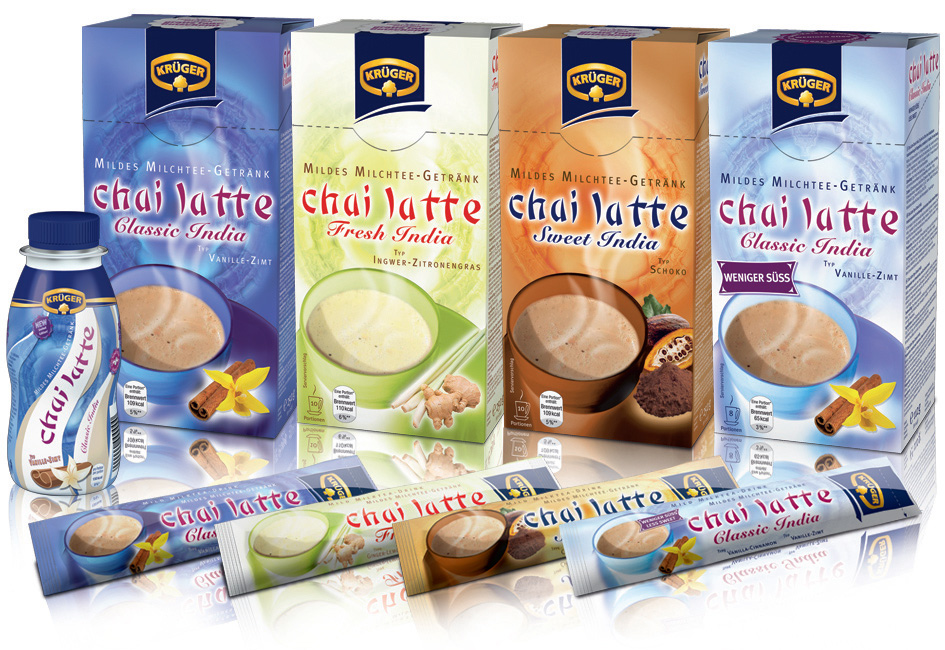 Instant satisfaction
Specialising in instant, powder-based products, Krüger is taking its award winning brands to all four corners of the world
Based in Bergisch Gladbach, Germany, the Krüger company is one of Europe's largest developers and producers of instant products. Beginning life in 1971, the company has grown over the subsequent four decades to become a key market player within its industry, achieving annual sales that exceed 1.6 billion euros and employing approximately 4400 people.
Today Krüger specialises in six main business areas, instant and dietary products for the food trade, pharmaceutical products for selfmedication, chocolate products, semifinished products for the processing industry and 'K-fee' capsule system: "The company's product range has continuously grown over the years," explains Annika Grimberg, marketing assistant at Krüger. "When Willibert Krüger founded the company and started developing instant powder products, these included various pharmaceuticals that were pressed into tablets. As the years passed and experience in new technologies was gained, new products were created and the current range of goods was formed."


In 2010, almost 49 per cent of Krüger's total sales were made through exports, highlighting how strong the company's international presence is. Amongst the more than a dozen countries Krüger sells its range to are large markets like the UK, Australia, France, Poland and Benelux: "At this point in time the company is concentrating more of its resources on the UK market," Annika says. "For years it has delivered private label products to almost all of the UK's major supermarkets, and in late 2009 it launched the first products under the Krüger brand name. Under this range the company sells cappuccinos, hot chocolates, sweeteners and instant coffee, and this year it launched a new chai latte product.
Great potential
"Another active market in 2011 is Poland where Krüger has had a subsidiary company in operation since 1993 and its own production facility. Poland is a country that Krüger still sees great potential in as the sale of sweeteners, minerals and powder-based drinks continues to rise. Polish consumers have also really taken to healthy food alternatives and fitness supplements and this plays to the company's strengths. Further afield a subsidiary company was established in Australia in 2008 to better serve that region, and in the three years since it has witnessed considerable growth."
Whether it is for foreign or domestic markets, Krüger has a long, distinguished history of developing new products: "In June 2011, Krüger launched its line of chai latte products in the UK," Annika continues. "Available in three flavours, Classic India, Fresh India and Sweet India, these drinks give the consumer a warming and relaxing feeling. While they are a particularly strong seller in the winter months, these drinks can also be enjoyed in the summer if they are first prepared, then cooled in the fridge and served over ice. The decision to take this range overseas comes as a result of its success in Germany and in anticipation of the same level of reaction, Krüger plans to unveil a fourth flavour in September, which will contain less sugar, but retain the same qualities."
Exciting launch
A Krüger development just as exciting is the launch of the second generation K-fee coffee machine in April 2011. Combining all the advantages of the original design with more advanced technology and a new modern shape, this capsule based machine makes for an ideal household application: "Just one of the many advantages the K-fee has over other coffee machines is that it allows the user to prepare hot drinks in many different varities. Using the example of a café latte, the user inserts two capsules, one containing espresso and the other milk and the result is you get a product just as rich and full of flavour as anything available in high-street coffee shops. So for those who want a quality beverage product available at a reasonable price and at their fingertips, the K-fee is the solution," Annika says.
Despite Krüger's considerable success when it comes to introducing its brands to foreign markets, Annika is keen to stress that such a move always presents a challenge: "In truth, one can never be 100 per cent sure that a product that is successful in Germany will work abroad. Different people naturally have different tastes and opinions so it is all the more important that Krüger carries out comprehensive market research before launching a product. This research helps the company better understand the habits of foreign consumers, right down to the smallest, seemingly unimportant details, to ensure the products that enter their marketplace are met with the best response possible."
This forward-thinking approach to business is just one of the many strengths that have helped make Krüger the strong name it is today. As Annika emphasises, the most important of these strengths is arguably the quality of the products the company creates: "The company is broadly diversified and what this does is guarantee the highest product quality at all times. This is achieved by integrating every stage of the value chain that leads to the finished product. Krüger's subsidiary companies deliver the raw materials, and by integrating the supply of sugar, milk powder, raw chocolate and other materials into Krüger group, the company is able to maintain complete control over what goes into every packet, tin or sachet."
Further developments
Even though the company already has over 500 different product types leaving its global facilities each and every day, this has not prevented Krüger from committing to further developing its portfolio, with a number of new product ideas it hopes to realise in the next few years: "One of Krüger's short term goals is to bring the K-fee capsule system to countries like the UK, Poland and Australia," Annika states. "At the same time Krüger is continuously on the lookout for new markets to explore and potential assets it can acquire and bring into the Krüger group, increasing the effectiveness of its value chain."
Regardless of the phenomenal strides the company has made in its 40 year lifespan, Annika is well aware that, in order to remain successful, it cannot stand still and lose pace with the rest of the industry: "The fact of the matter is the food and drink business is so competitive a company like Krüger can never rest on its laurels, rather it is always looking to take on new challenges and increase consumer interest in its brands wherever they are present around the world."