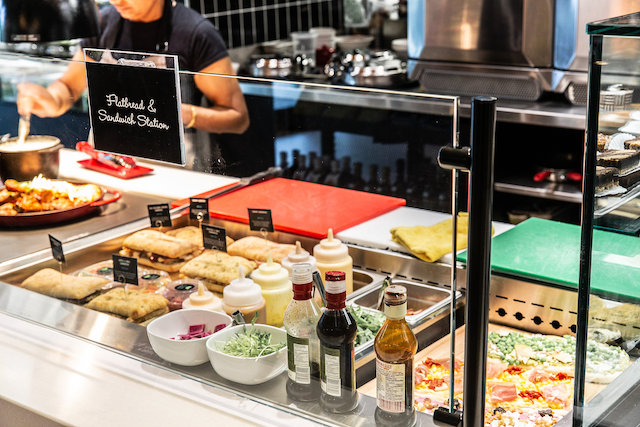 La Prep CEO Naveen Seth focuses on continuous innovation to increase brand awareness and ensure a positive guest experience.
An entrepreneur at heart, Naveen Seth left India and moved to Canada in 1988 where he dabbled in a few business ventures before finally finding his passion in the food industry. "Every Friday we would cater lunch for our entire team when I owned an IT company and I approached different restaurants to do live cooking in our offices," he remembers. "I loved how they came in and set everything up, and it also got me in the kitchens of restaurants and meeting chefs in the area. It got me interested in the food business. I thought it was amazing and I would love to do something like this and own my own restaurants."
When Seth first arrived in Ottawa, Ontario, he worked at his sister's convenience store to learn the business and six months later purchased his own stores. "I was able to buy my first convenience store seven months after I landed in the country and not speaking the language," he remembers. "I bought my first run-down space after spending 10 days sitting at the location to analyze why it's not working out. When I felt confident I could make money, I bought it and turned it around within eight months. Once I did well enough, I sold the location and bought another run-down business and did that three or four times."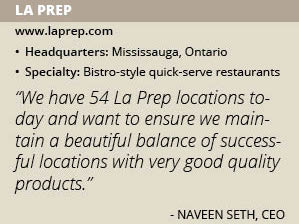 After his sister married, Seth and his new brother-in-law saw the potential in the IT industry and became partners to launch a company focused on training materials. "My brother-in-law gave me a crash course in IT and helped me understand the technology because I didn't have a background in it and the business grew from the two of us into a full fledge software development and computer-based network training company with 35 engineers," Seth says.
Seth and his brother-in-law continued to grow the company before being acquired in the late '90s. He stayed with the company for a year after the acquisition and then decided to fully immerse himself in his passion – food. "My initial thought was to move to Toronto and start opening Indian food restaurants, but I spoke to a friend of mine in Ottawa who told me that he knows I've been a successful entrepreneur, but restaurants are a different beast," Seth says. "He advised me to go with an existing concept to have a better chance of succeeding."
The pair drove around Ottawa and visited eight Café Supreme restaurants, which Seth immediately gravitated to. "It's a great concept," he says. "It's not your typical coffee shop because it has great coffee and great food options with an upscale feel to the place. I loved it. My friend asked me about taking this concept to Toronto as an operator, but my expertise is in developing and growing businesses. I didn't see myself as a franchisee managing stores; I wanted to develop and grow a company."
After meeting with the president of Café Supreme in Montreal, Seth received the rights to the southern Ontario market and relocated to Toronto as a master franchisee. After acquiring the rights in 1998, Seth formed Seth Commercial Corp.
Building a Brand
Seth targeted office buildings in Toronto where he wanted to open Café Supreme locations, but was often met with disappointment because landlords didn't understand the concept. "They would say no thank you because they already had Starbucks or Second Cup and I would explain that we are very different from Starbucks or Tim Hortons," he says. "We are not just a good cup of coffee, we are a bistro. Seventy percent of our sales are generated through food – we are positioned for you to come in and have a nice cup of coffee and get breakfast and come for lunch when the whole display changes to different food options."
Over the next two decades, Seth opened 35 locations in triple A office towers, universities and hospitals where consumers know the company makes everything fresh in-house daily. "There is no other food company like us that has achieved the balance between great quality coffee and food," Seth notes.
As a member of Café Supreme's advisory board, Seth zeroed in on the name of the company because consumers responded that it was confusing. "Cafés are known for coffee and it doesn't really justify what we are to consumers and landlords," he says. "We hired consultants to see if Café Supreme was the right name for us and they found that based on what we do and our sales being 70 percent food, we don't qualify as a café and need to rebrand to convey the message that we prepare everything fresh."
In 2010, Café Supreme was rebranded to La Prep to better communicate its offerings. The company made significant changes to the color scheme and focused on going "green." However, Seth discovered that La Prep was a much smaller piece of the pie for the parent company in Montreal at the time and they weren't interested in innovating or spending enough resources to take the company to the next level.
"I approached ownership four years ago that we needed to evolve with time because there was so much more competition and people's perception for freshness has changed over the years, and we needed to take it to the next level," Seth remembers. "They had no intention of investing more money and were happy the way things were, so I told them to sell me the company or sell it to someone who will invest in resources. In November 2017, I bought the whole brand and became the CEO of La Prep."
La Prep Social Bistro
As an upscale bistro-style quick-service restaurant, La Prep specializes in freshly prepared innovative sandwiches, salads, baked goods and specialty coffees. The company prides itself on the quality and freshness of its ingredients with an impressive array of delicious menu items created by its kitchens daily. Its modern and sophisticated bistro environment provides the perfect atmosphere to relax and re-energize with friends, colleagues and business affiliates.
"I see the opportunity for growth because we are unique," Seth says. "I want to open street front locations, but started talking to people and discovered there is a big chunk of people not in the downtown core who don't know what La Prep is or means. If I opened a street front location, what would it mean to someone? It could be a grocery store or café, why would people come in by looking at the name and logo? We needed to come up with a clear message with our name so as soon as someone looks at it they know what it is and our new concept is, La Prep Social Bistro. It's very clear La Prep is a place where people can come and socialize in an environment that puts them at ease."
Live a Balanced Life
"Personally, I like to lead a well-balanced life and I think everyone is looking for balance with eating healthy or not and time management," Seth says. "When I look out at the market, there are two main concepts: completely health-focused or junk food. I believe people should be given the flexibility in what they should eat or not eat and you should be enabled to 'Find Your Balance,' which is the company philosophy."
As a master franchisee, Seth says he would see customers debate over choosing a sandwich, salad or hearty lasagna, so the company developed a "funny message on our napkins with one thinking bubble that says salad and a second that says cookie and our slogan, 'Find Your Balance.'" "At La prep, we offer a balanced menu with healthy salads, but you can also come in and indulge in our amazing flatbreads, lasagna or grab a cookie," he adds. "We are promoting that message, 'Find Your Balance,' on our new packaging and lunchboxes, catering and in the stores, there is a full wall that says Find your Balance."
To continue the rebranding of La Prep, the company created a 7,500-square-foot commissary kitchen where Executive Chef Richard Chambers and his team develop fresh recipes for Social Bistro. The first La Prep Social Bistro opened in July 2018 in Richmond Hill, Ontario, and Seth has opened four more locations since then and working with franchisee to update their existing locations.
The company has more changes on the horizon with a new website and online catering platform that will launch in May. It is also working on a pre-order app to make life easier for its customers. "The 2019 focus is to build more brand awareness, open more stores and create buzz before we take the brand internationally into the United States," Seth says. "We have 54 La Prep locations today and want to ensure we maintain a beautiful balance of successful locations with very good quality products."
Obsessed with Indian Street Food
Seth Commercial Corp. CEO Naveen Seth launched CHASKA, an Indian street food restaurant, two-and-a-half years ago in Mississauga, Ontario. "CHASKA literally means 'obsession,' and mine is an obsession with Indian street food," Seth says. "It's a cool concept and very unique. There's nothing like this because I've drawn on my 16 years of experience in the food industry and memories of my childhood traveling with my dadfrom one city to another to visit family where we would stop along the highway at restaurants that are known as 'Dhabas.' They have an open kitchen environment where everything happens right in front of you."
Seth brings the authentic street food experience that he remembers as a child to life with CHASKA, offering a different take on Indian food that is delicious and fresh, prepared daily using savory spices with flavorful herbs and marinades. Seth recently opened a second location in Toronto and expects to open three more this year. Visit www.chaska.com for more information.