Lakeside Produce keeps its focus on freshness and flavor.
After more than seven decades, Lakeside Produce continues to deliver fresh, quality produce to families across North America. The company was founded in 1941 by the great-grandfather of Lakeside's CEO, Chris Cervini. Today, it sells tomatoes, cucumbers, peppers and eggplant to leading retailers in a number of markets across both the United States and Canada.
"We're passionate about great, quality greens, supported by our commitment to service excellence, food safety, quality assurance, consistency and sustainability," said Dean Scott, Lakeside's marketing manager.
Lakeside also offers numerous pack styles that are easy for the consumer to grab. "They stand out on display, attracting the eye and locking in the sale," he says. For example, its tomato lines include its Heirloom, its "wow factor" tomato, a variety known for its unique colour, shape, and taste.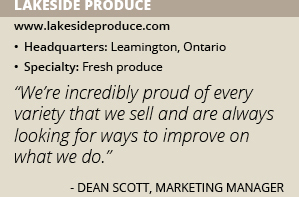 Lakeside's Blushes tomatoes also offer "unrivaled flavor and crunch," he adds. The company recently displayed more than 400 clamshells of Blushes in a 14-foot-tall wall at the Produce Marketing Association's Fresh Summit show.
"It's produce that we believe is going to have a large impact on the market, and we wanted to highlight and truly showcase it," Scott says. The Blushes also recently won a gold medal in the Best Hothouse Specialty Tomato category at the 2016 Greenhouse Competitions.
However, "We're proud of every variety that we sell, and are always looking for ways to improve on what we do," he asserts, noting that its products are grown at its multiple greenhouses and facilities across North America, including locations in Taylor, Mich., and McAllen, Texas.
Lakeside recently finished construction of a lit greenhouse in Leamington, Ontario, Canada. "This will allow us to harvest Canadian grown tomatoes year-round, allowing for the consistency in flavor and quality that consumers have come to trust us for," he says.
World of Produce
Scott joined Lakeside in July 2016. "It's been an incredible journey so far, getting up to speed on the world of produce and the endless marketing opportunities that are available," he says.
"At Lakeside, we continually strive to deliver the best in everything we do," Scott says, noting that the company is proud of its team members and their devotion to quality and results. "It's exciting to be able to provide outstanding produce to families across North America and to focus our efforts on freshness and flavor."
Lakeside strives to revolutionize the produce industry and keeps its finger on the pulse of market changes. For example, "Customers are increasingly looking for authenticity in what they purchase, and at Lakeside, we ensure our focus is always on flavor, quality and the consumer's needs," Scott says.
"We're always looking for ways to innovate with our packaging and are currently working on furthering our branding in order to stay ahead of trends and changes within the industry," he says. "We [also] hold customer tastings and flavor panels in order to find the best varieties with unforgettable flavor."
Organic Excellence?
Lakeside Produce has not fallen behind when it comes to the organic products trend. "Our organics are fresh, pesticide free and grown by people who care about what makes its way into your grocery cart," the company says.
These include its organic English cucumbers, which are refreshing and reliable, Lakeside says. "[They are] great for salads, sandwiches or impressive appetizers; it's always time for a stackable snack," the company states. Its organic mini cukes feature all the benefits of its conventional cucumbers. "They're our perfectly portable, crunch 'em and munch 'em variety," Lakeside states.
The company also has its organic tomatoes on the vine. "Grown true and with [the customer] in mind, we're excited to be able to offer these organic wonders that break with convention to give [them] the very best with each regal slice," it says.