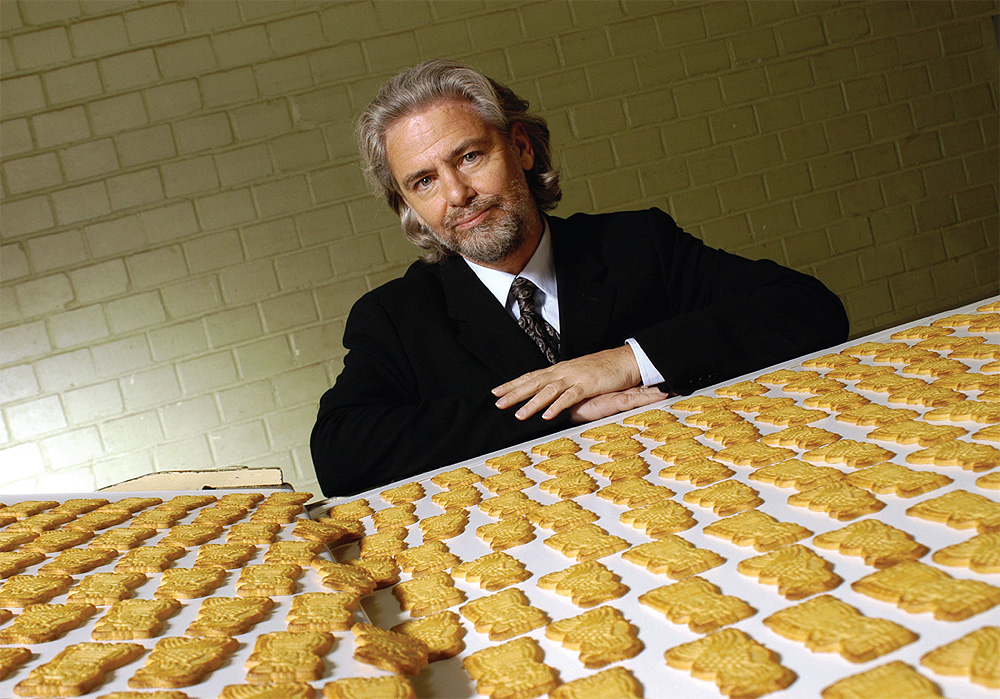 Rising success
Lambertz is Germany's longest running confectionary manufacturer with over 300 years of history, but the last few years have seen it more successful than ever
The Lambertz Group produces some of the most recognisable baked goods and delicacies in Germany. It's flagship item, the Aachener Printen, has a history dating back to 1688 and has since become a part of German Christmas tradition. Today Lambertz produces a huge range of foods both seasonal and perennial, marketing these items internationally.
The company's story begins in the western German town of Aachen where, in 1688, baker Heinrich Lambertz was granted royal permission to set up a bakery stall in Aachen's Market. No. 7. Ginger biscuits already had a long history in Germany but Heinrich revolutionised the market by adding sugar to the recipe and cutting it into rectangular strips, creating the first cut 'printe' that soon gained the name 'Aachener Printen'. Heinrich's biscuit became popular with customers and within a few years his bakery had begun producing variations including chocolate, almond, marzipan and soft biscuit varieties.
Lambertz has remained a family company since its foundation and until comparatively recently was solely a regional producer. That changed in 1978 when Dr. Hermann Bühlbecker took over the bakery's operations from his uncle and transformed it from a turnover of 16 million Deutsche marks per year to its current annual turnover of 500 million euros by marketing itself as a brand rather than simply a manufacturer. It has now become one of Germany's biggest names in baked goods as well as a world leader in seasonal biscuits.
With Hermann, the ninth generation of the family to run Lambertz, at its reins the company began to expand by acquiring local 'lebkuchen' producers in the city of Nuremberg. Lebkuchen ginger biscuits are, like Printen, a traditional festive German treat, and Lambertz is now responsible for the highest selling brand, Weiss. Over the last few years the business has enjoyed rapid growth, doubling its revenue every two years since 1993. It owns six plants throughout Germany and one in Poland and employs over 3500 people.


The Polish plant was opened in 1998 and delivers to countries such as Bulgaria, the Czech Republic, Latvia and Romania. This Polish section of Lambertz, Lambertz Polonia, is responsible for almost ten per cent of the entire company's sales, with an annual turnover of approximately 43 million euros. Part of this success can be put down to the company's commitment to fit in with local traditions and provide local delicacies.
Following on from its European success, Lambertz is now responsible for baked confectionaries internationally. In the United States it works with local partners to produce new goods desirable to a North American palette. It also has a major presence in Australia and, most recently, gained a foothold in the Chinese market from which it hopes to expand throughout Asia. The company's international turnover has grown proportionately with its domestic turnover, displaying an increasing desire for Lambertz products by consumers throughout the world.
Despite its growing international presence, the company continues to produce its main range of products with domestic ingredients. Additional ingredients such as chocolate are obtained from more distant locations but the company makes sure to purchase from sustainable growers. Similarly, though the company now handles an entire line of year-round products, it continues to manufacture ranges of seasonal specialities. This dedicated attitude is reflected in the company's motto: 'Maintain tradition – remain with innovation'.
The last time Hermann spoke to this magazine, he explained that a large part of the company's success could be pinned on the efficiency of its infrastructure: "Lambertz operates under lean and effective production standards that meet with our mentality of having a 'hands on' approach. We reflect lean principles in the administration of the company, as well as the production, and have remained true to our origins as a medium-sized company in terms of our ethos and overheads spending."
The company is dedicated to investing in upgrading its own operations, with logistics and automation being at the heart of its strategy. Recent improvements have included the installation of an advanced sliding storage rack facility capable of handling 12,000 pallets near its plant in Nuremberg. It also implemented a new logistics scheme that has seen its response times to customer demands drop significantly.
Speaking about how the economic crisis affected Lambertz, Hermann highlights the company's unique position within the food industry: "Due to our solid capital resources we are lucky to be largely financed independently from banks, enabling us to conduct take-overs within the two-figure million domain without the need for bank credit. In general we also benefit from the fact that unlike many other food segments, the baked goods sector is not dependent on the economic cycle. Due to the good value for money our products offer, consumers are able to indulge even in a downturn."
This advantageous position looks set to continue the company's already excellent rate of growth. Alongside its first footsteps into the Asian region, the company is also distributing its products on the African continent, opening up further lucrative prospects. With this in mind and its growing recognition through dozens of international awards, the future for Lambertz looks bright.