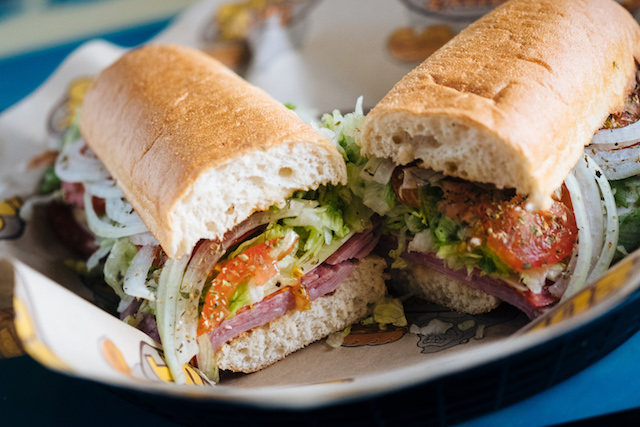 Though the Raikes brothers have 64 stores, they still work the lunch rush.
Larry Raikes was working as bartender in Buffalo, N.Y. when the rest of his family moved down to Florida – his parents to West Palm Beach to retire and his brother, Mitch, to Jacksonville to work as a metallurgist. Raikes came down to visit and scored a bartending job on his day in town.
Raikes had high expectations when it came to fast food and was not impressed by what he found in his new town. "Buffalo is the fast-food capital of the world," he says. "I used to get out [from bartending] at 4 a.m. and go the local pizza places. In Jacksonville, everything was shut down by 10 p.m."
An idea was born. Although Raikes experience in preparing sandwiches was limited to helping his mother make subs – which they called "bombers" – at home, he didn't let that stop him. He found a 700-square-foot space, made some modifications for a total cost of about $18,000 and in 1982 Larry's Giant Subs opened for business. "My first day open, I did $500," Raikes says. "I said, 'man oh man.'"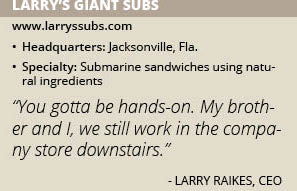 Raikes kept his sub shop open late to catch the post nightclub business. His brother came in and worked the late shift. "After five months of doing that, the steel industry got pretty slow and they laid him off," Raikes says. "I made him a partner. After six months of working here, they called him to come back. He says, 'I ain't coming back. I'm making more money working here." By 1984, within six months of opening a second location, they were debt-free. "It was the American dream," Raikes says.
About nine years ago, the brothers decided to start using natural ingredients. "It got to the point where the organic market people were charging $8 to $9 a pound," Raikes says.
They found a turkey producer in Minnesota from whom they could get antibiotic-free turkeys with their company name on it – becoming a co-packer – for not much more money. "Our sales increased right away," Raikes says.
Over time, they added nine other natural products including roast beef, pastrami, corned beef, ham and provolone cheese. Along the way they found out that other businesses – convenience stores, restaurants, colleges – would buy those natural foods, especially if the prices were better than their competitors.
Today, more than 150 businesses buy natural products from Larry's Giant Subs, Raikes says. While sub sandwiches are still their main business, selling bulk natural foods has become a nice sideline.
Hands-On Business
Larry's Giant Subs has 64 locations mostly in Florida with eight being company stores and the rest franchises. Another two stores are under construction.
The franchises are the biggest challenge. "You have to babysit people," Raikes says. "They come to you for your expertise. They have to be consistent and commit to using the right products. You find people who want to cut corners, go the store and buy this and buy that. [Customers] are not stupid. If you use a cheaper turkey, [customers] will know. If you change the pizza sauce, people will know. We have compliance agreements and have cancelled franchises with those who are noncompliant."
Larry's Giant Subs helps franchisees with site selection and design, inspects their stores to make sure they are keeping up standards and training. "It's very labor intensive to train the franchisees," Raikes says. "Franchises can call us 24 hours a day. They do. One guy's oven blew up. We went to a warehouse at 4 in the morning and we brought an oven to him."
"We make more money on the company stores," he continues. "We don't want to do too many more Larry's [franchises]. Maybe more corporate locations. We're not advertising for new franchisees."
Today, Raikes is CEO and Mitch is vice president and both remain very involved in the daily business. "You gotta be hands-on," Raikes says. "My brother and I, we still work in the company store downstairs [from our offices]. It's one of our busiest locations. They call us and we go down and help with the lunches."
Another challenge is finding the right employees. "If you don't have the right people in place, you can't build a successful company," Raikes says.
Over 13 years ago the company hired Larry's wife, Deanna, who previously operated multiple stores for the Limited Brands Corporation as well as had an extensive background in corporate human resources and maximizing employees. The same with the franchises. "[Franchise owners] have to be dedicated to work," Raikes says. "You can't just hire someone to run it. If you don't have good people behind the counter . . . one person could screw up your business in a matter of weeks."
Thinking Big
Larry's Giant Subs plans to open an almost 3,000-square-foot location that will seat about 110 people in the up-and-coming Murray Hill neighborhood of Jacksonville. The location will have a full bar and various food offerings including, for the first time, Neapolitan-style pizza.
"My kids all went to Italy a few years ago," Raikes says. "They fell in love with Neapolitan pizza. The water is hard [in Jacksonville]. We got a water machine that can emulate the water from anywhere in the world. It's called the New York Water Make, and we'll be using Brooklyn New York water at our new location."
The company is now in its second generation. Larry's son David is general manager of the company stores and his son Max is the compliance director, Mitch's son Jake is general manager of at store in Palatka.