L&C Meat offers hand-cut beef that delivers on the specific requirements of its restaurant owners.
In the 21 years since Timothy O'Dell came to the meat business, he's seen small processors give way to large corporations such as Sysco and US Foods. Independent companies can't match those big names on volume, so to survive they must provide service, quality and specialty products that larger competitors cannot match.
Savvy processors such as Independence, Mo.'s L&C Meat Inc. have turned their smaller size into an advantage. The only way for large processing companies to fulfill nationwide volume is to cut meats using a machine. There's little room for customers to request specialty orders – most of the time they have to take what's available from the existing product lines.
L&C succeeds by doing what its larger competitors can't: offering personal service to chefs and restaurants. "At L&C, we still hand-cut each steak with a skilled butcher," says O'Dell, the company's president and owner.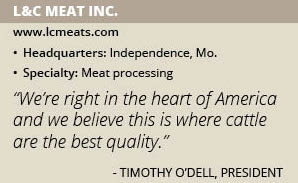 Individualized Service
Founders Tom Likely and Charles Cummings opened L&C Meat in 1948 as a butcher shop serving Kansas City restaurants. Little has changed in the past 69 years. The company still cuts and delivers portion-controlled meats to area restaurants five days a week. It remained in the Likely family until 2016, when then-plant manager O'Dell purchased the company from Ruth Likely, Tom Likely's daughter-in-law.
Since taking over, O'Dell has continued the Likely family's traditional approach to meat processing. Instead of cutting with machines, the company employs five butchers, all of whom started in L&C's packaging department and worked their way up as other employees retired. Hiring from within is a key part of O'Dell's strategy: He wants to train people on L&C's methods so that they develop an appreciation for the company's quality standards. "We don't bring people from the outside in and tell them to start cutting," he says. "We promote from within and build our relationships with employees."
The hire-from-within approach breeds loyalty. Employees see their coworkers advance in their careers and understand there is an opportunity for them to do the same if they stick with L&C. Every butcher has been with the company for at least five years and the longest-tenured has 20 years on the job.
That extensive experience gives customers greater confidence when it comes to creating new products. Butchers are responsible for helping customers develop the specialized cuts for their restaurants, an in-person process that occurs either at L&C's facility or the chef's kitchen. Once they understand the customers' requirements, the butcher then cuts several samples to gauge what the chef is looking for until they arrive at a final product.
Back at the processing plant, where all cuts are done by hand, each steak is treated as a special order with a live person checking it for quality and consistency. "It gives us the ability to do something special and help our customers feel special," O'Dell says.
It's the kind of individualized service that only a smaller processor and distributor could provide, O'Dell adds. "By being a privately owned company, changes can happen quicker," he says. "If a customer wants something done a certain way, it's a pretty quick turnaround to be able to make changes since we're so customer specific in the items we provide them."
Dry Aging
The chief symbol of that customer-first mentality is L&C's commitment to its dry aging program. "We have a dry age room that allows us to do something unique in the industry right here for our customers in Kansas City," O'Dell says. "That separates us from some of our competitors in town."
Many meat processors age their meat in cryovac bags because true dry aging takes weeks to properly tenderize the meat. Bag aging is quicker, but the meat lacks the flavor and quality of naturally dry-aged beef. Where competitors are often willing to settle for the simplicity of bag aging, L&C sees dry aging as a way of bringing craftsmanship to its customers. "We always looked at it as taking a step back to the way it was once done," O'Dell explains.
Instead of using quick methods or injecting the meat with additives, dry aging enhances the flavor naturally. After the beef spends 14 to 21 days in a cooler, L&C moves it into the dry aging room at its facility in Independence, Mo., where it is kept at between 28 and 34 F for as long as 32 days, depending on customer specifications. The process slowly removes moisture from the beef, causing it to shrink over time. To counteract that effect, L&C chooses only USDA-certified prime and upper two-thirds choice cattle, which has a higher fat content and will retain a juicy flavor even during dry aging.
Hereford Beef
The dry aging process heightens the beefy and chestnut flavors with the meat, but quality starts with the cattle itself. In 2016, L&C became a licensed distributor for Certified Hereford Beef, giving it access to cattle from American Hereford Association suppliers. The organization sets size standards for Hereford breed cattle, ensuring the meat has a uniform thickness and marbling regardless of when the animals are harvested. "It gave us a product that differentiated us from our competition," O'Dell says.
Chefs and guests alike appreciate the consistency that comes with Hereford beef. When a restaurant serves the same cut of rib eye to a group of diners, they want every person to have the same satisfying meal. If one guest's steak is smaller or has too much fat, they are more likely to complain or leave a bad review. By offering Hereford meat, L&C gives chefs more confidence in their cuisine. "Our 12-ounce rib eyes are going to stay consistently the same thickness, where with a commodity product you have so much variance throughout the year with sizes," he explains.
The cattle suppliers L&C works with are located in Kansas, Colorado and Nebraska – the northern regions of the country's beef production. O'Dell says the lower temperatures in those states put less stress on the herd compared to those raised in hotter climates such as Texas, and results in a gentler animal that manages well in a ranch and has better muscle texture for dry aging.
Beef is never sourced from overseas meat packers to ensure freshness. "We're a small, family-owned company," O'Dell says. "We're right in the heart of America and we believe this is where cattle are the best quality."
Hereford beef is a premium product but L&C does not limit itself to high-end restaurants. In addition to its prime and upper two-thirds choice beef, which represents less than 4 percent of the country's total beef production, the company offers commodity choice and select meats and fresh ground beef. This gives it a range of products at different price points appealing to a diverse set of clients. "It allows us the flexibility to not only take care of the white tablecloth industry with the dry aged products but also your mom-and-pop locations," O'Dell says.
Expanding Products
Between its fresh steak and grinding programs, L&C processes about 25,000 pounds of meat each week out of its 15,000-square-foot facility. About 10,000 pounds of meat each week is delivered to Kansas City-area restaurants and the rest is sold through distributors as far away as Minnesota and as private-label products for other manufacturers. L&C also sells steaks through its website and ships directly to customers.
Although it is best known for its beef, L&C offers a few other kinds of meat. The company has an all-natural pork program derived from Berkshire pigs and it is willing to find other items at the request of customers. "We work with our chefs at these restaurants," O'Dell says. "If new items come up that they see and are interested in, we start trying to source that product out with the different suppliers that we have."
The newest product L&C is working on is a sausage program. The company actually began offering sausages three years ago when it created a private-label product for Totta Sausage Co., a neighboring Independence-based meat seller. The experience L&C gained from supplying to Totta encouraged the company to create a full sausage program, which has been in development for the past year. "Our sausage is going to be a custom program that goes out raw to our customers," O'Dell says. "That gives them the flexibility to cook it the way they want to."
Entering the sausage business requires investing in new types of processing equipment. For decades, L&C has purchased equipment from UltraSource, a Kansas City supplier of food equipment and supplies, and that relationship will continue as it sources machinery and parts to make sausages.
As L&C expands its product portfolio, it expects to grow alongside its customers. O'Dell sees potential in serving small, boutique restaurant clients that want to make a name for themselves by serving high-quality, unique dishes that can't be replicated by the chain brands. "Our growth in our facility is going to come really from the mom-and-pop places coming back and rebounding," O'Dell says.