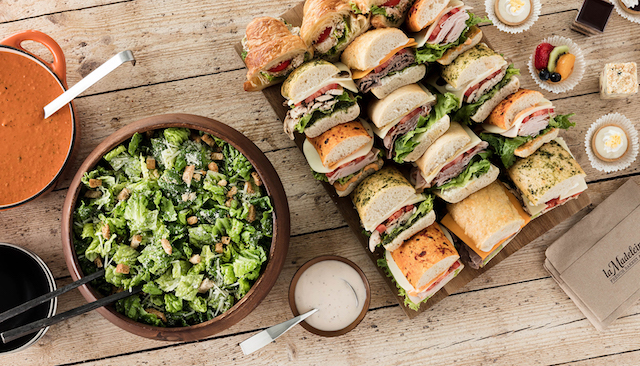 Le Duff America cafes inspire a client base that keeps on returning.
Le Duff America is the U.S. subsidiary of Group Le Duff, a French group founded in 1976. Le Duff America, headquartered in Dallas, was incorporated in 2011. The company operates more than 200 French-themed café-bakeries, coffee houses and boulangeries in the United States and Canada with the brands La Madeleine – which is two-thirds franchise – and Mimi's – which is 100 percent corporate owned – accounting for the majority.
The company has inspired an enviable loyalty in its clientele. "We are an authentic French-inspired foods that enjoys a very loyal guest fan base," Vice President of Purchasing Mike Cobern says. "Although our guests are not all regulars I'd say many or most have been to our cafes many times. Many have made comments that they have been coming to our units 20 years or so."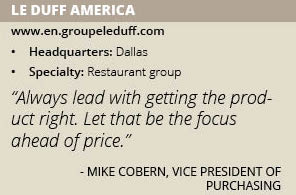 Cobern says he is most proud of the enthusiastic clientele of Le Duff cafes. "The guest feedback tells a story that always leads with, 'I have been coming to one of your brands since I was [blank] age or when we first moved here and we love the food and the atmosphere,'" he says. "They all mean it."
How to Compete
Cobern says there is a lot of competition. "Everybody in casual dining and fast casual have felt the impact of several recent trends," he says. "The industry is struggling for the all-important and coveted customer and guest. The climate has changed a bit. A lot of our business is going towards catering and to-go. We're competing against so many others not only for dine-in guest but now off-premise eating."
Le Duff has a team that is "aggressively pursuing catering opportunities," Cobern says. "Also grab-and-go options are something that we have just started to explore and implement over the last couple of years. The model for this is really the airports and some side street locations where we have a lot of food that is already prepared and displayed and is literally as grab-and-go. We have a unit in Atlanta-Hartsfield Airport that is almost exclusively grab-and-go."
The company is engaged in combining ingredient components to reduce the number of SKUs it delivers to its units – although not at the cost of quality, Cobern emphasizes. To reduce those SKUs, it owns a commissary in the Dallas area that manufactures soups, sauces, dressings and other items.
Le Duff has not been affected by tariffs as yet but "it's a concern for the future," Cobern says. "With La Madeleine and to some extent options for the Mimi's locations, the center of plate is produce. A good portion of that comes from Mexico. There are some concerns about that. The fact that everyone is in the same boat doesn't really help."
There are also sporadic challenges that Le Duff has no control over such as weather – for example, eight tornadoes hit north Texas in late May – and food issues such as the E. coli outbreak on romaine lettuce twice in 2018 alone.
Le Duff is always reviewing ways to cut kitchen costs. "We have taken on how we can mitigate and eliminate labor from the back of the house due to what we are seeing with the minimum wage," Cobern says. "In this industry, sometimes people working in operating units are likely to leave and go across the street for a little more money. We are drawing from a limited pool of employees and everyone is paying more."
In the meanwhile, Le Duff offers employees the possibility of advancement. "We have had a lot of success stories with people in our cafes who have been there a 10 or 15 or 20 years," Cobern says. "We have a good blend of mentors to foster a training relationship. Those mentors give employees a clear [model]."
Supply Chain
While some companies likes working with a large number of vendors, Le Duff sees advantages in working with fewer.
"We try to use familiar vendors that specialize in certain products and leverage our volumes with said vendor," Cobern explains. "This doesn't mean we use the same items. We don't. These are not so much item synergies as vendor synergies. We prefer a one-stop shop model rather than three vendors and three relationships to manage."
Cobern doesn't foresee any major changes in supply chain. "We employ a commonsense approach and will continue to examine and consolidate efforts where it makes sense," Cobern says. "Our buyers know their categories and how to manage their categories. I don't see anything changing there, only getting better."
Le Duff's inventory managers make sure the company has an appropriate amount of inventory, with enough in reserve for spikes in business due to holidays, limited time offers or weather events that may delay deliveries. "Our inventory managers have a hawk eye for things like that," Cobern says.
Integrity and Professionalism
While he's not ready to release details, Cobern says Le Duff is "reinventing prototypes for some of our brands that we will be debuting in the next 12 to 18 months. We will reexamine what our service models are and how we can more efficiently serve the guests, create a greater measure of consistency and continue to provide a wonderful experience."
For his peers, Cobern advises to "always lead with getting the product right. Let that be the focus ahead of price. Prices can be worked out. If you force a vendor into a certain price, you will have to be comfortable with the performance and the spec experience you get from them based on that price. Also, always carry yourself with integrity and professionalism and spend the money like it's your own."