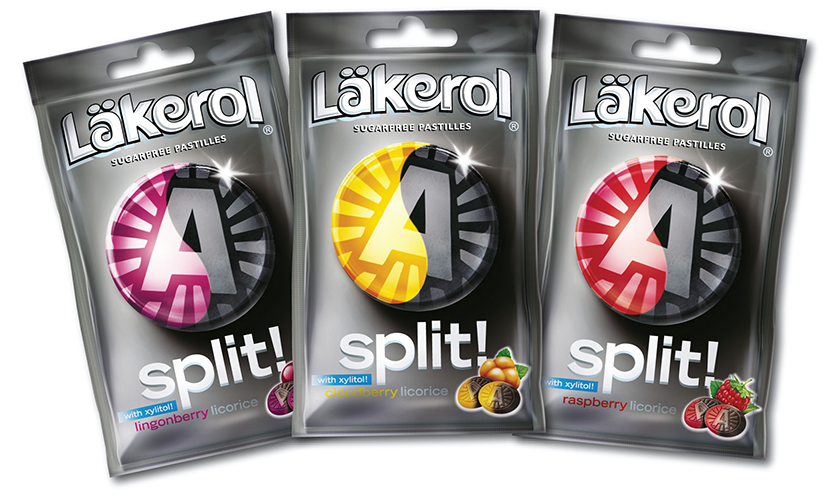 Success is sweet
With a newly built production plant and a range of new products, Leaf International is ready to change the face of the sugar confectionary industry
Leaf International is an independent company wholly focused on the production of sugar confectionary. It holds leading market positions in all sectors of the industry; candy, chewing gum and pastilles. Looking forward there is a clear ambition to become the most admired company in the sugar confectionary industry. The Netherlands based company employ around 3000 people who work across 14 sites and turned over approximately 650 million euros in 2006. It produces an astonishing 55.5 billion sweets a year, which equates to around 150,000 tonnes, which are exported to 50 countries worldwide.
The last two years have been a busy time for Leaf, which has close to 100 years experience in the industry sector, formerly as part of conglomerate CSM. CVC Capital and Nordic Capital founded the company that operates today in 2005, and the two years since the change have been characterised by innovation and investment. Perhaps the biggest example of that is the new production plant that has been built in Slovakia, costing 30 million euros. The site will be used to supply sweets to the crucial markets of Scandinavia, the Netherlands, Germany, France, and the United Kingdom. The project, which will create an initial 200 jobs, is the latest example of companies moving production to Eastern Europe to take advantage of low labour and production costs.
Chief executive officer of Leaf, Peter Bennemeer, believes the move will further strengthen its market position: "It is an important production site for us as it will secure our competitiveness in the industry. By building a modern factory in a country where there is still the opportunity for low cost, we strongly feel we can strengthen our position."
Speaking of the new site's capabilities, Peter goes on: "It is producing for multiple countries across Europe which is very important for us. It has been built to the highest standard and a large range of confectionary is produced there using the very latest technology. There has been heavy investment into this facility and it is one we are very proud of."
Amongst the confectionary that is made in the Slovakian site is a new range called 'Truly'. The reaction to the products has been so positive that work to enlarge the concept has already begun. "The range comes in soft and chewable candy and in a jelly form. We called it the Truly range because all of the ingredients are natural – we add nothing artificial. We have also reduced sugar content and added natural fruit juices to ensure the brilliant taste of the products," Peter enthuses.
With a consumer base that is more conscious than ever about they eat, Leaf has very deliberately set out to produce products that are more healthy than their market equivalents. "We listen very carefully to the consumer and based on the research we have carried out, we believe that the consumers want this type of confectionary. They want to be as healthy as possible without sacrificing the great taste and enjoyment they get from our products, this was our challenge. We believe we have given the consumer the opportunity to indulge without the guilt," says Peter. Leaf's range of products is split into two sections, the refreshment brands and the enjoyment brands. The enjoyment brands consist of the more traditional types of confectionary such as Chewits, the market leader for chewy sweets in the United Kingdom, Malaco, Lutti, Sperlari and Red Band, a mix of jellies, soft and hard boiled candies sold in bags, tubs and pick and mixes. On the other hand the refreshment brands are made up of pastilles, chewing gums and lozenges, which are marketed as healthy alternatives with semi-medicinal benefits. As an example, the Xylifresh chewing gum is marketed as having a cooling sensation in the mouth and as a contribution to personal dental hygiene while Mynthon pastilles have cold relieving properties.
It is a portfolio that will only get larger as the top companies in the industry battle to introduce the next big confectionary innovation, meaning a large emphasis on research and development. Leaf has three centres for R&D, one each for gums, pastilles and bagged candy. It is a costly operation but one that seems to be paying dividends. Outlining recent developments, Peter says: "Our Lakerol brand has recently launched a new product that combines freshness and fruit, it has only been on the market for a matter of weeks but has proved to be of to a phenomenally successful start. In the gum sector, which is hugely competitive, we have launched some new concepts that involve fusing traditional gum with a flavour base in Finland and improved long lastingness in Holland. Furthermore, we are currently re-working some of our other products to combine two flavours in one piece of candy."
The relationship between the company and its suppliers is also crucial in the initial stages of work. "We discuss things with our suppliers from an innovation point of view," Peter says. "We talk about what we can achieve together, how we can combine our mutual capabilities in order to produce the very best products for the consumer and our trading partners," he adds.
The extensive catalogue of products reflects the competitiveness of the market place that Leaf is competing in. It is an environment where some of the world's most recognisable brands compete for the attention of adults and children alike. Analysing the challenges, Peter says: "The competition is intense, there is a constant and ongoing battle for the positions at the top of the industry. The most important thing is that we leverage our strength; I feel we are doing that. We need to use our flexibility, speed, consumer insights and local market strengths to our advantage."
Leaf's commitment to a broad assortment of products supported by its innovation in healthy alternatives puts the company in a strong position. With further investment likely, cementing its place at the top of the European market and further expansion worldwide seems more than achievable. Looking to the future, Peter says: "I'm very optimistic, we have put a lot of effort into extending our product range and making additions to our operating model. It is my belief that from 2008 we will start to see the benefits of our hard work." If the past two years have simply been a taste of things to come then Leaf's future looks very sweet indeed.