Leasa Industries continues to raise the bar when it comes to its healthy food products and community involvement.
Leasa Industries has become a leading Southeast producer of healthy food products that remain unmatched in the industry in terms of quality and price. Today, the company grows more than three million pounds of bean and alfalfa sprouts each year and manufactures more than a million pounds of tofu annually. Since its inception 40 years ago, Leasa has evolved into a strategically focused organization committed to balancing the pursuit of profitability with the commitment to corporate social responsibility.
Leasa was born when George and Einez Yap bought a bankrupt Miami company in 1977 to grow and sell bean sprouts. The company was named using the first initial of each member of the family: L. George Yap, Einez and their children, Andrew, Sean and Allison. "Perseverance, trust and loyalty have long been key for us," President and CEO Andrew Yap says. "We will always stick together and grow as a team."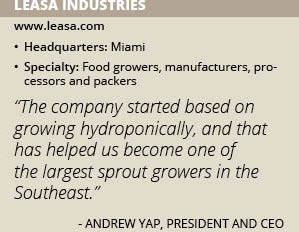 Leasa operates out of a 65,000-square-foot warehouse and production facility in Miami. Leasa brand products are distributed to retail locations throughout Florida, Georgia, Alabama, Louisiana, South Carolina, North Carolina, Tennessee, the Caribbean and Alaska. The company specializes in a variety of health-focused vegetable items for retail and foodservice customers. Leasa serves a wide array of customers, including Publix, Winn-Dixie, Fresco y Mas, Sedanos and Sysco Foodservice. In 2011, the company diversified into a supply chain management and distribution service that warehouses and delivers other supermarket vendor products to large retail chains requiring a just-in-time inventory strategy for refrigerated perishable food products. This program has become a cornerstone to sustaining the company's growth.
The company offers a variety of products includes bean and alfalfa sprouts, specialty sprouts, value-added fresh-cut vegetables, bulk vegetables and Chinese food items. Leasa is also known for its soy line, which includes firm, veggie, cilantro and spicy tofu. Other Leasa products include stir-fry vegetable mix, vegetable soup mix, root vegetables, sugar snaps, snow peas, shallots and specialty onions.
One of the ways Leasa sets itself apart is through its commitment to hydroponics. Its hydroponic system allows Leasa to grow products in filtered water using temperature-controlled, laboratory-esque conditions. This is how Leasa can produce products using minimum space while generating high yields. It produces approximately 70,000 pounds of bean sprouts weekly along with manufacturing 15,000 pounds of tofu from Iowa-sourced soybeans.
"Our product line consists primarily of sprouts, tofu and fresh vegetables," Yap says. Adding supply chain management and distribution system services allow us to evolve into a balanced strategically focused organization positioned for sustained growth and success in the rapidly changing competitive landscape. "Leasa started based on growing products hydroponically, and that has helped us become one of the largest sprout growers in the Southeast. We are also one of the only companies that cooks fresh vegetables inside of tofu to make it more palatable for consumers."
Embedded in the Community
From the beginning, George Yap has hired locally and run his company with a "do unto others" philosophy. Yap is also passionate about giving people a second chance, which is why a majority of Leasa's employees are welfare recipients, school dropouts and ex-felons who live in economically depressed neighborhoods like Liberty City, Overtown, Allapattah, Little Haiti and Opa Locka.
In 1980, riots broke out in Miami's Liberty City neighborhood, which resulted in many businesses being set on fire. Yap's warehouse was spared however, because of his deep connection with the neighborhood. More than half a dozen employees who were former drug addicts and ex-felons who lived in a neighboring halfway house stood outside Leasa's front gate and told rioters to burn somewhere else, Yap said. Leasa is still the largest employer in Liberty City.
In 2006, Yap was one of 10 honorees at the second annual Community and Business Leaders Appreciation Award event. The Yap family continues to hold onto George's philosophy: "Do all we can to help those who need help the most. In this way we can make the community a better place to live."
Leasa's philosophy of doing good has been awarded in many ways throughout the years. The company received the Small Business Administration's Welfare to Work – Small Business Owner of the Year South Florida District in 1998; and was named one of the "100 Fastest Growing Privately Held Companies in America's Inner Cities" by Inc.; and has received many awards for its entrepreneurial success, including 2007 Supplier of the Year award from the Florida Regional Minority Business Council and in 2014 was recognized as one of the most powerful minority entrepreneurs by the U.S. Department of Commerce MBDA Center in Miami.
"We are known for helping people and being successful," George Yap adds. "We believe in never giving up because the key to success is to not fear failure."
Plans for the Future
Andrew Yap says that as Leasa continues to focus on new product development and market expansion, the company also plans to enhance its emphasis on related diversification to include other product and service offerings that will allow sustained growth of the organization's triple bottom line of focusing on people, planet and profitability.
"The competitive landscape is continually changing and we will persevere and grow together while always remembering our humble beginnings," Yap concludes.