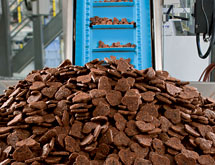 Keeping up with the latest trends has kept Canadian icon Leclerc Foods innovating with its snack products as it expands into the United States. Founded in Quebec City in 1905, the company has established itself so well in its home country that there is no place to go but south. "Our brand in Canada is very strong – comparable to Nabisco and Keebler in the United States," Director of National Sales Jean-Sebastien Leclerc maintains.
In 2009, the company introduced in Canada a line of healthy cookies and snack bars called Praeventia. Among their ingredients and flavors are dark chocolate with red wine extract and ginger with wellmune, which Leclerc asserts have health benefits. He investigated inclusion of probiotics – live microorganisms found in fermented foods such as yogurt – but settled for prebiotics, which are non-digestible soluble fibers and are found in soybeans, inulin sources (such as Jerusalem artichoke, jicama and chicory root), raw oats, unrefined wheat, unrefined barley and yacon. They have the potential to improve digestive health and immunity, Leclerc maintains.
Praeventia won the Canadian Grand Prix award for fiber bars from General Mills in 2010. "The product is very liked by dieticians and health specialists and just featured on 'The Balancing Act' on the Lifetime network," Leclerc points out.
"At first, we wanted to put probiotics in the cookies, but found out that it was very difficult to incorporate the live microorganisms, and the products would only be able to last two to three months, which is not long enough for us to distribute to stores and guarantee the benefits of the products," Leclerc states. "So we found out prebiotics can withstand the baking process and their benefits remain throughout shelf life. So that's what we went for." The company's goal is for its products to stay fresh nine to 12 months after being manufactured.
Increasing Distribution
Another brand Leclerc is promoting is the company's Celebration line of cookies, which are coated with milk and dark chocolate, caramel truffle and raspberry truffle, and sandwich cookies with maple creme.
"My goal is to get increased distribution," Leclerc explains. "I'm working very hard on the Northeast and the Southeast." Sold under its own name in many leading grocery stores in the United States, Leclerc Foods is expanding to the Midsouth and also to the West Coast. "We're really trying to increase our distribution so we can support it with media," he points out. "It's hard to do marketing when you're not everywhere. We've been working very hard on the U.S. business trying to get our name out there. It's really opened up this year. We've got a lot of contracts and increased our business."
Leclerc Foods' products are sold in approximately 20 countries including Mexico, Argentina, Brazil and throughout South America and Japan, which is a big customer for the company's maple leaf cookies, Leclerc reports. The company's products are also sold on amazon.com. "We'll sell probably five cases a day," Leclerc calculates. "Over­all, it's not huge, but just to be able to service all the customers that really want our products, it's worth it."
Private Label
Leclerc Foods produces private-label cookies, granola bars, fruit bars, sugar wafers and crackers for many major grocery chains and retailers in the United States. Some of that private-label business is organic, but under the Leclerc Foods brand, the Praeventia line is all-natural. The company does not produce any gluten-free products.
Leclerc estimates 94 percent of his company's business in the United States is private label but only 50 percent is private label in Canada. "I'm working on getting that 50:50 balance in the United States," he says.
The company has three manufacturing plants in Canada and two in the Unites States. Leclerc Foods' Canadian division is larger than the U.S. division. The manufacturing plants range in size from 200,000 to 350,000 square feet except for the company's headquarters plant near Quebec City, which is close to 500,000 square feet in size.
"All our plants have fully automated high-rise warehouses, so we have good distribution centers in the U.S.," Leclerc declares. "In Canada, we employ 350 to 375 employees and 150 to 200 in the states. The newer our plants are, the more automated we become."
High Outputs
Daily production at all locations is approximately 60,000 cases of granola bars, 50,000 cases of cookies and 20,000 cases of crackers. The company manufactures approximately 750 products on its 17 production lines on two shifts totaling 19 hours five days weekly. Clean-up crews operate during the remaining five hours daily.
"We have pretty high outputs," Leclerc declares. "We're big enough to be price-competitive but small enough in order to be flexible." That flexibility allows bringing a new product to market in six months instead of the industry's average lead time, which Leclerc says can be two or three times as long.
"Since we're a family owned company, we get the decision-makers to make a decision very quickly," Leclerc maintains. "So for us, there's no big committee. We get the go-ahead and then it moves. We're very quick in response and very hands-on. We're very close to our customers, and service for us is very important."
Founded by François Leclerc, the company is in its fifth generation of family ownership and management. Leclerc Foods is building a $7 million, 32,000-square-foot, three-story research and development center in Quebec City. The first floor will have several test production lines that will enable the company to experiment with short runs of new products and formulations.
"Sometimes, we don't test products as much as we should before we try it out for real, and the cost of stopping the big lines is pretty high," Leclerc concedes. The large production lines require large amounts of dough, whereas the test lines will need much less. The second floor of the center will be the research and development labs, and the third floor will have an employee gym that will feature a squash court and a strength training facility.