With a dedication to quality, Ledson Winery & Vineyards continues to invest in its operation and people to find new ways to learn and improve.
Producing more than 70 wines annually, Ledson Winery & Vineyards represents the largest ultra-premium wine portfolio of any family owned winery in the United States. In fact, the brand offers nearly 20 different varietals and blends, from as many as 20 appellations. And while the winery takes great pride in providing the market with "extraordinary wines," according to Owner Steve Ledson, Ledson Winery also is dedicated to being known for its "impeccable hospitality and exquisite atmosphere," Ledson notes.
These values have been prominent in Ledson Winery & Vineyard since it was established in the 1990s in California's Sonoma Valley. Ledson is part of the fifth generation of his family to be involved in growing grapes and making wine starting back in the late 1800's with the Sonoma County history books showing they produced 8,000 gallons of a Zinfandel and Alicante Bouschet blend, it's not surprising that winemaking became natural to Steve, passed down from his father. His philosophy is "everything begins in the vineyard," and therefore, the winery's vineyards are farmed one vine at a time. Clones and rootstocks are matched to soil and climate conditions combined with 150 years of grape growing to produce impeccable wines, noted by Anthony Dias Blue as "one of Sonoma's most consistently excellent producers."
In fact, Ledson says he has a sixth sense about every step of the winemaking process, helped in part by his family's 150 years of experience.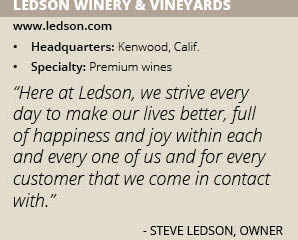 "We have been growing grapes and making wine for over 150 years," Ledson explains. "We have learned a lot over that time; however, we constantly learn new things every day about a wine or vineyard because each and every one of us is always thinking about how we can make it better. We are always doing trials in vineyards or in winemaking, analyzing where we have been and where we can go so we always have new projects."
To maintain a personal touch to customers, Ledson Winery sells 100 percent of its wines direct to customers. This means, the wines are sold exclusively at its winery in Kenwood, Calif., in its online store and at the Ledson Hotel in Sonoma. Ledson Winery also has a number of wine club programs, with more than 70 wines to choose from.
"Here at Ledson, we strive every day to make our lives better, full of happiness and joy within each and every one of us and for every customer that we come in contact with, whether in person, by email, phone or social media," Ledson says. "We don't feel like we have a job, it's simply a lifestyle that we try to perfect every day."
'Incredible' Team
Ledson Winery & Vineyards demonstrates its dedication to quality at each and every estate vineyard site.  Currently farming 15 vineyards, totaling 368 acres, where each vineyard is perfectly matched with root stock and clone to soil and climate, to produce only the highest quality grapes, and of course, impeccable wines consistently scoring in the mid 90's. Ledson also grows grapes for numerous established high-end wineries.   Ledson produces only 30,000 cases per year, all of which are sold through their wine club, at the tasting room known as "The Castle" and at the Ledson Hotel.
Ledson Winery is well known as "The Castle," consisting of 16,000 square feet with 10 different tasting rooms throughout.  It is a popular setting for wine-tasting weekends, romantic getaways and executive retreats. Grab lunch from their gourmet marketplace and enjoy the perfect wine country picnic in their oak shaded picnic grounds.  Ledson prides himself on making a wine for everybody's palate and pocket book, with at least 30 different wines there is something for everyone.  The Boston Globe says, "This castle is a must-see."
When Ledson started construction on the property in 1989, he and his family thought it would be their residence. They planted 17 acres of Merlot on the property and began building their home.  The 16,000-square-foot French Normandy structure was designed and built by Steve Ledson and is known for its sweeping staircases, marble fireplaces, cathedral-style windows, coffered ceilings, several tasting bars and more than five miles of ornate wood inlays and mosaics, which were hand-cut and installed by The Ledson Construction team.  With turrets, a slate roof and balconies, the structure became such a public interest that the family decided to turn it into their winery and tasting room.  VinePair recently named "The Castle" as one of twelve most impressive wineries of the world.
The company continues to grow with dedication from the Ledson family, as well as Steve Ledson's extended family and adopted family of employees. Ledson Winery boasts numerous long-term employees. For example, the controller has worked for Ledson for 39 years, Operations Director has worked with Ledson for more than 30 years, and the VP of sales has worked with Ledson for more than 19 years. With many employees having 20 years or more, Ledson says by developing the company's employees and building the team, Ledson Winery will continue to grow and progress into the future.
"I am most proud of my team and exceptional group of incredible employees who all strive for the same goals," Ledson says. "Dad used to say, 'You're only as good as the people you surround yourself with, and they are only as good as you.' boy has that ever proved itself over and over."