Legendary Baking's time-tested methods and dedication to quality continue to earn it awards and customers.
For nearly 50 years, Legendary Baking has lived up to its name by producing delicious, award-winning pies and other desserts.
"The quality of our products and the creativity we put into them truly sets us apart," says Tim Kanaly, president of the Denver-based company. "There are plenty of companies out there who see pies as a commodity – we view them as a premium dessert product."
The quality of the company's pies begins with their crusts. Legendary Baking makes sure that its shortening and flour are the right temperature before mixing them, which ensures a light and flaky crust. "We have had the same processes in place since the beginning, and have never changed how we make our crust in that time," he adds.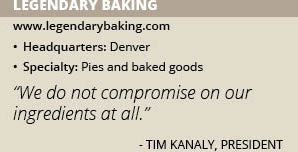 The company uses individually quick frozen (IQF) fruit and real, 31 percent butterfat cream on its pies unless specified otherwise. "We use real butter, not margarine, and we're not afraid to import ingredients if we can't source it domestically," Kanaly says. "We do not compromise on our ingredients at all."
Since 2003, Legendary Baking's pies have won more than 750 blue ribbons at the American Pie Council's National Pie Championships, more than any other bakery.
A Delicious Legacy
The company dates its history back to 1969 to a restaurant in Des Moines, Iowa, that served soups, sandwiches, fresh-baked cream pies and double-crust fruit pies. The pies in particular proved to be popular among customers, and the restaurant eventually was purchased and renamed Poppin' Fresh Pies. More restaurants were opened, necessitating the need for a centralized bakery to ensure the pies were available, Kanaly says.
In 1983, the owner and franchisor of Village Inn Restaurants purchased Poppin' Fresh Pies and changed its name to Bakers Square. The bakery operation serving Village Inn and Bakers Square restaurants was renamed in 2010 to Legendary Baking. All three companies are owned by American Blue Ribbon Holdings LLC.
Legendary Baking today provides fresh pies to Village Inn and Bakers Square locations throughout the Midwest. The company also produces frozen pies sold in over 17,000 retail and restaurant locations nationwide.
The company is particularly known for its layered cream pies, which include its chocolate French silk pie, a bestseller at Bakers Square. Legendary Baking regularly introduces new pies include a caramel pecan silk supreme pie. "We use several restaurants as testing grounds for new pie launches and produce featured pies for those locations every month," Director of Marketing Mark Van Iwaarden says. "Based on sales, we can get an indication of what people are interested in and how they react to the pies, which allows us to get ahead of market trends."
In addition to pies, the company produces a full range of premium baked desserts including brownies, cookies, cakes, cobblers, crusts and fillings.
Optimized Production
Legendary Baking bakes roughly 27 million pies annually in bakeries in Santa Ana, Calif.; Chaska, Minn.; and Chicago. The Chicago facility includes a frozen storage warehouse, from which its frozen products are shipped. Pies are produced in a variety of sizes including 5-, 6-, 8-, 9-, 10-, 11- and 12-inches.
The Santa Ana plant was opened last year. The company also recently increased its efficiency by adding a new pie production line in Chaska. The new plant places the company closer to its customers on the West Coast and increases it overall capacity, while the new production line improves its overall throughput and reduces its need for labor.
"The two biggest challenges we're facing in the marketplace right now are freight and labor," Kanaly says. "We are looking at ways to automate in order to take labor out of the process, as well as any way we can handle freight more efficiently such as intermodal or contract transportation companies, throughout the country."
All of the company's bakeries are Safe Quality Food (SQF) Level 3 certified and follow Hazard Analysis Critical Control Points (HACCP), allergen control and integrated pest management practices. The quality of Legendary Baking's products is further assured by the company's use of advanced X-ray technology, metal detectors and check weighers in its inspection processes.
Bakery employees receive regular training in food safety and other processes such as material handling through the company's use of Alchemy Systems training programs. "We have developed a number of programs through Alchemy that address training in our plants specific to our processes," Kanaly says. "This is a means for tracking who's trained at what level for our SQF compliance."
Moving Forward
Legendary Baking continues to improve its operations. The company this spring hired a new director of sales, Debra Onken, who will help it expand its markets. "She comes to us with 30 years of experience in sales, and we are excited to have her on board," Kanaly says. "She is a critical player in a critical position for us."
The company is also optimizing the operations of all three of its plants with an eye toward expansion. "We want to continue to grow and stake our ground as the pre-eminent pie supplier in the country," he adds. "We believe we can go international with some of products and are looking at Canada and Mexico right now. As we move forward, we believe there is potential in overseas markets."