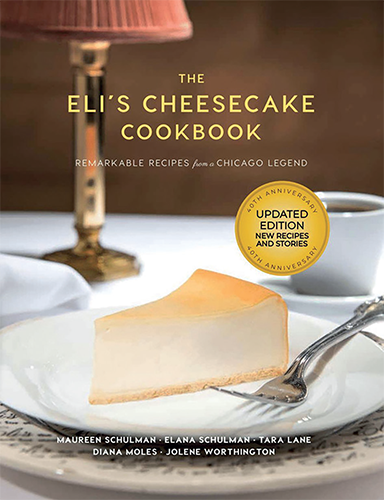 The book teaches readers how to make a perfect cheesecake just in time for the holidays.
In addition to over 100 recipes, the cookbook takes readers on a historical ride from 1940 to present, through the lens of Eli Schulman's colorful career and rise to restaurateur and baker extraordinaire. From surviving the Depression by selling shoes out of the back of his car to 35 years later creating 'Chicago Style' cheesecake in his restaurant's kitchen, Schulman, with no formal culinary training, managed to create one of the country's most loved desserts. When it came to cheesecake, Eli broke all the rules, (no water bath, and a fast and hot bake), resulting in a creamier texture than its New York counterpart, and baked on a shortbread cookie crust instead of graham. The cookbook includes 12 most requested recipes from his famous namesake steakhouse, as well as recipes for 21 cheesecake batters, 12 crusts and 15 chocolates, caramels, and compotes, allowing readers to mix and match as many as 3,177 different combinations to create their own signature desserts.
Celebrity collaborations include honorary Chicagoans Miguel Cervantes, who portrayed Alexander Hamilton in the Chicago production of Hamilton: An American Musical, and reprises his role on Broadway, and acclaimed actor Joe Mantegna. The Eli's Cheesecake Cookbook ($30) is published by Agate Publishing, Inc.
Get your copy at www.EliCheesecake.com with code CURE21 to donate a portion of sales to CURE Epilepsy in November, or purchase wherever books are sold. A cookbook and cheesecake combination gift box is also available.
www.EliCheesecake.com