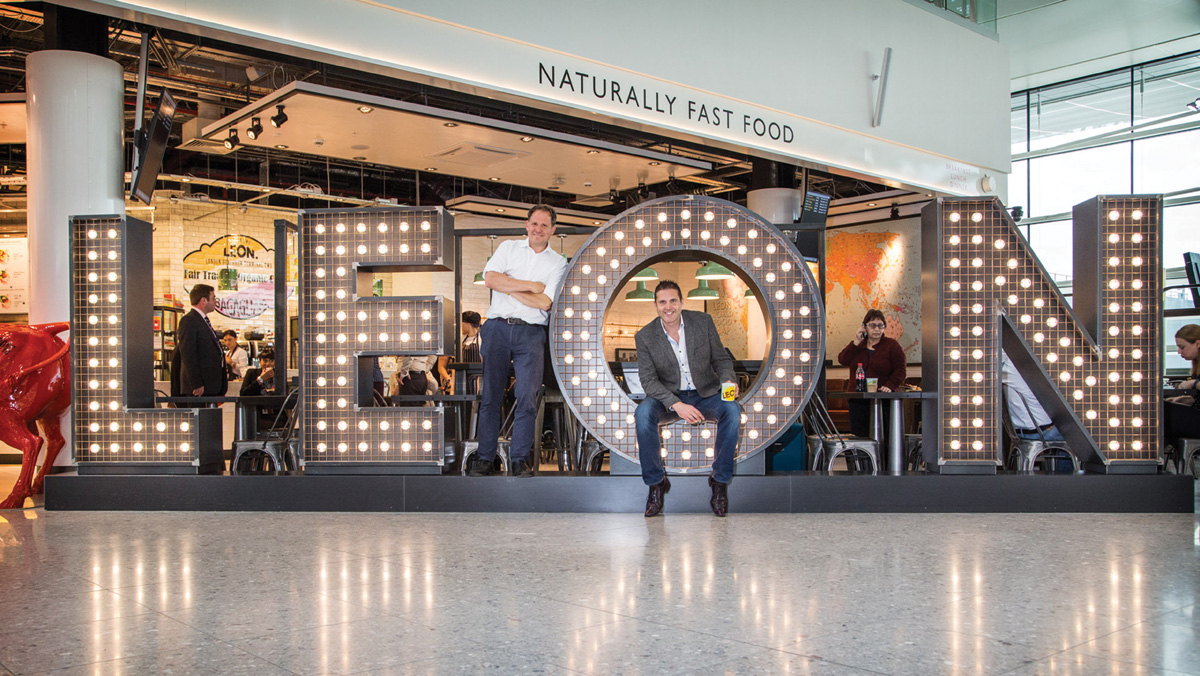 A healthy revolution
Leon Restaurants looks set to revolutionise the fast food industry with the simple aim to provide 'good food that does good' with an intelligent naturally fast growth strategy
In 2004 Allegra McEvedy, Henry Dimbleby and John Vincent opened their first Leon restaurant on Carnaby Street in London specialising in seasonal, naturally good fast food. Over the last 11 years the company has grown to 21 sites with a focus on high profile locations and plans to open a further 12 in the next year. The vision for the business came to John and Henry when they were working as business consultants and were becoming increasingly fed up with the cold sandwiches and greasy, sugary motorway fast food. "It occurred to us that there is nothing in the word 'fast' nor in the word 'food' that meant that fast food had to be bad food," John Vincent, co-founder and CEO, explains, "so we set about to rescue and re-invent fast food." Its values are simple: to make it easy for people to get food which not only tastes good but does good, not just for the consumer but throughout the complete supply chain.


The restaurant operates seasonally with four different menus throughout the year, plus a core menu of fast food classics such as its Fish Finger Wrap, Original Superfood Salad and Chargrilled Chicken Burger. On a daily level the company offers breakfast, all day, snack and children's menus offering healthier alternatives to the fast food usual of burgers and breakfast muffins as well as range of original recipes from salads and rice boxes to breakfast egg pots and wraps. Where possible the menu also includes a variety of allergen free, vegetarian and vegan options. Sites in Bankside, Ludgate and Spitalfields also offer a sit down, table served dinner menu. Much of the food is inspired by the founders' Mediterranean roots where the food is naturally flavoursome and healthy, but the company is also keen to draw on classic British favourites to offer a diverse range of healthy food. This year's spring menu, which launched on 16th March, includes lamb and rhubarb Koresh and a lamb kofte kebab. To prove that this  type of food can be delivered on a fast food platform, the restaurants remain true to the traditional fast food set up. John explains: "The restaurants use the traditional fast food model, of flying down a chute on the passé. It's fast and it's convenient, and it's served to you in a sunny environment by fun, positive people."
Intelligent growth
So far this model has proven successful. In 2005 with its first restaurant a year old, Leon was awarded the 'Best New Restaurant in the UK' by Observer Food Monthly, and the company won a 'Good Egg' award in 2008. However, perhaps one of the company's greatest achievements to date was winning the flagship site at Heathrow Terminal Two in 2014 after competing against 40 other operators for the location. Leon is the only fast food brand available at the site. "To get a site that ten years ago would have been occupied by a traditional fast food player like McDonald's or Burger King was a really big step," John expresses. "When we launched Leon, we wanted to challenge the fast food industry. It feels like people are ready for the challenge now." Response to the restaurants is positive, the company regularly receives requests to open up in other major UK cities but it approaches growth intelligently: "We want to grow fast, but safely. Naturally fast growth." In the next year it plans to open up a further 12 restaurants with its 22nd site opening on the 22nd March on Kingsway, in Holborn.
Leon Restaurant's commitment to doing good is not limited to how healthy its food is; it also focuses heavily on being a socially responsible and sustainable company. The company works very closely with its suppliers and where possible will use locally sourced ingredients and has been recognised by the RSPCA for the care it takes in sourcing. It was a founding member of the Sustainable Restaurant Association set up in 2010, which commits to helping restaurants become sustainable when sourcing ingredients, engaging with communities and managing impact on the environment. A full breakdown of the company's sustainable activities can be found on its website, and includes managing the whole food chain wherever possible down to how supplies are delivered to the sites and how fresh left overs can be used to charitable cause. 2012 saw the company set up the Leon Foundation, a not-for-profit organisation aimed at making it easier for everyone to eat good food through a number of initiatives with communities, including schools and hospitals.
Leon Restaurants is a passionate and motivated organisation, focused on good food and promoting positive wellbeing. As a company it has high aspirations to be in every major city in the world but its approach allows its growth to happen safely and naturally. John sees the company as the future of fast food and plans to have restaurants opened across the country in five years time; he also hopes to have expanded outside of the UK to America. It is a fast growing company with big hopes, but its revolutionary approach to the fast food market makes these hopes seem realistic and the future for Leon restaurants looks positive.